10′ x 8′ Trimetals Premium Titan 108 Metal Shed (2.98m x 2.37m)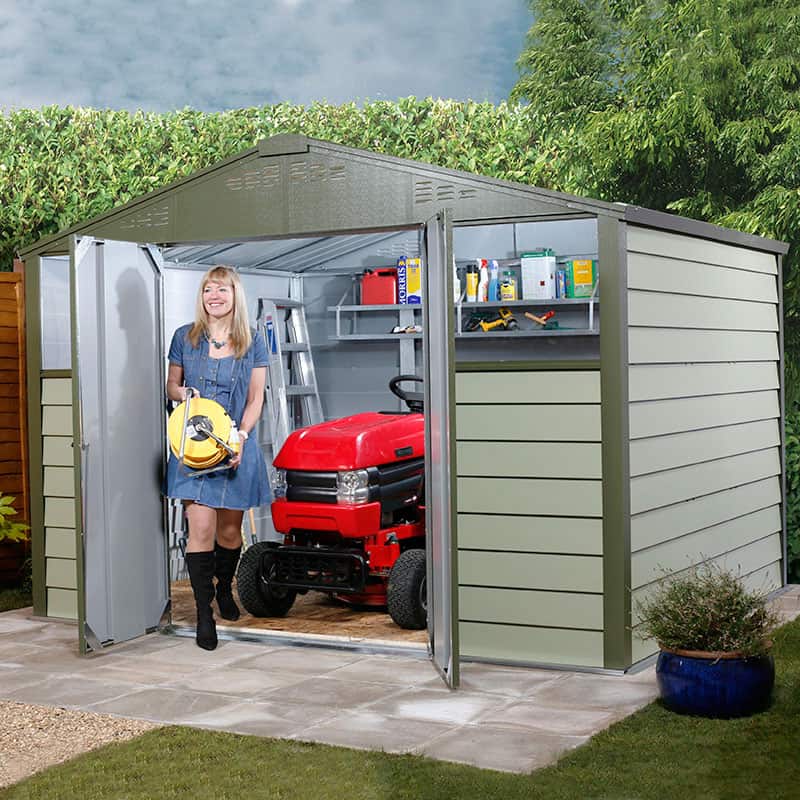 Full review coming soon
Our experts have not yet done a full review of this product. Please check back soon for the full review, in the meantime here is what the manufacturer says.
The 9'10 x 8′ (3.01m x 2.43m) Trimetals Titan 108 Metal Shed is uniquely designed and constructed from premium materials. Theres no wonder that this shed is endorsed by the Royal Horticultural Society and comes with a 25-year panel warranty. This maintenance-free metal shed boasts both beauty and brawn. Wonderfully designed and coming in two contrasting shades of green to perfectly complement your garden, the Titan 108 is made from PVC-coated galvanised steel, so you know that its built to last and will remain rust free. This exclusive sheds faade is truly spectacular.
The large double-doors provide you with excellent access and can be secured by a key operated locking system and locking bar, so you know that your valuable garden tools and machinery will remain safe from prying eyes. Either side of the doors are two stylish windows, which provide the interior with plenty of natural light. They are made from acrylic, renowned for its durability. The apex-style roof adds to this wonderful sheds stately appearance. The generous size of this shed, as well as the premium protection which it offers, make it suitable for a wide range of uses.
Ideal for storing ride on equipment or your larger garden machinery, this shed would be equally at home as an outdoor workshop, leisure facility, or generous conventional storage unit. Other key attributes of the Titan 108 include stainless steel fittings, ventilation, and construction from fire-resistant materials. Several optional extras can be added, including infra-red movement sensing alarm with siren, up to two workbenches, two-tier shelving, and hasp and padlock. Two additional windows can be fitted at the rear of the shed or, if security is a particular concern, it can be fitted with no windows at all.
Product Details
Building Type
Apex Sheds, Double Door Sheds, Garden Sheds, Green Metal Sheds, Metal Sheds, Shed with Windows
Metric Size (Meters)
10' x 8'
Locking System
Key Operated Lock
Door Width (Metric)
1395.0mm
Ridge Height (Imperial)
7"
Ridge Height (Metric)
2200.0mm
External Depth (Imperial)
7"
External Depth (Metric)
2430.0mm
Assembly Time (estimated)
4-6 hours
Eaves Height (Imperial)
5"
Eaves Height (Metric)
1740.0mm
Persons To Assemble
2 people
Recommended Construction Surface
Concrete or Paved Area (level)
Comparisons of Similar Sheds
Size: 10' x 8'
Available From:
Support WhatShed: by making a purchase after clicking a link above, a portion of the sale supports this site.