With one of the biggest selections of sheds online, WhatShed works with almost every major brand and retailer of sheds in the UK. We appraise & review each shed using an impartial and objective 0-100 Expert Score developed by industry experts. This helps you compare the market to find the best sheds for you, at the right price, from the right retailer. If you are new to sheds and you want to find out what sort of things our experts think you should be looking for when choosing one then you might want to check out our "Garden shed buying guide".
WhatShed's aim is to help you find the best outdoor shed in the category you're looking for, whether that be a shed with windows, a BBQ shed, or some other kind of garden shed. We cover a huge quantity of the most popular sheds for sale across the UK and write in-depth reviews on all the top models of sheds available right now.
We work with every major brand and retailer of garden sheds in the UK today. This gives us a big advantage to help our users find the right outdoor shed. And thanks to our broad network, we're able to cover the whole market selection for sheds, including very niche products, like insulated sheds and narrow sheds. So even if you have highly specific needs and requirements like a green roof shed, a pink shed of a certain size, or a garage shed, we've got you covered.
The shed market is vast and varied, with so many options out there, from the garden shed with windows, and pressure-treated sheds to a half shed (also known as a side shed). To cover the full market and provide the best assistance to you we try to work with as many retailers of sheds as possible. We analyse every shed listed on WhatShed regularly and constantly use all the standardised data points we track for each one to reanalyse and rerank each shed as the market changes. We then use this data in conjunction with an impartial and objective 0-100 Expert Score that industry experts created to regularly rank each shed according to what industry experts think are the best and worst sheds. So it doesn't matter if you want a black shed, a blue shed, a shed with a veranda or some other sort of contemporary shed, our guides, reviews, and posts can help you find it with speed and convenience.
Most Popular Garden Sheds
Garden Shed Buying Guide
Written by a panel of garden building experts.   A 40-minute read.
If you're in search of a garden shed but have no idea where to start, you're in the right place. In this shed's guide, we'll address all aspects of the buying process. We start with the necessary preparation and important pre-purchase considerations, before moving on to the various construction techniques used and stylistic choices made by the top manufacturers. We conclude with some tips to help you keep your new shed in perfect condition long into the future.
Here, we share all you need to know about garden sheds in this article.
What will it be used for?
Types of sheds
Things worth considering
Planning permission
Foundations
Assembly
Maintenance
What will it be used for?
When it comes to tying a garden or outdoor space together, there are few items more valuable than a high-quality shed.
Gone are the days of the cheap, aesthetically unappealing plywood structures—property owners now have a veritable cornucopia of options to choose from.
Here we'll walk you through the ins and outs of sheds—specifically timber garden sheds—highlighting differences in purpose, design, features, and function. We'll talk cladding, roof types, construction options, and everything in between.
When you're done reading this document, you'll be as close to an expert on timber garden sheds as anyone could hope to be.
Types of sheds
Just what type of shed you should acquire isn't an easy question to answer. It depends upon a variety of factors including: space, cost, use, climate and preference.
Rather than inundate you with information, we've created a simple overview of the standard garden sheds available in the UK.
Things worth considering 
All you need to know about this section.
Size
Cladding
Roof types
Roof materials
Framing
Treatment
Floors and doors
Security & privacy
Size
Size isn't the most important thing, but it IS important. Shed sizing has some peculiarities which we will outline in simple terms below, but the general rule of thumb is:
Tip: The outermost dimensions of the shed—including the roof overhang—are the dimensions listed by the manufacturer
The actual inner dimensions of the shed will almost always be smaller—due to overhang, wall thickness, framing, etc.—than the published dimensions.
When you're out there trying to evaluate what sized shed is right for your outdoor space, your key considerations should be:
Building type
Roof type
Door position
Generally, Apex Sheds list their size as depth by width and have a door located on the shorter side (width) of the structure.
However, in a Reverse Apex Shed the door is located under the eaves, and the dimensions are listed as width by depth in reverse order.
Here are some examples:
Unlike Apex Sheds, Pent Sheds usually feature a door that is located on the higher side of the shed and its dimensions are listed in reverse order from Apex Sheds.
Here are some examples:
Cladding
Cladding—though constantly overlooked—is an important component of garden sheds and timber structures in general.
There are various cladding types—some more popular than others—that are often distinguished by material, price, and quality of construction.
To fully understand the types of cladding, look at the graphics below and on subsequent pages.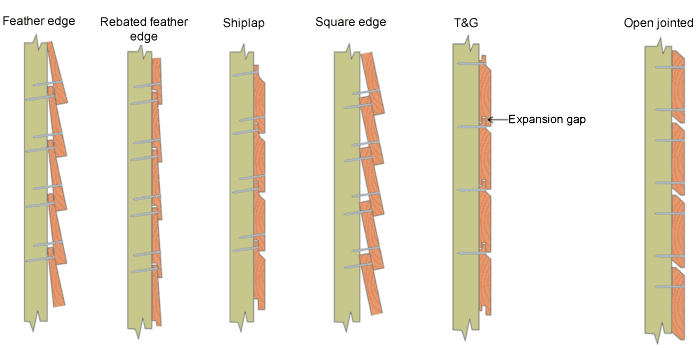 Overlap Cladding—The Details
Whether talking about feathered edge (left) or square edge (right), overlap cladding is both the most common and the most popular.
Though overlap cladding isn't necessarily the best type of cladding manufactured, it is economical and easy to build.
Typically consisting of 8mm sawn-timber, slats are nailed together one over the other to create the "overlap" that gives this cladding its namesake.
Like anything else in this world, there are pros and cons to this variety of cladding:
Pros

Relatively inexpensive
Reliable and durable
Protected against the elements when treated
Cons

More susceptible to warping if placed in sunny spots
Not suitable for attaching shelving or heavy items to the walls.
Treatment
At a minimum, treat your overlapping cladding with a spirit-based solution to protect the wood from the elements and ensure your shed lasts.
You can also treat your shed with water-based outdoor paint from Cuprinol Garden Shades. In addition to giving your shed a splash of colour, the paint will sufficiently protect it from the elements—however—the paint will need retouching every 12-months in order to guarantee sufficient sealing.
To obtain maximum protection, treat the overlap with a spirit-based solution first, and then go over it with a water-based paint—do know, however, that the paint colour does not always come out true when laid over spirit-treated timber.
Shiplap Cladding—The Details
Due to their similarities, there is often confusion between shiplap and T&G cladding.
What makes Shiplap cladding distinct is the small channel/groove that runs parallel with the timber. Though minor, this channel is actually hugely important as it directs precipitation away from the shed quickly and efficiently.
Shiplap cladding provides additional strength and aesthetic appeal thanks to its neat, interlocking panel system.
Pros

Improved resistance to moisture
Creates a visually pleasing exterior
Cons

Costs more than overlap cladding
Treatment
At a minimum, treat your shiplap cladding with a spirit-based solution to protect the wood from the elements and ensure your shed lasts.
You can also treat your shed with water-based outdoor paint from Cuprinol Garden Shades. In addition to giving your shed a splash of colour, the paint will sufficiently protect it from the elements—however—the paint will need retouching every 12-months in order to guarantee sufficient sealing.
To obtain maximum protection, treat the cladding with a spirit-based solution first, and then go over it with a water-based paint—do know, however, that the paint colour does not always come out true when laid over spirit-treated timber.
Tongue & Groove Cladding—The Details
An incredibly popular style due to its aesthetic and practical appeal, Tongue & Groove cladding is specially shaped to create a robust, interlocking exterior making sheds unbelievably sturdy—if valuable or weighty items are to be stored in your shed, this cladding is your best option.
Because the timber boards interlock, T&G cladding prevents water penetration and provides superior protection from the elements in all climates.
Pros

Provides maximum structural strength
Provides most water-tight seal
Creates an attractive aesthetic
Provides additional security
Timber planks cannot warp
Cons

More costly than an overlap shed
Though the most water-tight, not as effective as Shiplap at facilitating rain water run-off
Treatment
At a minimum, treat your T&G cladding with a spirit-based solution to protect the wood from the elements and ensure your shed lasts.
You can also treat your shed with water-based outdoor paint from Cuprinol Garden Shades. In addition to giving your shed a splash of colour, the paint will sufficiently protect it from the elements—however—the paint will need retouching every 12-months in order to guarantee sufficient sealing.
To obtain maximum protection, treat the cladding with a spirit-based solution first, and then go over it with a water-based paint—do know, however, that the paint colour does not always come out true when laid over spirit-treated timber.
Waney Edge Cladding—The Details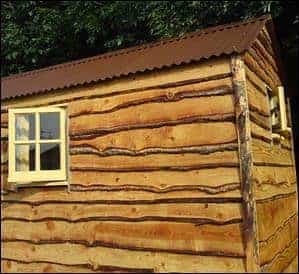 Consisting of overlapping boards cut directly from a felled tree, Waney Edge cladding is rarely used in modern garden sheds because of its inefficiency and lack of durability.
At best, Waney Edge cladding is highly affordable and traditionally rustic in appearance.
At worst, it is a disaster waiting to happen.
Pros

Creates a unique, highly rustic look
Very economical in the short-run
Cons

Higher sensitivity to element exposure
Greater chance of warping due to temperature and moisture
Provides little in the way of additional structural strength
Roof Types
Without a solid roof over your head, a shed won't be very helpful for storage, recreation, or anything else you might have in mind.
Much like cladding or frames, roofs can come in a variety of different styles and materials—from polypropylene and felt, to apex and pent; the choices are only limited by your imagination.
To help you wrap your head around all of the options at your disposal, examine the images and information made available below.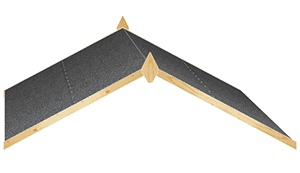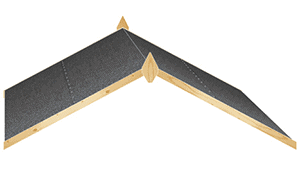 Apex Roof: Thanks to a high, central ceiling an Apex roof provides users with a comfortable working space. Construction features two, separate sections forming a joint at the highest point to create an upside-down V shape.
Note: Some manufacturers create cheaper "Apex" roof models with a wider joint angle—thereby creating a lower ceiling—to save on material costs.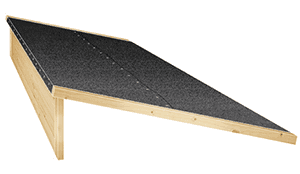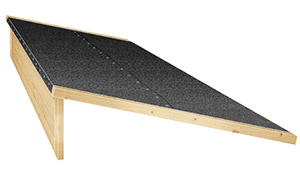 Pent Roof: Ideal for gardens with minimal space, Pent roofing is highly practical. Pent sheds can fit snugly against a wall, fence, or overhanging tree.
They drain rainwater with incredible efficiency and discourage water-related damage.
Lean-To: Lean-to roofs can adhere to Pent or Apex styling. The thing to remember with a Lean-To is there will be a wall missing, as clearly demonstrated in the picture of the Pent Lean-To in the image to the left.
Canopy: The canopy roof creates an extension beyond the shed structure for the creation of sheltered outdoor work/leisure.
It comes in both Apex (left) and Pent (below) stylings and is often seen in tandem with a veranda (left) or log/firewood store (below).
Barn Roof: With low eaves, a high ceiling, and an angled shape, barn roofing encourages precipitation runoff without compromising internal standing height. This variety of roofing is typically a feature of high-end sheds.
Note: In this example (left) the doors don't have diagonal cross-beams. This results in a lower rigidity and susceptibility to "sagging" over time.
Curved Roof: Curved roofs are rare and—in the garden shed industry—considered "special". It is most commonly associated with summerhouses.
Note: The curved roof is only included in this document for thoroughness—it truly is extremely rare in garden sheds.
Roof Materials
Like all roofs, the main issue with shed roofing is lifespan.
Continual exposure to the elements, seasons, and sunlight means your roof will need replacement every 10-15 years.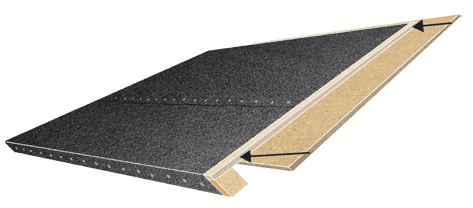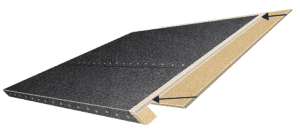 Typical Construction: Most roofs will be built using two materials—wood and roof felt.
Wood will form the frame and foundation of the roof while the felt acts as the protective layer shielding the wood from the elements.


Unique Construction: The glossiness of this roof (left) indicates that it is polypropylene. This material—while highly resistant to the elements—is not exceedingly popular.
Note: Polypropylene roofing reduces build time by 66% and is UV stabilised to handle typical British weather. The material is maintenance-free and acts as an insulator for the building. However—because the roof is thin, it does not stand up well to heavy snow or leaf loads. If your shed is going to be in an area where it is subject to heavy roof weight, consider a strong wooden or onduline roof.
Framing
Though framing is an inherently complex topic, the general rule of thumb is:
Thicker = Stronger
More often than not, manufacturers will use the minimal amount of framing required in order to keep material costs low. Where relevant, manufacturers will mention "extra-strong" framing when it's relevant, particularly if it emphasises strength is an important part of the shed.
Note: Framing is an extensive and complex topic when talking about sheds or garden buildings in general. We will be fully documenting the subject in greater detail over time. Again this is a major cost savings factor in shed manufacturing (and even delivery).
Treatment
Pressure Treatment: As the name suggests, pressure treated timber goes through a process that uses pressure to force chemical preservatives deep into the wood and grain.
The pressure treatment process helps deter rot and fungal decay, thereby increasing the lifespan of the timber.
As it has been treated during manufacturing, the timber does not require any additional sealing before or after shed construction.
Dip Treatment: Dip treated timber has been through a less thorough process of protection that applies a preservative to the surface of the wood. Timber structures with a 'cedar red' hue have often gone through dip treatment.
Though shed manufacturers will often "guarantee" dip treated timber for up to 10 years, it will need regular reapplication—at least once every 12 months—to remain in good condition and avoid rot/decay.
Dip treated timber is less expensive to purchase than its pressure treated cousin, but preservation costs can mount up in the long run.
Floors and Doors
Most sheds come with a floor but check with the individual retailer just to be sure. A garden shed should never be placed on the bare ground or lawn, as that will put the entire structure at risk of wet rot and insect infestation.
When it comes to a shed, there are a variety of sizes, styles, and materials to choose from—in fact, you don't even really need a door if you don't want one.
But assuming that a door is in your future, we've provided a list of the most common types:
Single Door: As the vast majority of sheds sold is 8×6, 7×5 and 6×4, the most common door type is a single door.
Note: The diagonal cross-beam on the door (left) provides extra structural rigidity and deters "sagging".
Double Door: The most common type of door for a large shed is (8'+ wide), the double door is another highly-traditional option.
Note: The top of these double doors (left) reach the roof—this is an indicator of material-saving, and cost-cutting behaviour from the manufacturer. Another sign?—low eaves a window that is flush with the roof.
Stable Door: Though uncommon, the stable door is not without its advantages.
Unlike single piece doors, the stable door can be partially opened giving users the ability to keep animals and children in or out, while still enjoying generous air circulation.
Security and Privacy
Finally, there are security and privacy—two oft-overlooked elements that are important to almost any shed owner.
Though not as aesthetically pleasing, sheds without windows are always more secure and private than their windowed counterparts.
Note: Some sheds have small, discrete windows that allow light in but obscure internal contents.
Stronger designs (like those that incorporate shiplap and T&G cladding) offer more natural security because they are—quite literally—harder to break into.
Locks, alarms, and automatic lighting are also very practical intruder deterrents.
If the protection of valuables is a primary concern when shopping for a shed, look for sheds labelled as "privacy shed" or "security shed".
Planning permission
Almost all garden sheds will not require planning permission. Regulatory authorities usually consider the structures as outbuildings.
That said, extra-large sheds may indeed require planning permission. To help you decide if yours will, we've included the most relevant below:
Is the location in an Area of Outstanding Natural Beauty?

Your home is a listed building.

The structure will take up more than 50 per cent of the land surrounding your house.

The shed will be in front of the property, facing a road.

If the building is within two meters of your property or a boundary wall, it will need planning permission if it exceeds 2.5 meters in height.
If you're at all in doubt, check the government's website before making a purchase. It's also worth consulting your local council if you plan to run either electrics or plumbing to your new garden shed.
Foundations
It was mentioned before, but it is worth mentioning again:
A good base is absolutely essential for any outdoor shed
Start with a hard surface to help prevent subsidence which can lead to timber bowing, frame cracking, and even broken windows. Making sure the base is level will help keep moisture—which leads to rot and decay—from pooling in any one area of the shed as well.
Use concrete or patio slabs to create a level standing.
Looking for an easier alternative?—try a robust timber base kit like the one demonstrated in 3rd photo (centre) below.
Composite, ready-to-go shed bases (below) are usually supplied in flat-pack form for self-assembly.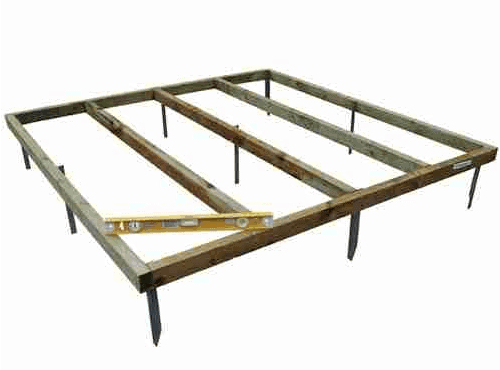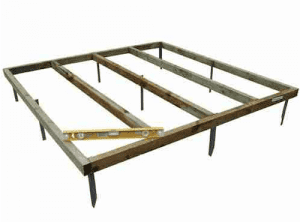 Assembly 
Manufacturers tend to make their designs as easy as possible to construct. If you're at all handy at DIY, you and a friend shouldn't have trouble constructing a typical shed. You'll need a few tools (spirit level, electric screwdriver, mallet, hammer, handsaw, utility knife, stepladder, silicone sealant and applicator) and maybe a weekend to get it looking perfect.
WhatShed Tip: We always recommend buyers take a company up on their delivery service, even if it costs a little extra. Transporting building materials requires specialist equipment. If a piece gets damaged in transit, it can seriously impact the longevity of the end building.
For those suffering from mobility issues or having some other reason why they don't want to build the structure themselves, a lot of manufacturers and retailers will provide an installation service for an additional fee. Not strictly essential for all customers, having the building constructed by a company's professionals can bring a lot of peace of mind to those less confident in their own craftsmanship.
Maintenance 
Once you have assembled your garden shed, it's important to give it a thorough treatment both inside and out. Treatments work to preserve the wood used throughout the construction and can also add a splash of colour to a garden building.
It's very important that you wait until after your garden building is constructed to apply a treatment product. You need to get all the pieces fitting together snugly and then you should use an oil-based treatment product to protect the materials; particularly where they join. A treatment only applied prior to construction may not be enough to activate any anti-rot guarantee a product might come with.
WhatShed Tip: Make sure to treat areas of the building that might not be immediately visible. A lot of owners forget to treat the underside of floorboards, for example.
You should aim to get your initial treatment of the structure done as soon as possible after construction. It's then important to treat the building again once a year to help further protect it against the elements.
WhatShed Tip: When giving an annual treatment, pay close attention to any parts of the building that might be showing signs of rot. Replacing damaged components quickly will greatly improve your structure's longevity.
The better you look after your garden shed, the more years it will be able to continue bringing you joy.