2'11 x 6'3 Asgard Premium Double Ended Metal Bike Shed (0.9m x 1.9m)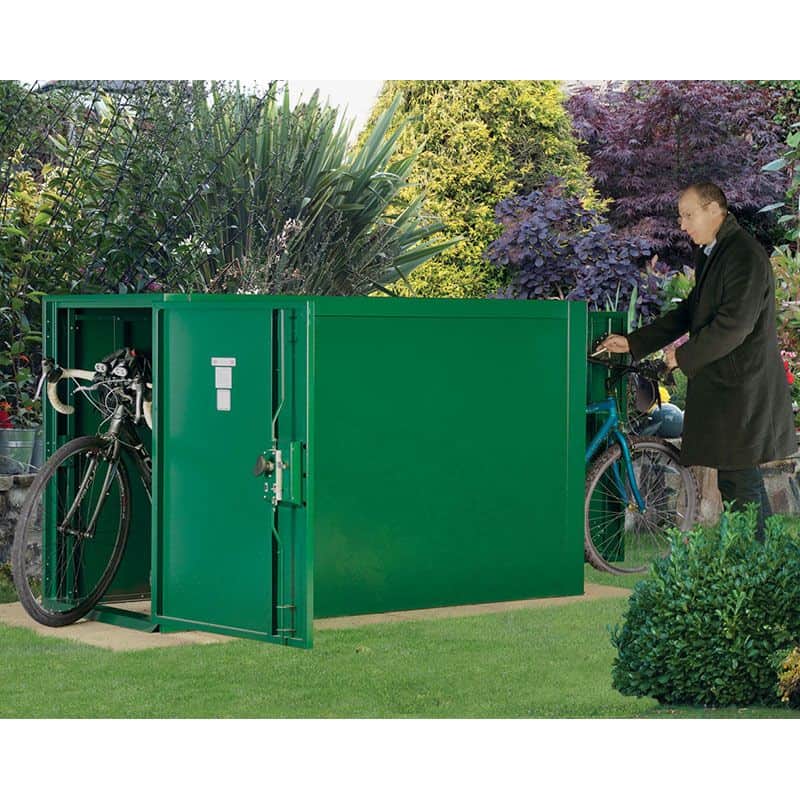 Full review coming soon
Our experts have not yet done a full review of this product. Please check back soon for the full review, in the meantime here is what the manufacturer says.
Now you can both safely secure your bikes, completely independently of each other but within one slimline bicycle store, thanks to the Asgard Premium Double Ended Metal Bike Shed. Supplied with an impressive 10 year guarantee, this metal bike shed is expertly built in the UK from heavy-duty galvanised steel. It is robust, durable and completely resistant to rust, so will provide your valuable bikes with superb all-round weatherproof protection. The 2 large, single doors, positioned at either end of the bike shed, are opened with different keys, whilst the bikes, themselves, are separated by a steel partition. This is perfect if you are sharing the bicycle store with a house mate or neighbour.
Thats not to say anyone can access your bikes, of course. The doors feature top-of-the-range 3-point locking systems, including a key-operated lock, which is both drill and pick-resistant, and dead bolts. Your bike will be going nowhere without you in the saddle. The security-focused design is also in evidence with reinforced handle surrounds, internal locking points, hidden exterior screw ends and securing bolts, which enable you to fix the bike shed to a concrete base. Having said that, this outdoor bike storage unit weighs 24 stone, so is unlikely to be toppled over or carried off and stolen.
Heavy-duty steel hooks offer you the perfect home for your bags and helmets, whilst vent holes ensure that everything is kept in optimum storage conditions. To top it all, the whole bike shed is near maintenance-free, saving you money and leaving you more time to enjoy your bike rides. You can purchase additional heavy-duty hooks and galvanised steel eyelets as optional extras, so as to customise your storage and provide multiple securing points, respectively. Should you require more than 1 bike shed, multiple units can be bolted together. *Please be advised that this metal bike shed is designed without a floor. * Illustrated instructions are provided to help you achieve a straightforward assembly.
Product Details
Building Type
Bike Sheds, Cheap Sheds, Garden Sheds, Metal Sheds, Pent Sheds, Secure Bike Sheds, Secure Metal Sheds, Small Bike Sheds, Small Sheds
Metric Size (Meters)
3' x 6'
Locking System
3 Point, Pick and Drill Resistant Locks
Depth At Base (Imperial)
6"
Depth At Base (Metric)
2000.0mm
Width At Base (Imperial)
2"
Width At Base (Metric)
900.0mm
Door Height (Metric)
1115.0mm
Door Width (Metric)
800.0mm
Construction Type
Galvanized Steel
Floor
No Floor - Bolted Down Directly To Your Concrete Base
Comparisons of Similar Sheds
Size: 3' x 6'
Available From:
Support WhatShed: by making a purchase after clicking a link above, a portion of the sale supports this site.