2'3 x 2'2 Suncast 227 Litre Rattan-effect Plastic Storage Cube (0.68m x 0.70m)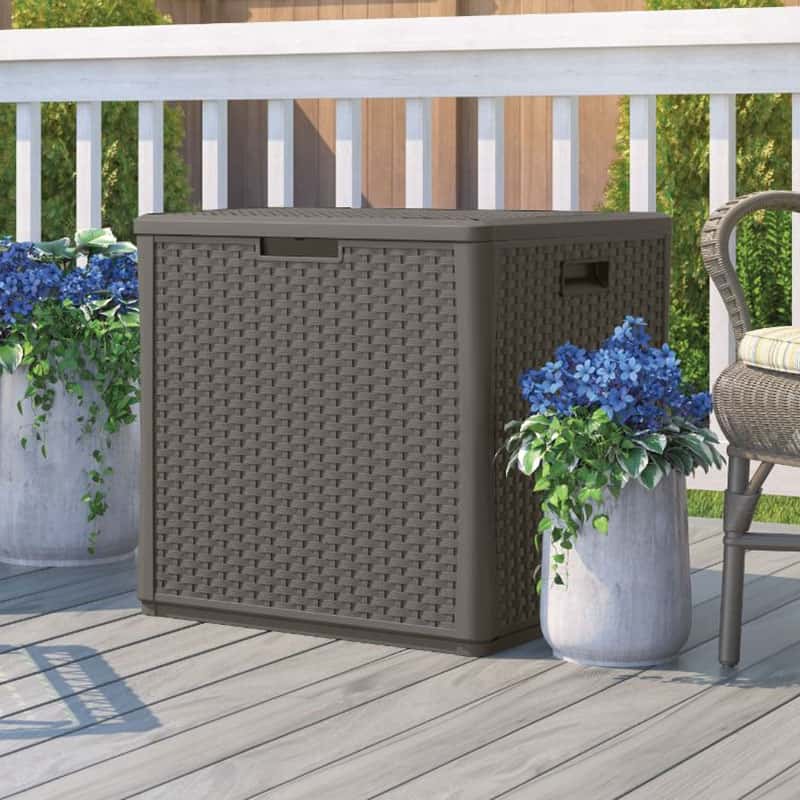 Full review coming soon
Our experts have not yet done a full review of this product. Please check back soon for the full review, in the meantime here is what the manufacturer says.
Stylish yet unobtrusive, the cleverly-designed 2'3 x 2'2 Suncast 227 Litre Plastic Garden Storage Cube offers you invaluable outdoor storage combined with a convenient garden seat. This garden storage box is expertly made from durable plastic resin, with a rattan-effect design and contemporary grey finish, so will last you for years and blend into your garden seamlessly. Waterproof and UV-protected too, this outdoor storage box will protect your garden cushions and favourite tools from the elements and never fade, discolour or crack in the sun. The strut-assisted lid is designed to remain open whenever its in use, so youll have both hands free to access your stored items.
A 227-litre/ 60-gallon capacity means theres plenty of room for your garden cushions and knick-knacks. The lid is reinforced too, so theres nothing to stop you using your deck box as a handy garden seat. For even greater convenience, hand-sized recesses, on both sides of the box, ensure you can manoeuvre it around the garden with ease. Supplied with a reassuring 5 year guarantee, this outside storage box is incredibly easy to assemble as minimal tools are required. To keep it looking smart, all you need to do is occasionally wipe it down with a damp cloth. Free delivery is available to most UK addresses.
Product Details
Building Type
Extra Large Outdoor Cushion Storage Boxes, Extra Large Outdoor Storage Boxes, Extra Large Waterproof Garden Storage Box, Garden Cushion Storage, Garden Storage, Garden Storage Boxes, Grey Garden Storage Box, Large Garden Storage Boxes, Large Waterproof Outdoor Storage Cabinets, Outdoor Shoe Storage, Outdoor Storage Cabinets, Plastic Garden Storage, Small Garden Storage Boxes
Metric Size (Meters)
2' x 2'
Roof Style
Fully Opening Lid
Treatment Type
UV Protected
Comparisons of Similar Sheds
Size: 2' x 2'
Available From:
Support WhatShed: by making a purchase after clicking a link above, a portion of the sale supports this site.