3.3m x 3m Premier Log Cabin With Half Glazed Double Doors and Single Window Front + Free Extra Side Window and Floor & Felt (19mm) (Show Site)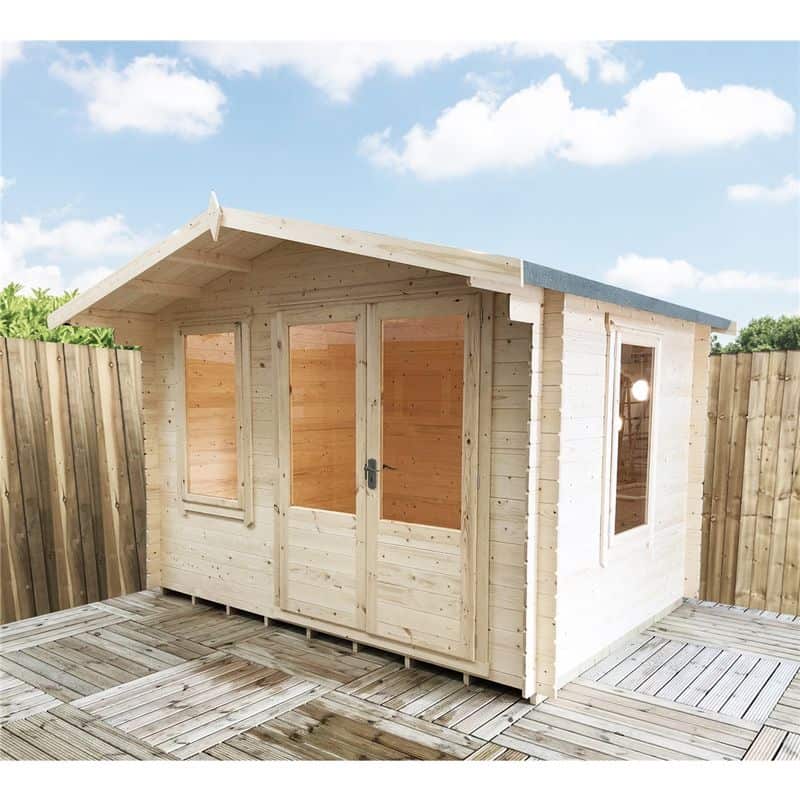 Full review coming soon
Our experts have not yet done a full review of this product. Please check back soon for the full review, in the meantime here is what the manufacturer says.
3.29m x 2.99m Premier Log Cabin With Half Glazed Double Doors – 19mm Wall Thickness This log cabin makes an attractive feature to any garden. The secure garden building with its compact design is ideal to be used as an office, home workshop or even just as a storage solution. The thick roof beams and high quality of the timber walls on the interior of the log cabin are a fantastic feature. Construction Our log cabins are manufactured in the UK and are of the best quality log cabins available. The log cabin is superbly built from 19mm thick interlocking logs of the highest quality. The glazing in the window provides plenty of natural light as well as complementing the design of the building. The window and the door are all handcrafted joinery. The log cabin comes with a 3mm Horticultural Glass window which is fully opening and mortised and tenoned as standard. The log cabin is supplied with heavy duty roofing felt, and all fixtures necessary to complete assembly. Floor joists are
Product Details
Metric Size (Meters)
11' x 10'
Number of Windows
Has Windows
Cladding Type
Interlocking Log
Treatment Type
Pressure Treated
Locking System
Mortice Lock
Floor Material
12mm Single Tongue & Groove
Roof Covering
Sheet Mineral Roofing
Ridge Height
2.46m (8' 1")
Eaves Height
2.1m (6' 11")
Logs
19mm Single Tongue and Groove
Double Door Dimnesions Height X Width
2.0m x 1.6m
Comparisons of Similar Sheds
Size: 11' x 10'
Available From:
Support WhatShed: by making a purchase after clicking a link above, a portion of the sale supports this site.