4′ x 2′ Falcon 130 Heavy Duty Metal Garden Storage Box 400L (1.3m x 0.6m)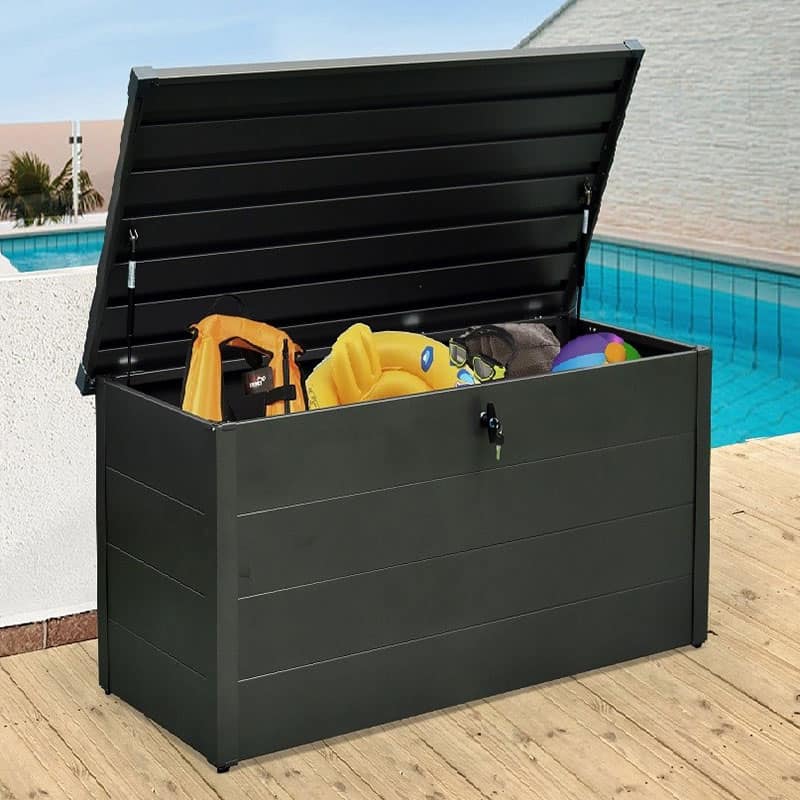 Full review coming soon
Our experts have not yet done a full review of this product. Please check back soon for the full review, in the meantime here is what the manufacturer says.
A great place to store your garden cushions and equipment, the Falcon 130 Heavy Duty Metal Garden Storage Box 400L is stylish, robust and maintenance free. Expertly built from heavy duty galvanised steel panels, this garden storage box is fire-retardant, impervious to rust and made to last. The floor and lid are constructed from galvanised steel too, ensuring all of your stored items enjoy complete weatherproof protection. Designed with a contemporary anthracite finish and including superior stainless-steel fixings throughout, this outdoor storage box boasts beauty as well as brawn. The gas-strut-assisted lid means accessing your stored items is easy. It features a double-bolted key-operated lock, so your valuables will be completely safe from unwanted attention.
Product Details
Building Type
Extra Large Outdoor Cushion Storage Boxes, Extra Large Outdoor Storage Boxes, Garden Cushion Storage, Garden Storage, Garden Storage Boxes, Grey Garden Storage Box, Heavy-duty Garden Storage Boxes, Large Garden Storage Boxes, Lockable Garden Storage Boxes, Metal Garden Storage, Outdoor Storage Cabinets, Small Garden Storage Boxes
Metric Size (Meters)
4' x 2'
Roof Style
Fully Opening Lid
Locking System
Double-bolted Key Lock
Roof Material
Heavy Duty Galvanized Steel
Depth At Base (Imperial)
2"
Depth At Base (Metric)
610.0mm
Width At Base (Imperial)
4"
Width At Base (Metric)
1300.0mm
Ridge Height (Imperial)
2"
Ridge Height (Metric)
630.0mm
Construction Type
Galvanized Steel
Comparisons of Similar Sheds
Size: 4' x 2'
Available From:
Support WhatShed: by making a purchase after clicking a link above, a portion of the sale supports this site.