5′ x 3′ Asgard Vangard Metal Storage Shed (1.54m x 0.95m)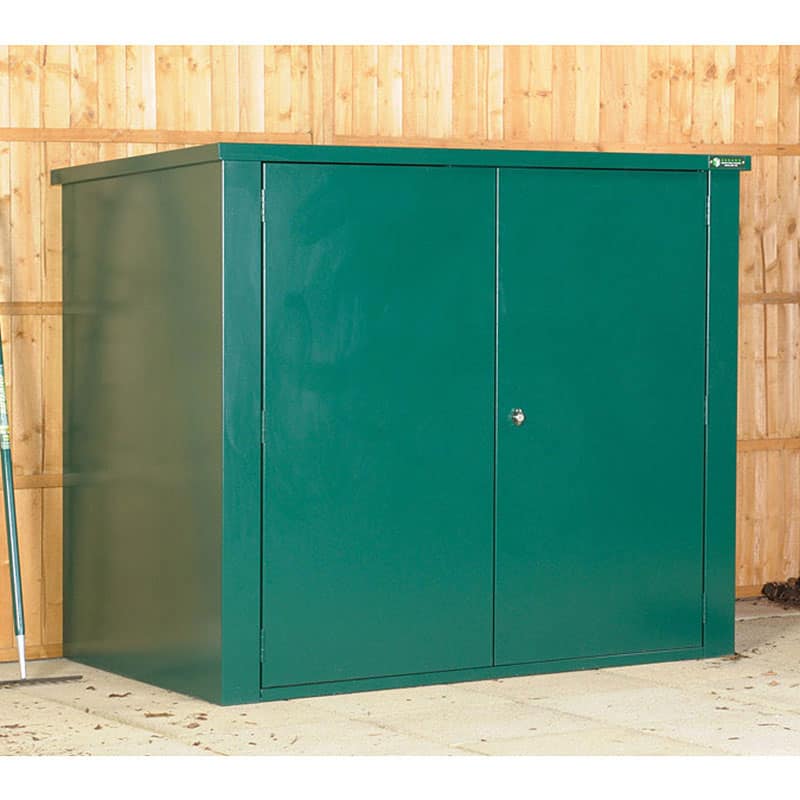 Full review coming soon
Our experts have not yet done a full review of this product. Please check back soon for the full review, in the meantime here is what the manufacturer says.
Supremely robust yet compact enough to suit any sized garden, the police-endorsed 5′ x 3′ Asgard Vangard Metal Storage Shed with 2 Point Locking (1.54m x 0.95m) is the perfect place to securely house your bicycles, lawnmower or other garden equipment.
Expertly built in the UK and weighing 76kg, this robust garden shed is constructed from heavy-duty galvanised steel panels and includes integral metal flooring, so is impervious to rust, completely weatherproof and will provide your stored items with outstanding protection against the elements. Maintenance-free, with a smart pent roof and a gorgeous green finish, this premium metal shed will beautifully complement your garden for many years to come, without the need for costly, time-consuming treatments, leaving you with more time to do the things you enjoy. Furthermore, a unique ventilation system prevents condensation, ensuring that your prized possessions are always kept in optimum storage conditions.
The wide double doors are incredibly storage-friendly and fitted with a 2-point secure locking system, which includes a deadbolt and thumb-turn lock with padlock fixing (padlock not included), so rest assured that your valuable tools and equipment will be completely safe from unwanted attention. In keeping with this security-conscious design, all of the screw heads are hidden, to prevent tampering. Asgard metal garden sheds are rigorously tested and fully endorsed by the police, insurance companies, the UK Locksmiths Association and the Loss Prevention Certification Board, for their exceptional levels of security. In fact, as an Asgard shed owner, you may well benefit from lower insurance premiums.
Product Details
Building Type
Cheap Sheds, Double Door Sheds, Garden Sheds, Metal Sheds, Pent Sheds, Secure Metal Sheds, Small Pent Sheds, Small Sheds, Small Storage Sheds, Solid Sheds, Storage Sheds
Metric Size (Meters)
5' x 3'
Locking System
2 Point Locking System
Depth At Base (Imperial)
3"
Depth At Base (Metric)
950.0mm
Width At Base (Imperial)
5"
Width At Base (Metric)
1542.0mm
Door Height (Metric)
1260.0mm
Door Width (Metric)
1200.0mm
Internal Depth (Imperial)
2"
Internal Depth (Metric)
850.0mm
Internal Width (Imperial)
4"
Internal Width (Metric)
1505.0mm
Construction Type
Galvanized Steel
Height At Back (Imperial)
4"
Height At Back (Metric)
1266.0mm
Comparisons of Similar Sheds
Size: 5' x 3'
Available From:
Support WhatShed: by making a purchase after clicking a link above, a portion of the sale supports this site.