6′ x 4′ Forest Retreat Cream Luxury Shed (1.81m x 1.22m)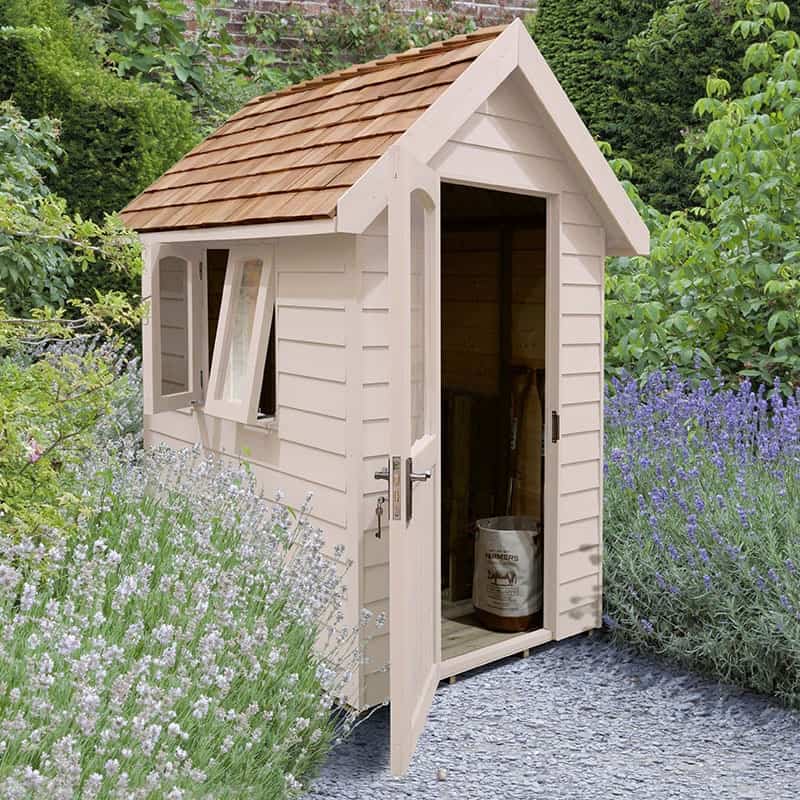 Full review coming soon
Our experts have not yet done a full review of this product. Please check back soon for the full review, in the meantime here is what the manufacturer says.
Stunningly designed and only constructed from the finest materials, the Forest Retreat 6×4 LuxuryShed in cream offers unprecedented luxury and unbeatable versatility to discerning people who value spending time in the garden. It is an unbelievably posh shed indeed! More than just a wooden shed, this exquisite garden building is expertly built in the UK, using kiln-dried, smooth-planed redwood timber boards, mounted on an incredibly sturdy 45mm x 28mm PAR framework. Boasting both beauty and brawn, the attractive, traditional featheredge appearance belies an extraordinarily strong structure, for each individual board overlaps the other by more than 25mm, resulting in a wall thickness of over 20mm in those areas.
Pressure-treated and supplied with a fantastic 15-year guarantee, no further treatment is required, saving time and money. Whats more, all of the wood is both PEFC and FSC-certified as only being sourced from sustainable, well-managed forests. It has been finished in a tasteful, high quality cream premium paint. The floor and apex roof are constructed from premium 12mm interlocking, smooth-planed, pressure-treated tongue and groove boards. The robust floor is supported by pressure-treated bearers, ensuring complete protection from ground moisture and making it ideal for storing heavier items. The roof is covered in stunning Grade 1 Canadian Red Cedar shingles, which are exactly the same specification as those used on high-end residential buildings in Canada.
Over time, their rich, warm colour will develop into a subtle shade of silver, whilst natural oils protect them from rot and insects alike, resulting in a life expectancy of more than 50 years. The roofs steeply pitched design gives this garden building a truly distinct character, as well as providing ample headroom for even the tallest gardeners. Entry to this superior garden shed is gained via a single door, which can be secured by rim lock to keep valuable items safe. The cosy interior is perfect for relaxing, potting plants, DIY or using as a storage facility, as shelves can easily and conveniently be inserted atop the upper frame rails.
The 2 opening windows, fitted with robust, stylish latches, provide both an abundance of natural light and ample ventilation on warmer days. These charming windows can be fitted to open from the side or top and are made from near-unbreakable styrene, renowned for being safer than conventional glass. Measuring 2400mm x 1460mm x 1970mm, this beautiful 6×4 shed is also available in grey or green and as an 8×5 model with the same extraordinary specifications. **The Forest Retreat Shed will be delivered and assembled onsite by our team of professional installers. Due to the substantial nature of this garden structure, it is essential that a level concrete base is prepared in advance.
Product Details
Building Type
Apex Sheds, Garden Sheds, Posh Sheds, Shed with Windows, Small Sheds, Tongue and Groove Sheds, Wooden Sheds
Metric Size (Meters)
6' x 4'
Cladding Type
Overlap Board
Treatment Type
Pressure Treated
Floor Material
Tongue & Groove Boards
Glazing Material
2mm Styrene
Roof Material
Tongue & Groove Boards
Depth At Base (Imperial)
5"
Depth At Base (Metric)
1810.0mm
Width At Base (Imperial)
4"
Width At Base (Metric)
1220.0mm
Door Height (Metric)
1740.0mm
Door Width (Metric)
650.0mm
Ridge Height (Imperial)
7"
Ridge Height (Metric)
2165.0mm
Eaves Height (Imperial)
5"
Eaves Height (Metric)
1690.0mm
Roof Covering
Cedar Shingles
Roof Thickness (Metric)
12.0mm
Overall Depth (Imperial)
6"
Overall Depth (Metric)
1970.0mm
Overall Height (Imperial)
7"
Overall Height (Metric)
2400.0mm
Overall Width (Imperial)
4"
Overall Width (Metric)
1460.0mm
Comparisons of Similar Sheds
| | | | | | |
| --- | --- | --- | --- | --- | --- |
| | | | | | |
| Expert Score | 68 | 68 | 70 | 78 | 73 |
| Price | £389.99 | £1,089.00 | £1,769.00 | £689.99 | £578.99 |
| Size | 6' x 4' | 10' x 10' | 20' x 10' | 8' x 6' | 8' x 6' |
| Brand | Forest Garden | Windsor | Windsor | Shire | Forest Garden |
| Material | Wooden | Wooden | Wooden | Wooden | Wooden |
| Cladding Thickness | 7mm | 7mm | | 12mm | 7mm |
| Guarantee | 10 Years | 10 Years | 10 Years | 10 Years | 15 Years |
| | Go | Go | Go | Go | Go |
Size: 6' x 4'
Available From:
Support WhatShed: by making a purchase after clicking a link above, a portion of the sale supports this site.