6′ x 4′ Forest Retreat Green Luxury Shed (1.81m x 1.22m)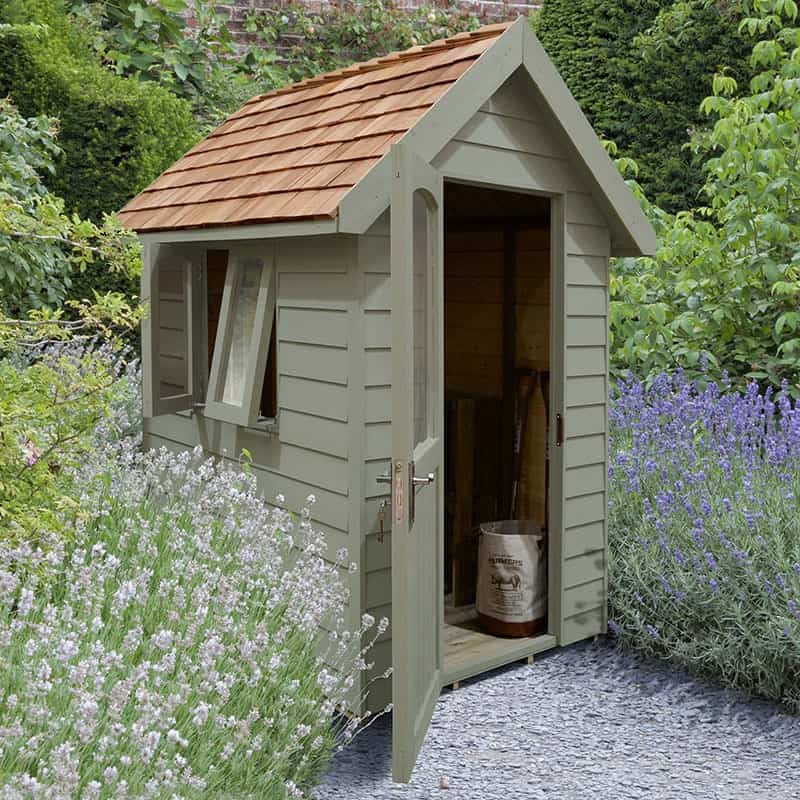 Full review coming soon
Our experts have not yet done a full review of this product. Please check back soon for the full review, in the meantime here is what the manufacturer says.
If youre a discerning gardener or home owner who wants to spend more time in your garden, we have a superior shed for you to enjoy. The Forest Garden Retreat 6×4 Luxury Shed in Green combines high specification materials, thoughtful features and a timeless, understated design, making it a remarkably posh shed for gardeners who are particularly proud of their gardens. Thoughtfully designed and expertly crafted here in the UK, this garden building oozes class, possessing both beauty and brawn in abundance. Built from kiln-dried, smooth-planed redwood timber boards, mounted on a robust 45mm x 28mm PAR framework, the attractive, traditional featheredge appearance belies a wonderfully strong and durable structure.
Each individual board overlaps its neighbours by more than 25mm, resulting in a wall thickness of over 20mm in those areas. This makes for a weathertight, insulated wooden shed, more akin to a log cabin, in which you can remain snug throughout the year. All of the wood has been pressure treated and is supplied with a superb 15 year anti-rot guarantee, so no further treatment is required, saving you money and leaving you more time to do the things you enjoy. The shed is finished with a premium quality green paint with other models available in cream or grey to suit your preference.
Furthermore, the timber is both PEFC and FSC-certified, so you can rest assured that the timber is only sourced from sustainable, well-managed forests and is fully endorsed by all of the major environmental charities. The floor is constructed from premium 12mm interlocking, smooth-planed, pressure treated tongue and groove boards, supported by pressure treated bearers, so lends itself perfectly to the storage of heavier items, as well as ensuring that your prized possessions enjoy protection from ground moisture. The apex roof is also built from 12mm interlocking, smooth-planed, pressure treated tongue and groove boards, making it equally robust.
The steeply-pitched design creates a superior small shed with a truly singular character, as well as allowing ample headroom for even our tallest customers. This roof is covered in Grade 1 Canadian Red Cedar shingles which are the same specification as those used on exclusive residential properties in Canada, so you neednt lose any sleep over inclement British weather. As the shingles age, their rich, warm colour develops into a subtle shade of silver while their natural oils provide complete protection from the elements, rot and insects, resulting in a life expectancy of over 50 years.
You can gain easy access to this cosy 6×4 shed via a single door which can be secured by a rim lock to keep your valuable items safe from unwanted attention. Whether you plan on potting plants, carrying out a spot of DIY, or simply relaxing with a good book, the snug interior provides an exceptionally welcoming environment and is a place where youll love spending time. And if you need a bit of extra storage space too? Well, the upper frame rails make the perfect home for shelving. Fitted with premium-quality latches, the 2 opening windows are constructed from lightweight styrene, renowned for being near-unbreakable and far safer than conventional glass.
The windows can be fitted to open from the sides or the top to suit your preference. These windows ensure an abundance of natural light, as well as ample ventilation, whether youre relaxing or working inside. This exquisite 6×4 wooden shed has dimensions of 240cm x 146cm x 197cm. It is also available as an 8×5 shed. **Our team of professional installers will deliver and assemble your Forest Retreat Shed. However, due to the substantial nature of this garden building, it is essential to prepare a level concrete base in advance of their visit.
Product Details
Building Type
Apex Sheds, Garden Sheds, Posh Sheds, Pressure Treated Sheds, Shed with Windows, Small Sheds, Tongue and Groove Sheds, Wooden Sheds
Metric Size (Meters)
6' x 4'
Cladding Type
Overlap Board
Treatment Type
Pressure Treated
Floor Material
Tongue & Groove Boards
Glazing Material
2mm Styrene
Roof Material
Tongue & Groove Boards
Depth At Base (Imperial)
5"
Depth At Base (Metric)
1810.0mm
Width At Base (Imperial)
4"
Width At Base (Metric)
1220.0mm
Door Height (Metric)
1740.0mm
Door Width (Metric)
650.0mm
Ridge Height (Imperial)
7"
Ridge Height (Metric)
2165.0mm
Eaves Height (Imperial)
5"
Eaves Height (Metric)
1690.0mm
Roof Covering
Cedar Shingles
Roof Thickness (Metric)
12.0mm
Overall Depth (Imperial)
6"
Overall Depth (Metric)
1970.0mm
Overall Height (Imperial)
7"
Overall Height (Metric)
2400.0mm
Overall Width (Imperial)
4"
Overall Width (Metric)
1460.0mm
Comparisons of Similar Sheds
| | | | | | |
| --- | --- | --- | --- | --- | --- |
| | | | | | |
| Expert Score | 68 | 68 | 70 | 78 | 73 |
| Price | £389.99 | £1,089.00 | £1,769.00 | £689.99 | £578.99 |
| Size | 6' x 4' | 10' x 10' | 20' x 10' | 8' x 6' | 8' x 6' |
| Brand | Forest Garden | Windsor | Windsor | Shire | Forest Garden |
| Material | Wooden | Wooden | Wooden | Wooden | Wooden |
| Cladding Thickness | 7mm | 7mm | | 12mm | 7mm |
| Guarantee | 10 Years | 10 Years | 10 Years | 10 Years | 15 Years |
| | Go | Go | Go | Go | Go |
Size: 6' x 4'
Available From:
Support WhatShed: by making a purchase after clicking a link above, a portion of the sale supports this site.