6′ x 4′ Lotus Anthracite Grey Low Pent Metal Shed (1.8m x 1.24m)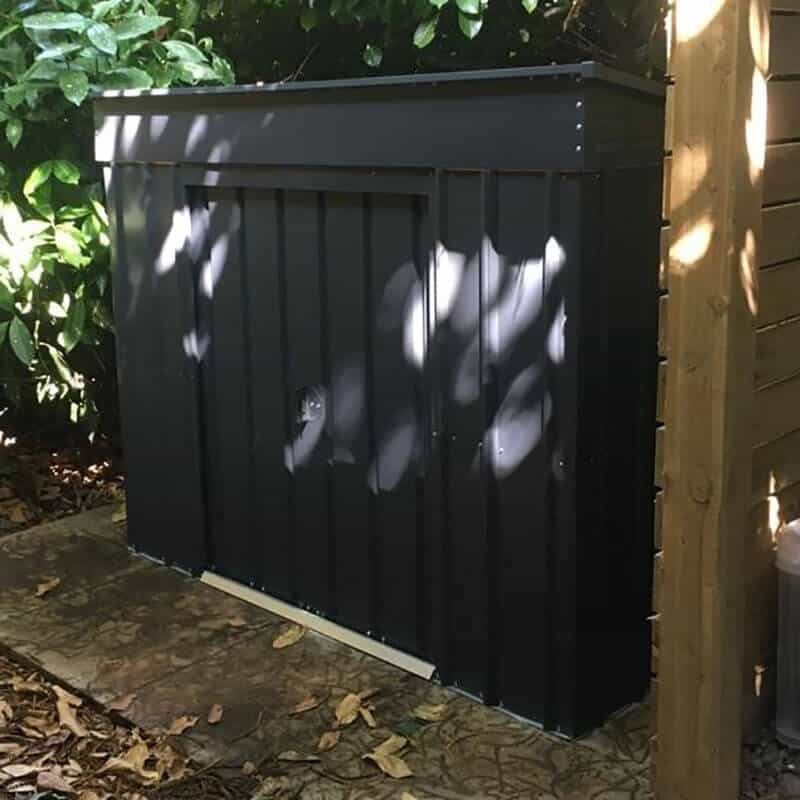 Full review coming soon
Our experts have not yet done a full review of this product. Please check back soon for the full review, in the meantime here is what the manufacturer says.
Two years of research have gone into producing the 6′ x 4′ Lotus Anthracite Grey Low Pent Metal Shed (1.8 x 1.2m), a garden shed which is stronger, more durable and easier to assemble than any metal shed that has come before it.ConstructionBoasting reinforced bracing throughout, wrap-around corner panels and a fantastic 15-year limited warranty, this high-spec storage shed is constructed from 0.3mm high-tensile, hot-dipped galvanised steel, with a 0.5mm heavy-gauge galvanised steel frame and base rails.
It provides unbeatably robust and reliable garden storage.This rust-proof metal shed is not only as tough as they come, it is also ideal for caravan parks, where non-combustible storage units are compulsory.Appearance and MaintenanceThe smart pent roof and premium anthracite-grey-paint finish ensure that this 6×4 shed looks incredibly stylish too.
Whats more, it is virtually maintenance-free, saving both time and money.DoorsThis pent shed includes sliding double doors with pad-lockable steel door handles (padlock not included), so stored items will remain completely safe from unwanted attention.The super-smooth door glide and track layout has been completely-redesigned to provide increased strength and stability, whilst the entry/ exit ramp ensures the easiest possible access to stored items.Other Key FeaturesOnce inside, ventilated gables reduce condensation and ensure ideal garden storage conditions.AssemblyThis premium-quality shed is not only painstakingly designed and constructed from high-spec materials, it is easy to erect too.
Pre-drilled holes, a user-friendly instruction manual, video guide and technical support all ensure a straightforward, stress-free assembly.Please note that this shed for sale is supplied without flooring and MUST be anchored to a firm foundation to prevent damage during windy conditions.AccessoriesVarious optional extras are available to buy, including a Hilti screw kit, steel foundation kit and timber floor.The shed requires either a timber floor OR a foundation kit not both.
Product Details
Building Type
Cheap Sheds, Double Door Sheds, Garden Sheds, Metal Sheds, Pent Sheds, Small Pent Sheds, Small Sheds
Metric Size (Meters)
6' x 4'
Locking System
Padlockable Handles (padlock not included)
Depth At Base (Imperial)
3"
Depth At Base (Metric)
1130.0mm
Width At Base (Imperial)
5"
Width At Base (Metric)
1710.0mm
Door Height (Metric)
1140.0mm
Door Width (Metric)
630.0mm
Depth Including Overhang (Imperial)
4"
Depth Including Overhang (Metric)
1240.0mm
Ridge Height (Imperial)
4"
Ridge Height (Metric)
1430.0mm
Width Including Overhang (Imperial)
5"
Width Including Overhang (Metric)
1800.0mm
Eaves Height (Imperial)
4"
Eaves Height (Metric)
1230.0mm
Construction Type
Pre Profiled Wall Sheet
Comparisons of Similar Sheds
Size: 6' x 4'
Available From:
Support WhatShed: by making a purchase after clicking a link above, a portion of the sale supports this site.