6 x 4 Suncast Resin Kensington Eight Store – Plastic Garden Storage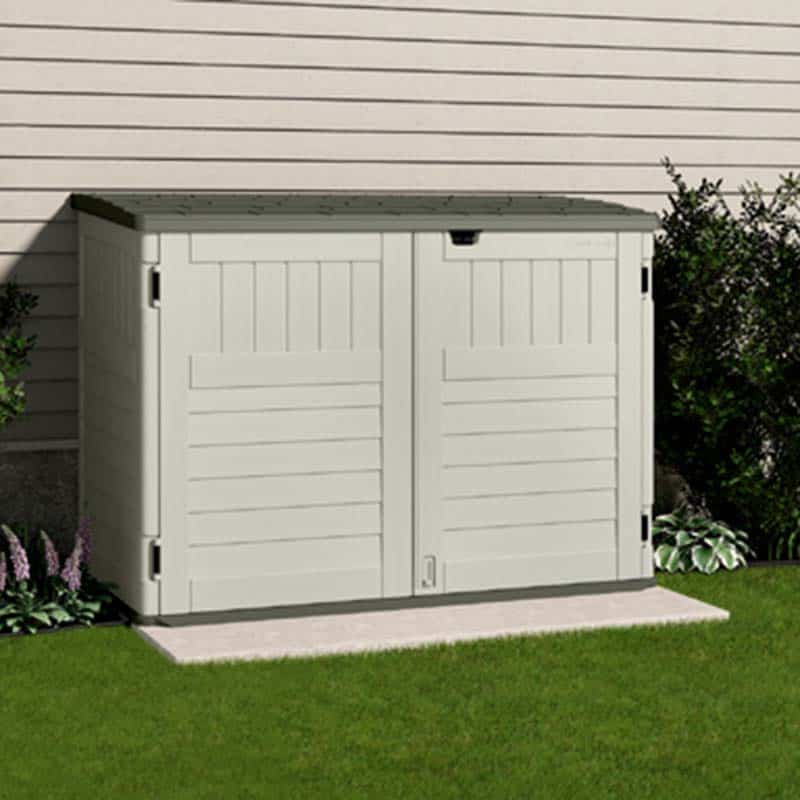 Full review coming soon
Our experts have not yet done a full review of this product. Please check back soon for the full review, in the meantime here is what the manufacturer says.
This Suncast Kensington Shed is perfect for storing your larger garden tools keeping them safe from the frequent harsh conditions our gardens experience. At 70–horizontal–cubic foot, it is suitable for bikes, lawn mowers/long garden tools, patio furniture and wheelie bins. It is large enough to hold two 360 litre capacity wheelie bins. The construction has a stay dry design so you wont find any rotting providing excellent value for price. Our Suncast Kensington Shed features a lift up lid with gas struts which means access to your items couldn't be easier. This shed has an exclusive blow moulded technology producing extra strong wall paneling providing extra support for the heavier items you wish to store.
Also, this suncast kensington shed has a pad lockable 3 door locking system (padlock not included) which means you wont have to worry about your items safety. Its low profile allows it to be placed beside your house or on the fence line. Overall this hi grade UV plastic resin constructed shed is a great addition to any garden and in a vanilla/stoney colour will fit in to any garden size/style. All of our Suncast kensington sheds come with a 5 year guarantee and at this price you will receive a high quality simple way to keep your items safe and protected for a very long time. Steel reinforced double wall construction for strength and stability.
Product Details
Building Type
Bin Stores, Garden Storage, Plastic Garden Storage, Plastic Wheelie Bin Storage, Wheelie Bin Storage
Metric Size (Meters)
6' x 4'
Floor Material
UV Stable Plastic Resin
Roof Material
Blow Moulded Twin Wall Plastic Resin
Width At Base (Imperial)
5"
Width At Base (Metric)
1790.0mm
Door Height (Metric)
1180.0mm
Door Width (Metric)
1612.0mm
Ridge Height (Imperial)
4"
Ridge Height (Metric)
1320.0mm
External Depth (Imperial)
3"
External Depth (Metric)
1125.0mm
External Width (Imperial)
5"
External Width (Metric)
1790.0mm
Internal Depth (Imperial)
3"
Internal Depth (Metric)
980.0mm
Internal Width (Imperial)
5"
Internal Width (Metric)
1670.0mm
Comparisons of Similar Sheds
Size: 6' x 4'
Available From:
Support WhatShed: by making a purchase after clicking a link above, a portion of the sale supports this site.