6′ x 4′ Yardmaster Platinum Tall Pent Metal Shed (1.9m x 1.19m)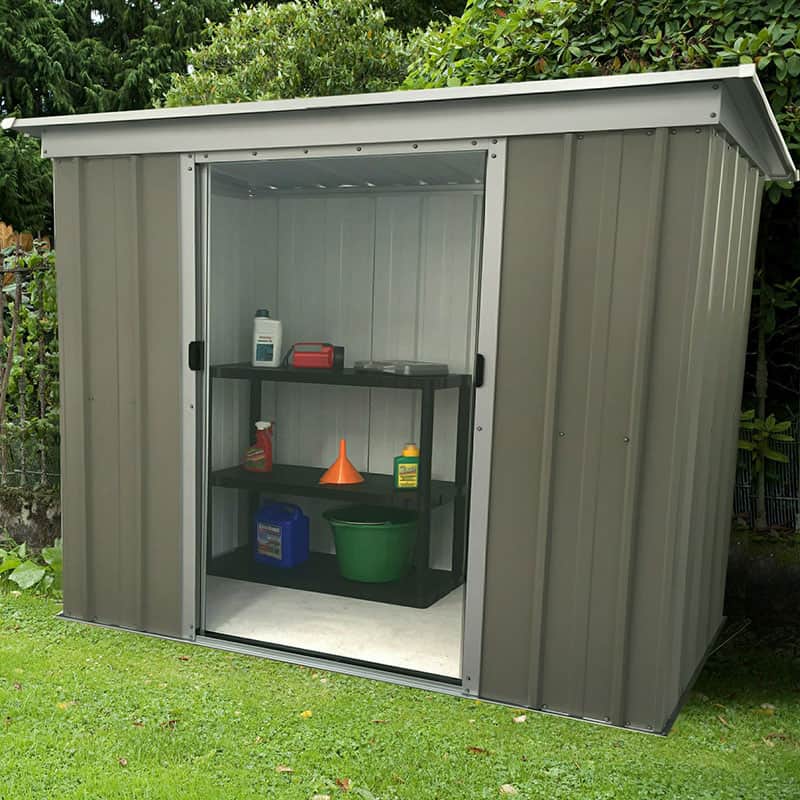 Full review coming soon
Our experts have not yet done a full review of this product. Please check back soon for the full review, in the meantime here is what the manufacturer says.
Offering exceptional protection for your garden tools and equipment, the 6×4 Yardmaster Platinum Tall Pent Metal Shed is made in Great Britain, incredibly storage-friendly and supplied with an impressive 15-year anti-rust guarantee. Coating your shed in preservative and repairing torn roof felt will be jobs from the past once youve purchased this maintenance-free garden shed. Built from hot-dipped galvanised steel, which will never warp, crack or split, even in extreme weather conditions, it is completely impervious to damage from bugs and pests too. Completely fire-retardant, this superb metal shed is equally suitable sat next to your house or on a caravan park, where non-combustible outdoor storage is compulsory.
A contemporary pent roof and a smart painted finish ensure that this small shed doesnt just boast brawn but beauty too, while the 7 layers of protection eliminate any risk of corrosion and ensure the sheds immaculate appearance will endure for many years to come. You can gain easy access to your tools via sliding double doors, which are overlapping, include a padlock fixing (padlock not included) and are fitted with anti-tamper bolts, so rest assured that your prized possessions will be completely shielded from the elements and safe from unwanted attention. A generous height makes it suitable for storing your long-handled garden tools too.
This 6×4 shed is supplied with anchor fixings, clearly-numbered parts, pre-drilled holes, an assembly manual and UK-based telephone support to help you achieve a simple, stress-free assembly. Please be aware that this metal shed is supplied without flooring and should be anchored to a level concrete or paved base. A high-strength galvanised steel floor support kit can be purchased as an optional extra, allowing you to add your own timber floor, if desired (timber floor not included). You can also buy a 3-tier steel shelving unit as an optional extra, to customise your garden storage.
Product Details
Building Type
Cheap Sheds, Double Door Sheds, Garden Sheds, Metal Sheds, Pent Sheds, Small Pent Sheds, Small Sheds
Metric Size (Meters)
6' x 4'
Locking System
Pad-Lockable (padlock not supplied)
Depth At Base (Imperial)
3"
Depth At Base (Metric)
1040.0mm
Width At Base (Imperial)
6"
Width At Base (Metric)
1840.0mm
Door Height (Metric)
1670.0mm
Door Width (Metric)
790.0mm
Depth Including Overhang (Imperial)
3"
Depth Including Overhang (Metric)
1190.0mm
Ridge Height (Imperial)
6"
Ridge Height (Metric)
1840.0mm
Width Including Overhang (Imperial)
6"
Width Including Overhang (Metric)
1980.0mm
Assembly Time (estimated)
4-6 hours
Eaves Height (Imperial)
5"
Eaves Height (Metric)
1700.0mm
Construction Type
Hot Dipped Galvanised Steel
Recommended Construction Surface
Concrete or Paved Area (level)
Comparisons of Similar Sheds
Size: 6' x 4'
Available From:
Support WhatShed: by making a purchase after clicking a link above, a portion of the sale supports this site.