6 x 6 (1.79m X 1.19m) – Wooden Playhouse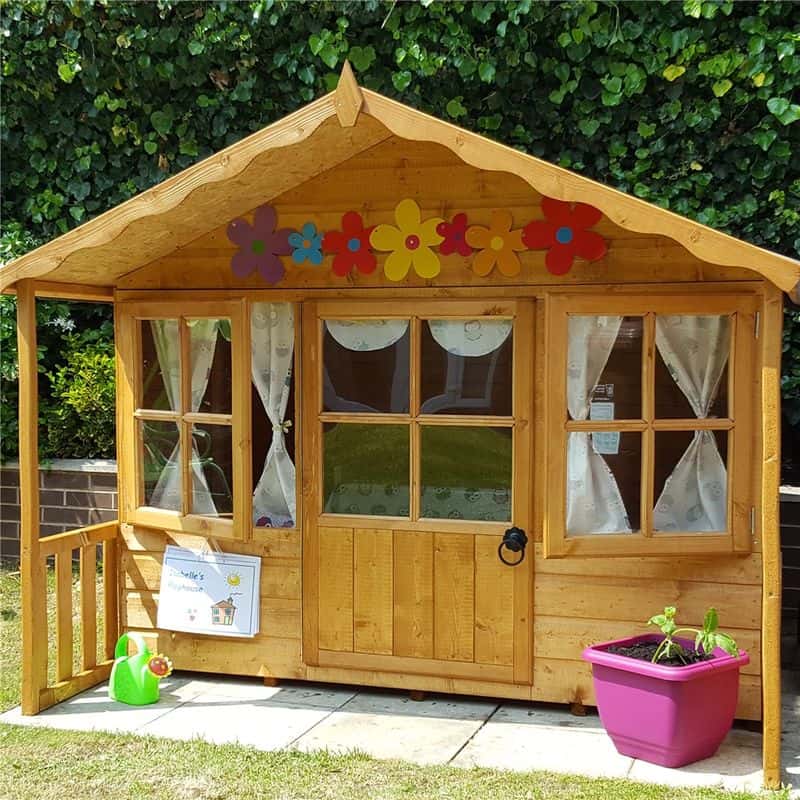 Full review coming soon
Our experts have not yet done a full review of this product. Please check back soon for the full review, in the meantime here is what the manufacturer says.
6ft x 5ft 6 Wooden Playhouse The 6ft x 5ft 6″ Wooden Playhouse is ideal for entertaining your kids without breaking the bank. 12mm Tongue and Groove Shiplap Cladding makes the playhouse sturdy and less prone to being damaged. Construction Main Points The playhouse is constructed from high quality 12mm Tongue and Groove shiplap cladding; providing increased strength and stability. Solid OSB Floor and Roof provides a solid floor and roof solution for your playhouse. The playhouse comes with a free factory base which will last up to 6 weeks. We recommend you treat your shed as soon as you have built it. Key Features 6ft x 5ft 6″ Wooden Playhouse Playhouse Veranda Included Two large opening criss cross windows and matching door Playhouse Delivered with all Fittings and Fittings for Self Assembly. Quality Tongue and Groove 12mm Shiplap Wall Panels Tongue and Groove Floor Styrene Glazed Windows and Door for safety. Safety hinges to prevent trapped little fingers FSC Timber Playhouse
Product Details
Building Type
Playhouses, Wendy Houses, Wooden Playhouses
Metric Size (Meters)
5' x 3'
Cladding Type
Tongue & Groove
Floor Material
12mm Tongue & Groove Floor
Roof Material
11mm Solid OSB
Ridge Height
1.57m (5' 2")
Base Size
1.79m x 1.19m + 490mm verandah/canopy (6' x 3' 11" + 1'6")
Window
2 x Opening Windows with Styrene Safety Glass
Eaves Height
1.16m (3' 10")
Walls
12mm Tongue & Groove
Ce Certified
comploes with BS5666 EN71
Comparisons of Similar Sheds
Size: 5' x 3'
Available From:
Support WhatShed: by making a purchase after clicking a link above, a portion of the sale supports this site.