6′ x 8′ Palram Canopia Tan Skylight Plastic Shed (1.85m x 2.29m)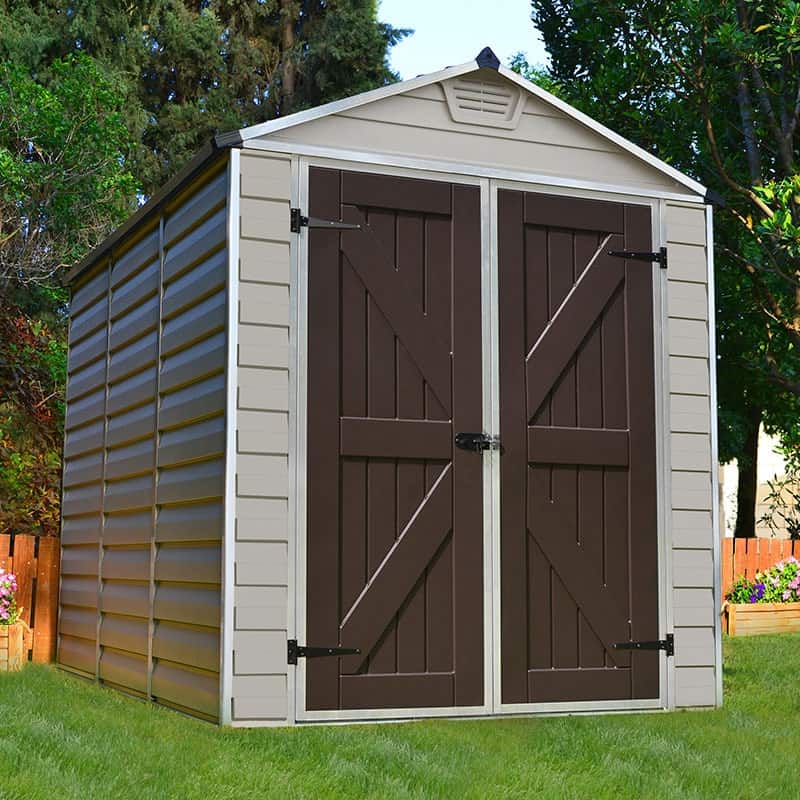 Full review coming soon
Our experts have not yet done a full review of this product. Please check back soon for the full review, in the meantime here is what the manufacturer says.
Offering you robust and stylish garden storage for your tools and equipment, the 6 x 8 Palram Canopia Tan Skylight Plastic Shed comes with some high-specification features and a superb 10 year limited warranty. Expertly built using near-unbreakable, high-impact 1mm polycarbonate panels, and utilising leading-edge Fine Shield Technology, this plastic shed is completely UV-protected, blocks 100% of harmful UV-rays, and will never discolour, rot or warp. The aluminium frame is impervious to rust and adds to the shed's solidity, while the anti-slip floor ensures your tools and equipment are completely protected from ground moisture. A unique 0.9mm shingled polycarbonate skylight roof allows a soft natural light into the shed (10% light transmission), so you'll find working inside pleasant and easy.
For enhanced security, the panels are externally opaque, while the apex design increases headroom, allows you to store taller tools, and ensures effective rainwater runoff. You can gain storage-friendly access to the interior via wide double doors with a low threshold, which is perfect for wheelbarrows. The doors are fitted with a pad bolt too, so rest assured that your valuable items will remain safe (padlock not included). Air vents to the front and rear of the shed provide welcome ventilation and optimum garden storage conditions. Wind resistant to 90km/hr (56ml/hr) and snow-load tested to 75kg/m² (15.4lbs/ft²), this garden shed offers exceptional weatherproof protection for your stored items.
Simply use the enclosed anchor kit to secure the shed to a firm, level base. Expertly made from recyclable components and available in a range of colours and sizes, this premium plastic shed comes with full instructions to help you achieve a straightforward assembly. What's more, it is completely maintenance-free, saving you money and leaving you more time to do the things you enjoy. Why not free up valuable space and purchase an all-inclusive storage shelf kit as an optional extra? Made from high-grade 16mm polycarbonate, with 2 galvanized steel brackets, this shed shelving is specifically designed for Palram Canopia Skylight sheds and can hold up to 30kg.
You can purchase low-heat LED lights too, which you'll find easy to connect, attractive and exceptionally economical. Free delivery is available to most UK addresses.
Product Details
Building Type
Apex Sheds, Double Door Sheds, Garden Sheds, Plastic Sheds
Metric Size (Meters)
6' x 8'
Treatment Type
UV Protected
Locking System
Padlockable (Lock not included)
Roof Material
Unique Skylight Polycarbonate Roof Panels
Depth At Base (Imperial)
7"
Depth At Base (Metric)
2268.0mm
Width At Base (Imperial)
5"
Width At Base (Metric)
1750.0mm
Door Height (Metric)
1710.0mm
Door Width (Metric)
1275.0mm
Depth Including Overhang (Imperial)
7"
Depth Including Overhang (Metric)
2286.0mm
Ridge Height (Imperial)
7"
Ridge Height (Metric)
2170.0mm
Width Including Overhang (Imperial)
6"
Width Including Overhang (Metric)
1854.0mm
Internal Depth (Imperial)
7"
Internal Depth (Metric)
2230.0mm
Internal Width (Imperial)
5"
Internal Width (Metric)
1713.0mm
Eaves Height (Imperial)
5"
Eaves Height (Metric)
1745.0mm
Construction Type
High Impact Polycarbonate Panels with Aluminium Frame
Floor
Anti Slip Polycarbonate
Comparisons of Similar Sheds
| | | | | | |
| --- | --- | --- | --- | --- | --- |
| | | | | | |
| Expert Score | 75 | 75 | 75 | 78 | 78 |
| Price | £449.99 | £819.99 | £669.99 | £1,999.00 | £1,899.00 |
| Size | 6' x 5' | 8' x 12' | 10' x 6' | 11' x 13' | 11' x 9' |
| Brand | Palram Canopia | Palram Canopia | Palram Canopia | Palram Canopia | Palram Canopia |
| Material | Plastic | Plastic | Plastic | Plastic | Plastic |
| Cladding Thickness | | | | | |
| Guarantee | 10 Years | 10 Years | 10 Years | 15 Years | 15 Years |
| | Go | Go | Go | Go | Go |
Size: 6' x 8'
Available From:
Support WhatShed: by making a purchase after clicking a link above, a portion of the sale supports this site.