6'x4′ Forest Vale Victorian Wooden Greenhouse (1.8×1.2m)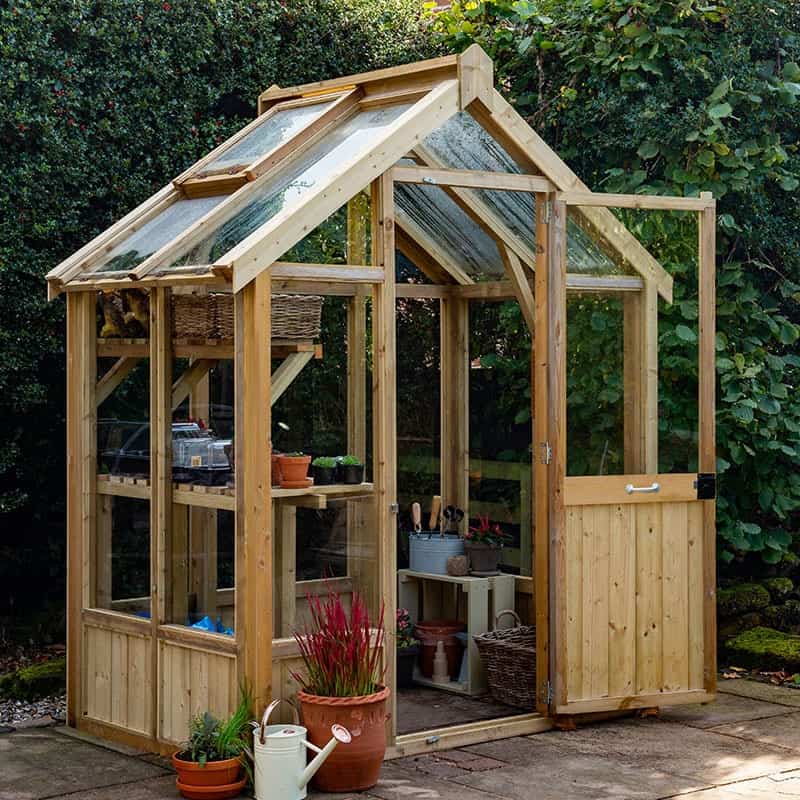 Full review coming soon
Our experts have not yet done a full review of this product. Please check back soon for the full review, in the meantime here is what the manufacturer says.
Timber greenhouses are the perfect investment for your garden, creating a real stand out feature whilst creating the ideal growing space for the keen gardener. Timber is recognised as the best material to build a greenhouse with, as wood has a natural warmth unlike aluminium alternatives. Aesthetically this 6×4 wooden greenhouse will enhance any garden or outdoor space whilst ensuring that functionality remains key. Vale greenhouses have many features, but at their heart they have been inspired by the designs used by growers in the Vale of Evesham, to defy the UK climate and optimise the growth of seeds, plants and vegetables all year round.
No compromise has been made in order to bring you the most durable and robust 6×4 wooden greenhouse possible. All timber used is slow grown, planed, pressure treated and kiln dried to give a 15 year antirot guarantee. Thanks to the pressure treatment there is also no need for annual retreatment, saving you time and money. The use of 12mm Tongue and Groove cladding combined with extremely robust 70x45mm framing has created a durable structure built to last, ensuring your 6×4 wooden greenhouse will stand up to the elements. High quality ironmongery supports the timber structure and the opening door. Allowing easy access to your greenhouse, the door has been designed to allow manoeuvring of your gardening equipment.
2 full width spans of staging at two heights are supplied as standard with this stunning 6×4 wooden greenhouse, allowing you to place your seed trays and plants at different heights ensuring each receives the optimum amount of light. 4mm toughened glass allows natural light to flood your growing space, giving your plants and vegetables the best environment to flourish and bloom. The toughening process on the glass gives extra safety and durability to your greenhouse. An opening roof window with auto vent also comes fitted as standard so that you can relax in the knowledge that the air flow and temperature is being automatically regulated to the required levels.
Product Details
Building Type
Auto Vent Greenhouses, Double Glazed Greenhouses, Greenhouses, Small Greenhouses, Walk-in Greenhouses, Wooden Greenhouses
Metric Size (Meters)
6' x 4'
Cladding Type
Tongue & Groove
Treatment Type
Pressure Treated
Glazing Material
4mm Toughened Safety Glass
Depth At Base (Imperial)
3"
Depth At Base (Metric)
1190.0mm
Width At Base (Imperial)
6"
Width At Base (Metric)
1834.0mm
Door Height (Metric)
1870.0mm
Door Width (Metric)
681.0mm
Depth Including Overhang (Imperial)
4"
Depth Including Overhang (Metric)
1230.0mm
Ridge Height (Imperial)
7"
Ridge Height (Metric)
2384.0mm
Width Including Overhang (Imperial)
6"
Width Including Overhang (Metric)
2028.0mm
Eaves Height (Imperial)
5"
Eaves Height (Metric)
1530.0mm
Roof Thickness (Metric)
4.0mm
Comparisons of Similar Sheds
Size: 6' x 4'
Available From:
Support WhatShed: by making a purchase after clicking a link above, a portion of the sale supports this site.