6'x8′ Palram Canopia Rion White Lean to Greenhouse (1.8×2.4m)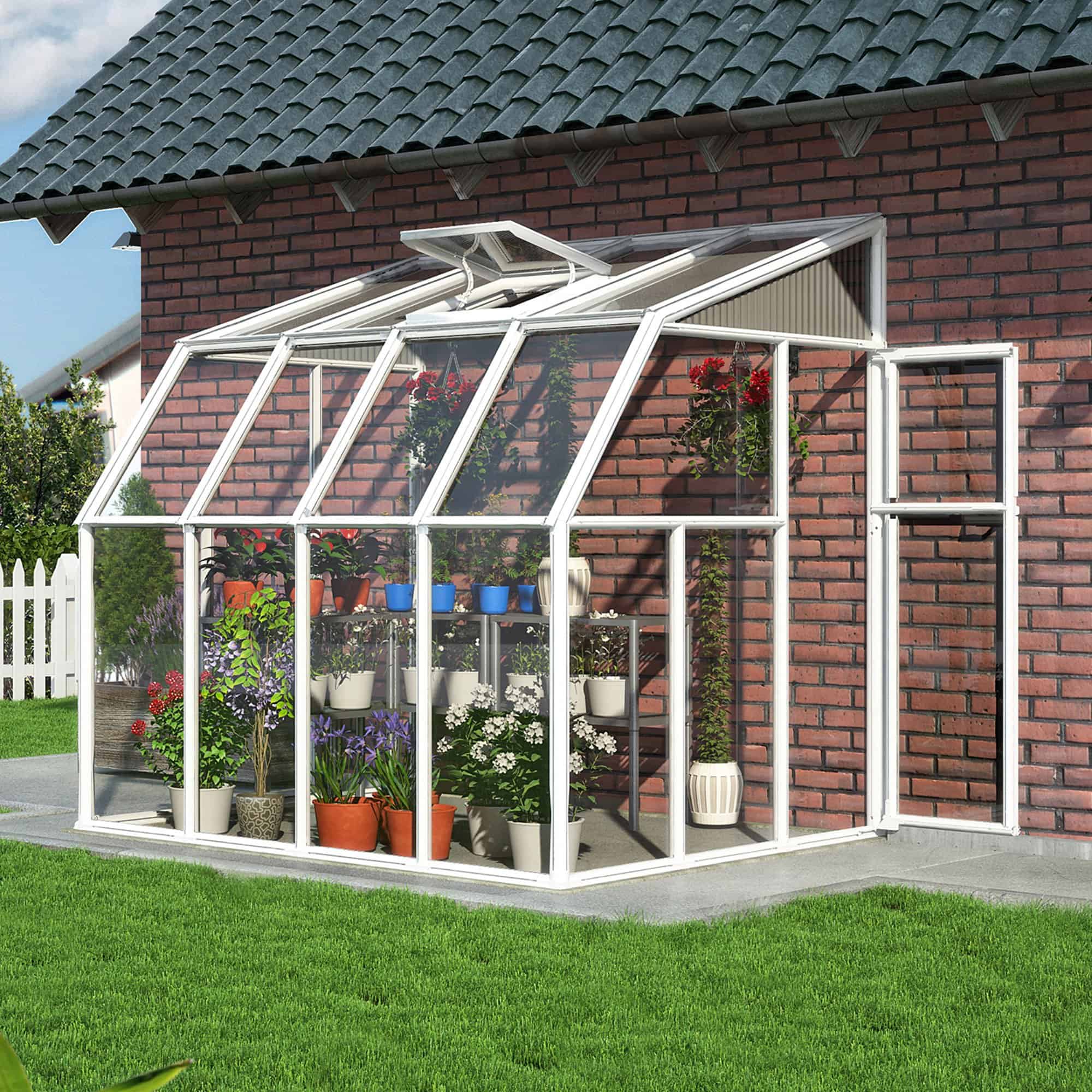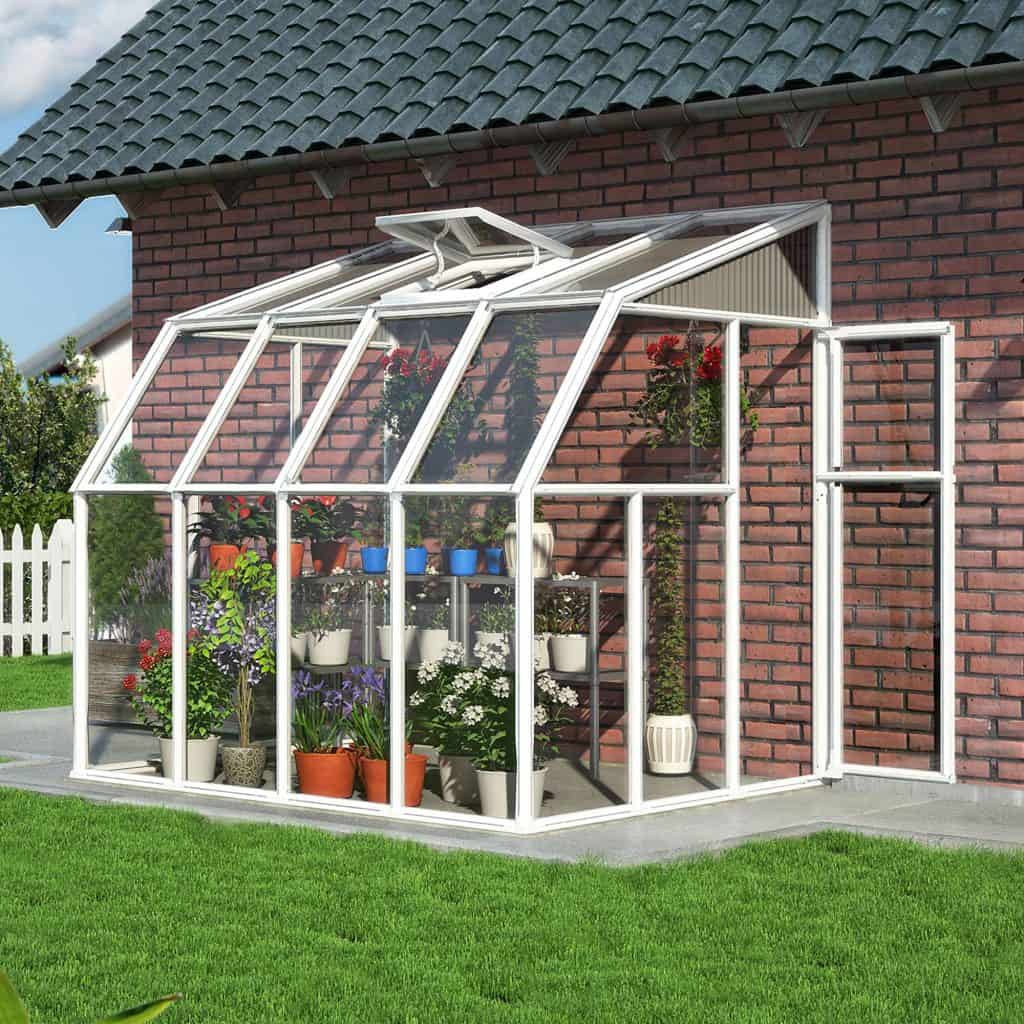 Full review coming soon
Our experts have not yet done a full review of this product. Please check back soon for the full review, in the meantime here is what the manufacturer says.
Extend your home and time in the garden with the 6×8 Palram Canopia Rion White Sun Room/ Greenhouse (1.8m x 2.4m). More than just a lean-to greenhouse, this sun room makes an attractive conservatory for relaxation and leisure activities too. The choice is yours.This 6×8 sun room is expertly constructed from 4mm twin-wall polycarbonate roof panels and 3mm crystal-clear polycarbonate side panels, supported by a thick resin frame with reinforced central profiles and galvanised steel rods.The light-diffusing roof panels promote an even temperature by increasing thermal insulation and reducing extreme sunlight exposure. Both roof and side panels are completely UV-protected and shatterproof, and together they allow 82% light transmission.
This means your plants will enjoy optimum growing conditions, you will be protected from harmful UV rays, and the panels will neither discolour nor fade in the sun.Snow-load tested to 75kg/ m² (15.4lbs/ ft²), wind resistant to 90km/ hr (56ml/ hr), and with a lean-to roof which facilitates efficient rainwater runoff, this high-specification greenhouse will help your plants thrive, whatever nature throws at it.You can gain easy access through a single door, which can be fitted either end of the structure to suit the orientation of your garden. It includes a key-operated lock, so rest assured that your valuables will always be secure.
A manually-opened roof vent helps you regulate the temperature, once inside.Backed by a reassuring 7-year limited warranty, this polycarbonate sun room is completely maintenance free, saving you money and leaving you more time to do the things you enjoy. The polycarbonate panels have additional aluminium profiles, so all you need to do is slide them into place for a straightforward assembly.Please be advised that this polycarbonate greenhouse is designed without a floor and that you should fix it to a solid, level base.You can purchase a sun room, with the same premium specifications, in a range of sizes.
Product Details
Building Type
Cheap Greenhouses, Greenhouses, Large Greenhouses, Lean-To Greenhouses, Plastic Greenhouses, Walk-in Greenhouses
Metric Size (Meters)
6' x 8'
Glazing Material
High Impact Acrylic
Roof Material
Polycarbonate
Depth At Base (Imperial)
6"
Depth At Base (Metric)
1960.0mm
Width At Base (Imperial)
8"
Width At Base (Metric)
2600.0mm
Door Height (Metric)
1855.0mm
Door Width (Metric)
580.0mm
Depth Including Overhang (Imperial)
6"
Depth Including Overhang (Metric)
2005.0mm
Ridge Height (Imperial)
8"
Ridge Height (Metric)
2470.0mm
Width Including Overhang (Imperial)
8"
Width Including Overhang (Metric)
2620.0mm
Eaves Height (Imperial)
4"
Eaves Height (Metric)
1250.0mm
Roof Thickness (Metric)
4.0mm
Comparisons of Similar Sheds
| | | | | | |
| --- | --- | --- | --- | --- | --- |
| | | | | | |
| Expert Score | 73 | 68 | 65 | 68 | 68 |
| Price | £1,129.00 | £339.99 | £709.99 | £409.99 | £389.99 |
| Size | 8' x 6' | 6' x 6' | 8' x 12' | 6' x 10' | 6' x 6' |
| Brand | Windsor | Palram Canopia | Palram Canopia | Palram Canopia | Palram Canopia |
| Material | Wooden | Plastic | Metal | Plastic | Plastic |
| Cladding Thickness | 12mm | | | | |
| Guarantee | 10 Years | 5 Years | 5 Years | 5 Years | 5 Years |
| | Go | Go | Go | Go | Go |
Size: 6' x 8'
Available From:
Support WhatShed: by making a purchase after clicking a link above, a portion of the sale supports this site.