7 x 7 (2.69m x 2.05m) – Premier Corner Wooden Summerhouse – Double Doors – Side Windows – 12mm T&G Walls & Floor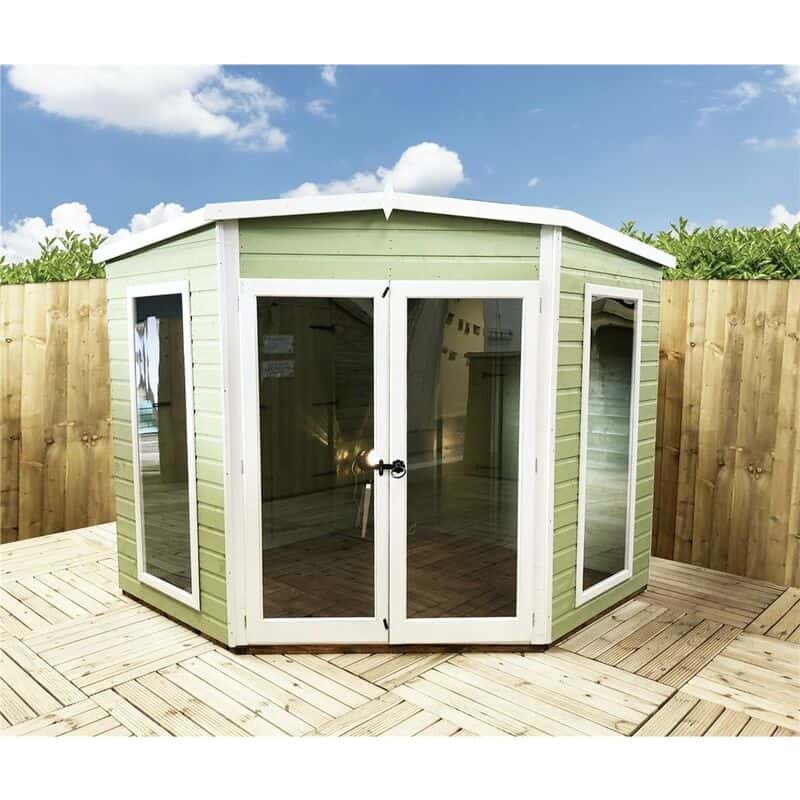 Full review coming soon
Our experts have not yet done a full review of this product. Please check back soon for the full review, in the meantime here is what the manufacturer says.
7ft x 7ft Premier Wooden Corner Summerhouse – Double Doors – Side Windows (12mm T&G Walls & Floor) The Tongue & Groove wooden cladding provides more stability and an aesthetic look to your summerhouse. The higher internal roof means you can stand comfortably inside the summerhouse and allows you to store larger items. This UK manufactured summerhouse looks great in any garden setting and is a great storage solution at a great price. Construction Main Points The summerhouse is constructed from high quality 12mm Tongue and Groove shiplap cladding; providing increased strength and stability. The high quality floor joists give the shed a solid and sturdy feel and allow a larger load capacity. The summerhouse comes with a free factory base which will last up to 6 weeks. We recommend you treat your shed as soon as you have built it. Key Features 7FT x 7FT WOODEN CORNER SUMMERHOUSE 12mm Tongue & Groove Walls 12mm Tongue & Groove Floor 8mm Solid OSB Roof 12mm Shiplap interlocking cladding
Product Details
Building Type
Corner Summer Houses, Insulated Summer Houses, Luxury Summer Houses, Small Summer Houses, Summer Houses, Wooden Summer Houses
Metric Size (Meters)
7' x 7'
Number of Windows
Has Windows
Cladding Type
Shiplap Tongue & Groove
Roof Material
8mm Solid OSB
Comparisons of Similar Sheds
Size: 7' x 7'
Available From:
Support WhatShed: by making a purchase after clicking a link above, a portion of the sale supports this site.