7′ x 7′ Asgard Gladiator Police Approved Security Metal Shed (2.2m x 2.2m)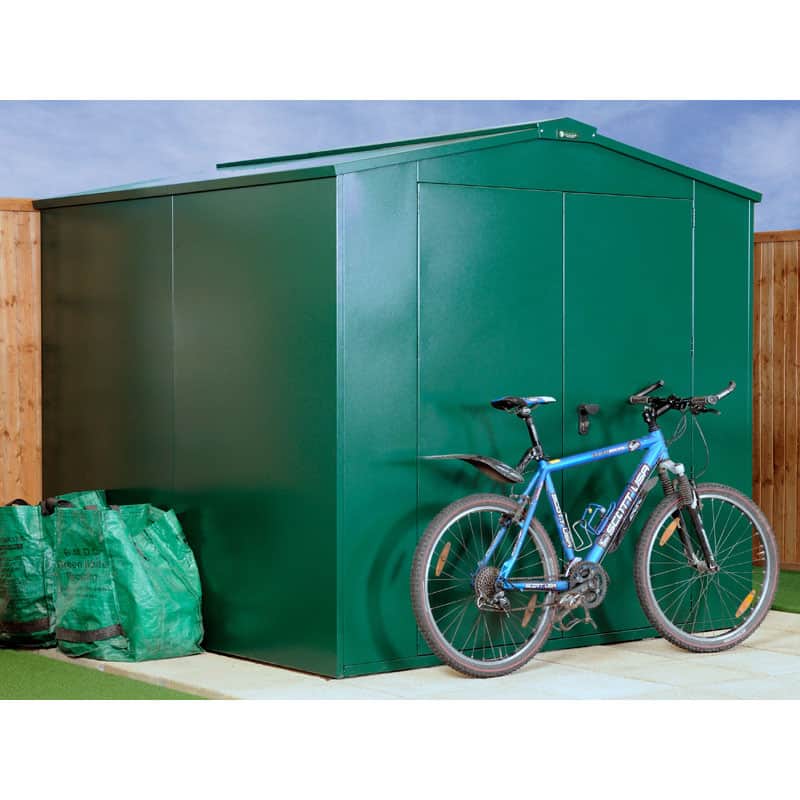 Full review coming soon
Our experts have not yet done a full review of this product. Please check back soon for the full review, in the meantime here is what the manufacturer says.
Endorsed by the police and constructed from premium materials throughout, the 7×7 Asgard Large Citadel Metal Shed offers you an unbeatably secure garden storage facility to house your valuable bikes, lawnmowers and tools. Expertly constructed in the UK, from heavy-duty, reinforced galvanised steel panels, this professional-level garden shed weighs 327kg, is impervious to rust, completely weatherproof and maintenance-free, so will provide your stored items with outstanding protection against the elements, with minimal fuss.
A traditional apex roof and smart dark-green finish ensure not only a superior weatherproof garden storage facility, but an incredibly attractive appearance too. The integral metal base is supplied with all of the fixings youll require to secure your new shed to a concrete base, whilst the unique ventilation system prevents the build-up of condensation and ensures that your prized possessions are always kept in optimum storage conditions. Wide, reinforced double doors provide storage-friendly access, which is ideal when housing and accessing large or bulky items.
These doors can be secured by an incredible 5-point locking system, which is both pick and drill-resistant, so rest assured that all of your valuables will enjoy unrivalled security and be completely safe from unwanted attention. Other notable security features include welded hinges and tamper-proof hidden screw ends. Asgard metal garden sheds are rigorously tested and fully endorsed by the police, insurance companies, the UK Locksmiths Association and the Loss Prevention Certification Board, for their exceptional levels of security.
In fact, as an Asgard shed owner, you may well benefit from lower insurance premiums. Supplied with an impressive 10-year anti-rust guarantee, this superb security shed also includes an electric mounting plate, to assist you when adding power to the unit, as well as pre-drilled holes for fixing extra-strong shelves, which are available as optional extras. **Please note that you should assemble this premium metal shed on a level concrete or paved base.
Product Details
Building Type
Apex Sheds, Cheap Sheds, Double Door Sheds, Garden Sheds, Metal Sheds, Secure Metal Sheds, Small Sheds, Solid Sheds
Metric Size (Meters)
7' x 7'
Locking System
5 Point Locking System with a Pick Resistant Lock
Depth At Base (Imperial)
7"
Depth At Base (Metric)
2240.0mm
Width At Base (Imperial)
7"
Width At Base (Metric)
2260.0mm
Door Height (Metric)
1690.0mm
Door Width (Metric)
1420.0mm
Internal Depth (Imperial)
6"
Internal Depth (Metric)
2130.0mm
Internal Width (Imperial)
7"
Internal Width (Metric)
2140.0mm
Eaves Height (Imperial)
5"
Eaves Height (Metric)
1820.0mm
Construction Type
Galvanized Steel
Comparisons of Similar Sheds
Size: 7' x 7'
Available From:
Support WhatShed: by making a purchase after clicking a link above, a portion of the sale supports this site.