7′ x 9′ Keter Oakland Plastic Garden Shed (2.29 x 2.87m)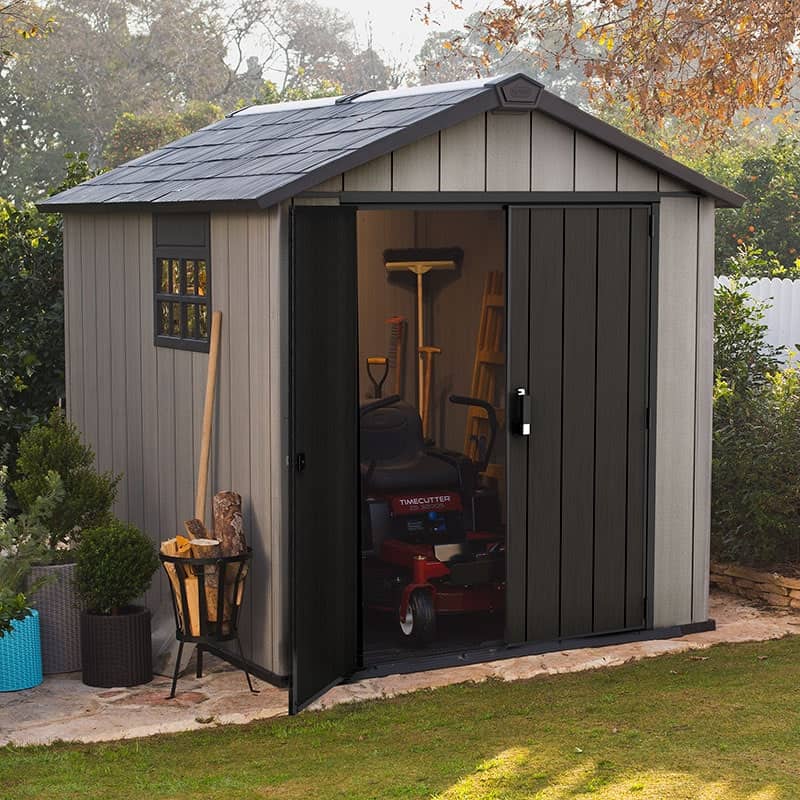 Full review coming soon
Our experts have not yet done a full review of this product. Please check back soon for the full review, in the meantime here is what the manufacturer says.
Not simply a plastic shed, this is the Keter Oakland 7×9 Plastic Garden Shed which uses the very latest technology and is backed by a limited lifetime warranty, to offer you everything you could possibly want from a garden storage shed. This state-of-the-art garden shed is built using Keter's ground-breaking DUOTECH™ technology, which consists of thick double-wall panels, reinforced with stainless-steel, to ensure unparalleled protection. Impervious to rot, rust and even the most extreme weather, this extraordinary material has a gorgeous brushed-wood texture, which you are free to paint, and yet requires no maintenance, whatsoever, offering you all of the aesthetic appeal of a wooden shed combined with the unbeatable convenience of plastic.
Should you decide to leave the shed unpainted, its grey finish will never discolour or fade. If you'd like to customise your new shed by putting up some shelves or hooks, that's no problem at all. Unlike other plastic sheds, these walls are perfectly safe to drill, so there's nothing to stop you from organising the interior just to your liking. This plastic garden shed boasts formidable strength. The heavy-duty polypropylene floor is designed to withstand frequent usage and will comfortably accommodate your heftiest tools. The apex roof roof is constructed from sturdy polypropylene tiles, reinforced with stainless-steel and snow-load tested to 100kg/ m², so your stored items will enjoy total weatherproof protection, the whole year round.
You can gain storage-friendly access via the wide double doors, which are fitted with a stainless-steel locking system (padlock not included), so rest assured that your prized possessions will always be safe from unwanted attention. Once inside, the generous roof height offers you plenty of room for manoeuvre and the opportunity to neatly store your tallest tools. Thanks to a full-ridge skylight and Victorian-style window, the interior also benefits from an abundance of natural light, which is welcome news if you're hard at work inside. Both the skylight and window are made from Perspex, which is near-unbreakable and renowned for being far safer than conventional glass.
Supplied with pre-cut tongue and groove panels to help you achieve a straightforward assembly, this plastic shed has external dimensions of 242cm x 229cm x 287cm and should be erected on a level concrete or paved base. We offer this Keter Oakland shed in 4 sizes to suit your garden storage needs. We also offer other Keter sheds for sale in our plastic sheds range. Free delivery is available to most UK addresses.
Supplied with a limited lifetime warranty
Built using Keter's DUOTECH™ technology
Walls are suitable for shelving
Heavy-duty polypropylene floor
Steel-reinforced roof, snow-load tested to 100kg/ m²
Double doors with stainless-steel locking system
Victorian-style window and full-ridge skylight
Gorgeous brushed-wood texture
Weatherproof, fade-resistant and maintenance-free
Pre-cut tongue and groove panels for easy assembly
Available in 4 sizes
Free delivery to most UK addresses
This Keter product comes with a limited lifetime warranty which should be activated immediately at www.keter.com. The warranty covers product failure resulting from defects in manufacturing. Keter define 'defects' as imperfections that impair use of the product.
Product Details
Building Type
Apex Sheds, Double Door Sheds, Garden Sheds, Heavy Duty Plastic Garden Sheds, Plastic Sheds, Plastic Sheds With Windows, Shed with Windows, Solid Sheds, Storage Sheds
Metric Size (Meters)
7' x 9'
Locking System
Stainless steel locking system (lock not included)
Floor Material
Polypropylene
Roof Material
Polypropylene
Depth At Base (Imperial)
9"
Depth At Base (Metric)
2790.0mm
Width At Base (Imperial)
6"
Width At Base (Metric)
2100.0mm
Door Height (Metric)
1810.0mm
Door Width (Metric)
1388.0mm
Depth Including Overhang (Imperial)
9"
Depth Including Overhang (Metric)
2870.0mm
Ridge Height (Imperial)
7"
Ridge Height (Metric)
2420.0mm
Width Including Overhang (Imperial)
7"
Width Including Overhang (Metric)
2290.0mm
Finish
Duotech - Unique Innovative Paintable Material
Roof Covering
Steel-Reinforced Tile Roof
Construction Type
Tongue and Groove
Comparisons of Similar Sheds
| | | | | | |
| --- | --- | --- | --- | --- | --- |
| | | | | | |
| Expert Score | 75 | 75 | 75 | 75 | 70 |
| Price | £449.99 | £819.99 | £669.99 | £369.99 | £1,199.00 |
| Size | 6' x 5' | 8' x 12' | 10' x 6' | 6' x 3' | 6' x 8' |
| Brand | Palram Canopia | Palram Canopia | Palram Canopia | Palram Canopia | Palram Canopia |
| Material | Plastic | Plastic | Plastic | Plastic | Plastic |
| Cladding Thickness | | | | | |
| Guarantee | 10 Years | 10 Years | 10 Years | 10 Years | 5 Years |
| | Go | Go | Go | Go | Go |
Size: 7' x 9'
Available From:
Support WhatShed: by making a purchase after clicking a link above, a portion of the sale supports this site.