9′ x 18′ Palmako Dan Premium (16mm) Nordic Shed (2.7m x 5.5m)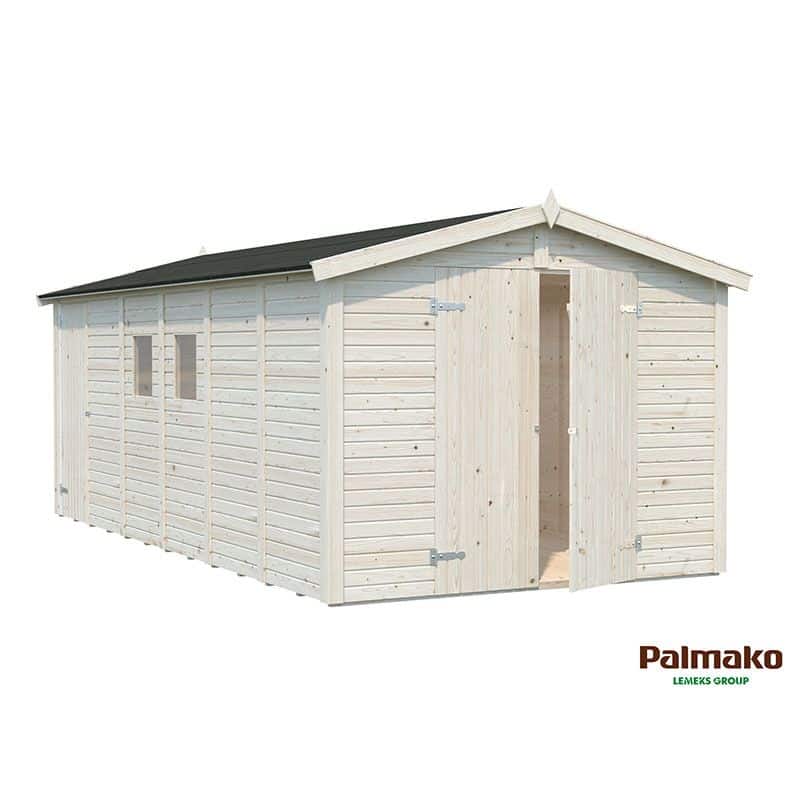 Full review coming soon
Our experts have not yet done a full review of this product. Please check back soon for the full review, in the meantime here is what the manufacturer says.
If youre a practically-minded person, who likes to make the most of your outdoor space, the 9×18 Palmako Dan Premium (16mm) Multi-room Shed (2.7m x 5.5m) is designed with 2 equal compartments, offering you the perfect combination of generous garden storage and a dedicated workshop area. Expertly built from 16mm Nordic spruce tongue and groove cladding, this superior garden shed is far more robust, durable and insulated than a standard wooden shed.
Both the floor and apex roof are constructed from 16mm tongue and groove too, for top to bottom quality. You can gain easy access to this garden workshop via double doors, which are situated at the front of the shed, or a single personal access door, positioned towards the rear. Both sets of doors are fitted with a hasp and staple (padlocks not included), so you can add a padlock if you need further security. Youll enjoy plenty of natural light when youre hard at work inside thanks to 2 plexiglass windows, found on the wider side of the structure.
They are near-shatterproof and far safer than conventional glass, which is welcome news if you have family members who enjoy ball games. Ready-made wall elements and doors, clear instructions and a complete set of fixings are all supplied to help you achieve a straightforward assembly, even if youre inexperienced at DIY. All of the parts are covered by a 5 year guarantee. *This workshop shed is supplied untreated. We advise coating it with a quality wood preservative within 6 weeks of assembly, and annually thereafter, in order to prevent rot and maintain the woods attractive appearance. If youd like a more individual look, you can paint this garden shed instead.
* Please be advised that the roof does not include a cover as standard. Select from SBS, Charcoal Felt Shingles or Roof Felt Underlay as an optional upgrade. (SBS weatherproof roof covering is a thick, torch-on felt with an exceptionally long lifespan and outstanding weatherproof qualities. Unless you possess advanced DIY skills, we recommend hiring a professional installer. Heavy-duty Charcoal Felt Roof Shingles are a permanent weatherproof roof covering, which is attractive, easy to instal and extremely durable. Roof Underlay Felt is simple to nail on to the garden building but is only designed as a temporary solution until you have added a permanent weatherproof roof cover upgrade.) Free delivery is available to most UK addresses.
Product Details
Building Type
Apex Sheds, Cheap Large Sheds, Double Door Sheds, Extra Large Sheds, Garden Sheds, Large Shed Workshops, Large Sheds, Shed with Windows, Tongue and Groove Sheds, Wooden Sheds, Workshop Sheds
Metric Size (Meters)
9' x 18'
Cladding Type
Interlocking Log
Locking System
Hasp & Staple
Floor Material
16mm Tongue & Groove Boards
Glazing Material
Plexiglass
Roof Material
16mm Tongue & Groove Boards
Depth At Base (Imperial)
1' 6"
Depth At Base (Metric)
5500.0mm
Width At Base (Imperial)
8"
Width At Base (Metric)
2730.0mm
Depth Including Overhang (Imperial)
1' 6"
Depth Including Overhang (Metric)
5730.0mm
Ridge Height (Imperial)
7"
Ridge Height (Metric)
2300.0mm
Width Including Overhang (Imperial)
9"
Width Including Overhang (Metric)
2950.0mm
Eaves Height (Imperial)
6"
Eaves Height (Metric)
1900.0mm
Frame Type
16mm Timber Clad
Construction Type
Interlocking Logs
Door Height
1820mm & 1690mm
Comparisons of Similar Sheds
| | | | | | |
| --- | --- | --- | --- | --- | --- |
| | | | | | |
| Expert Score | 70 | 78 | 73 | 78 | 75 |
| Price | £1,769.00 | £689.99 | £578.99 | £514.99 | £526.99 |
| Size | 20' x 10' | 8' x 6' | 8' x 6' | 7' x 5' | 8' x 6' |
| Brand | Windsor | Shire | Forest Garden | Forest Garden | Forest Garden |
| Material | Wooden | Wooden | Wooden | Wooden | Wooden |
| Cladding Thickness | | 12mm | 7mm | 7mm | 7mm |
| Guarantee | 10 Years | 10 Years | 15 Years | 15 Years | 15 Years |
| | Go | Go | Go | Go | Go |
Size: 9' x 18'
Available From:
Support WhatShed: by making a purchase after clicking a link above, a portion of the sale supports this site.