Asgard 2 Metal Gas Bottle Storage (47kg)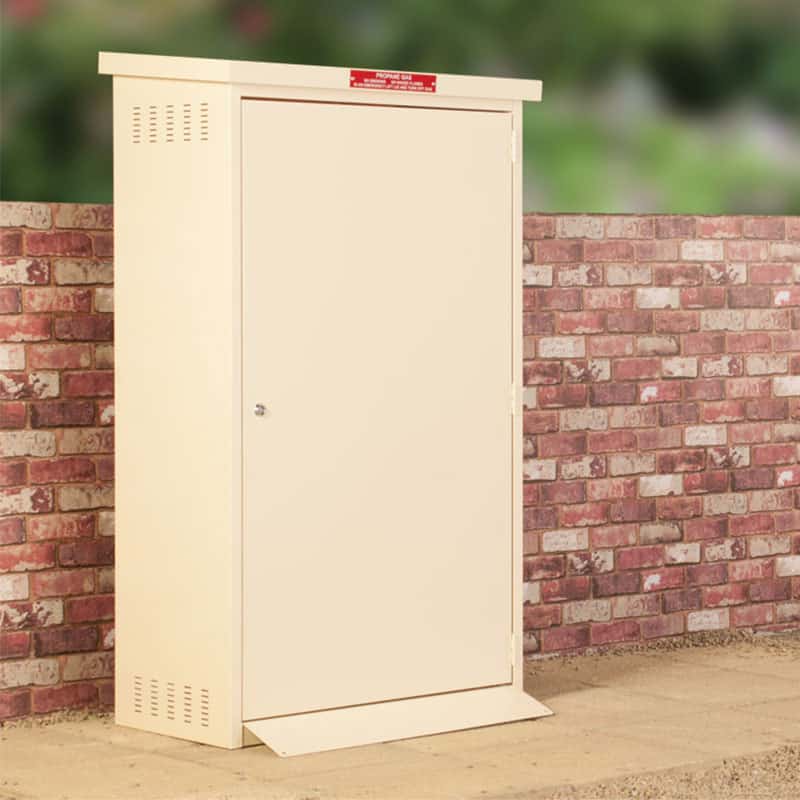 Full review coming soon
Our experts have not yet done a full review of this product. Please check back soon for the full review, in the meantime here is what the manufacturer says.
Keep your propane gas cylinders safe and secure with the purpose-built Asgard 2 Gas Bottle (47kg) Metal Storage Unit – Cream, which is perfectly designed for housing 2 x 47kg propane gas bottles. Built in the UK and approved by Calor Gas, this gas storage unit is suitable for static caravan and mobile home parks, as well as for wider domestic and industrial use. Weighing 47kg, manufactured from thick, heavy-gauge galvanised steel, and backed by an impressive 10-year guarantee, this unit is supremely robust, completely weatherproof and requires minimal maintenance, saving you money and leaving you with more time to do the things you enjoy.
The large single door provides you with excellent access to your gas bottles and features a utility company-style lock to enable your gas supplier to access them too. The top of the unit lifts up so that you can check the regulator or access the shut off valves in case of an emergency, without unlocking the unit itself. Tubular cross rails at the back enable you to chain your cylinders to the unit for even greater security (chain not included). An open back and ventilated sides allow for efficient ventilation and provide optimum gas bottle storage conditions, whilst the integral ramp and removable base make it easy for you to manoeuvre and change the cylinders, when required.
Product Details
Building Type
Garden Storage, Metal Garden Storage, Small Garden Storage Boxes
Metric Size (Meters)
3' x 2'
Roof Style
Fully Opening Lid
Locking System
Utilities Company Style Lock
Depth At Base (Imperial)
1"
Depth At Base (Metric)
500.0mm
Construction Type
Galvanized Steel
Floor
Integral Ramp and Removable Base
Comparisons of Similar Sheds
Size: 3' x 2'
Available From:
Support WhatShed: by making a purchase after clicking a link above, a portion of the sale supports this site.