Biohort StoreMax 160 Metal Unit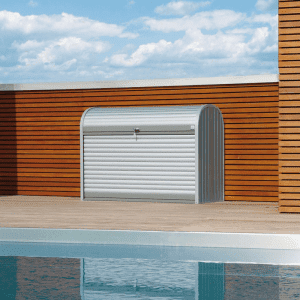 Full review coming soon
Our experts have not yet done a full review of this product. Please check back soon for the full review, in the meantime here is what the manufacturer says.
This top quality hand pressed metal storage unit combines security, style and value. StoreMAX boxes are manufactured from 0.5mm hot–dipped galvanised polyamide coated steel with an aluminium coated roller shutter. This box features a twist handle cylinder locking system including a spare key, fully weather resistant and a spring assisted operating mechanism. The effortless two part opening system provides quick access to allow your stored items through either a partial or full opening. Supported by a 20 year manufacturers non perforation warranty. The BIOHORT metal storage unit is one of the highest specification metal garden products in the market. High quality raw materials, diligent workmanship and personal service guarantee best quality.
The raw materials used to make this product are treated with a 150g/m2 zinc coating to each piece of steel before each of the 3 enamel coating polyamide are applied. To ensure top quality throughout the box, each paint application is applied to both sides of each painted part of the box. All Biohort products are hand pressed from these superior materials with quality control and customer satisfaction as a top priority. Using their many years of experience they have developed a product that has an uncomplicated assembly resembling a modular plug–in system, that makes assembly possible using as few screw as necessary. Nominal model sizes are based on the roof dimensions.
Product Details
Building Type
Garden Storage, Grey Garden Storage Box, Large Garden Storage Boxes, Lockable Garden Storage Boxes, Metal Garden Storage, Small Garden Storage Boxes
Metric Size (Meters)
5' x 2'
Roof Style
Fully Opening Lid
Locking System
Secure Cylinder Lock
Depth At Base (Imperial)
2"
Depth At Base (Metric)
780.0mm
Width At Base (Imperial)
5"
Width At Base (Metric)
1630.0mm
Depth Including Overhang (Imperial)
2"
Depth Including Overhang (Metric)
780.0mm
Width Including Overhang (Imperial)
5"
Width Including Overhang (Metric)
1630.0mm
Internal Depth (Imperial)
2"
Internal Depth (Metric)
670.0mm
Internal Width (Imperial)
5"
Internal Width (Metric)
1600.0mm
Assembly Time (estimated)
1.5 hours
Persons To Assemble
1 person
Recommended Construction Surface
Concrete
Comparisons of Similar Sheds
Size: 5' x 2'
Available From:
Support WhatShed: by making a purchase after clicking a link above, a portion of the sale supports this site.