Country Living Overton 12 x 8 Premium Garden Room Summerhouse With Side Shed Painted + Installation – Thorpe Towers
First Added - February 27 2022
Last Updated - August 4 2022 - 10 Data Points Updated - 3 Data Points Added
Reviewed & curated by a panel of garden building experts. Using methodology 1.1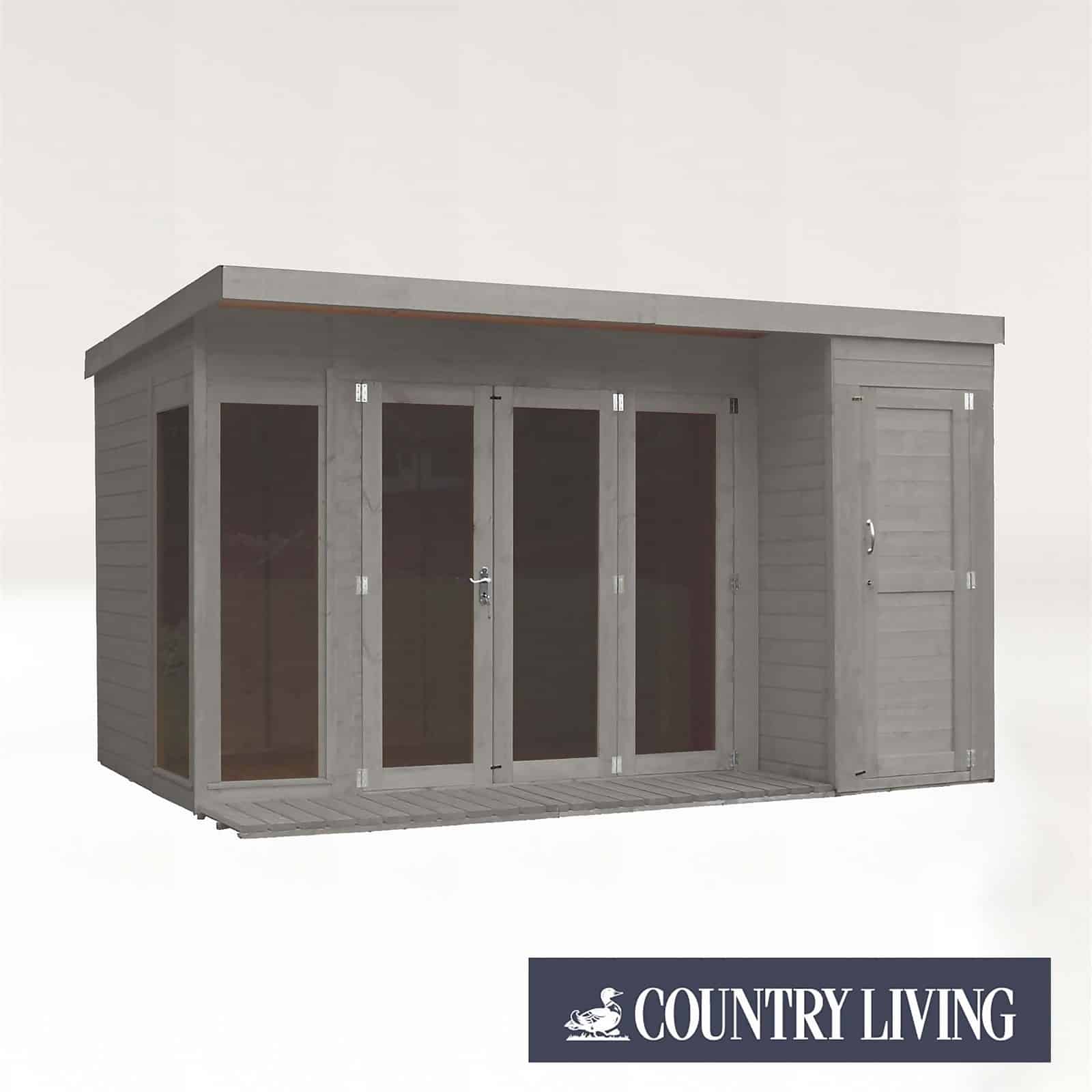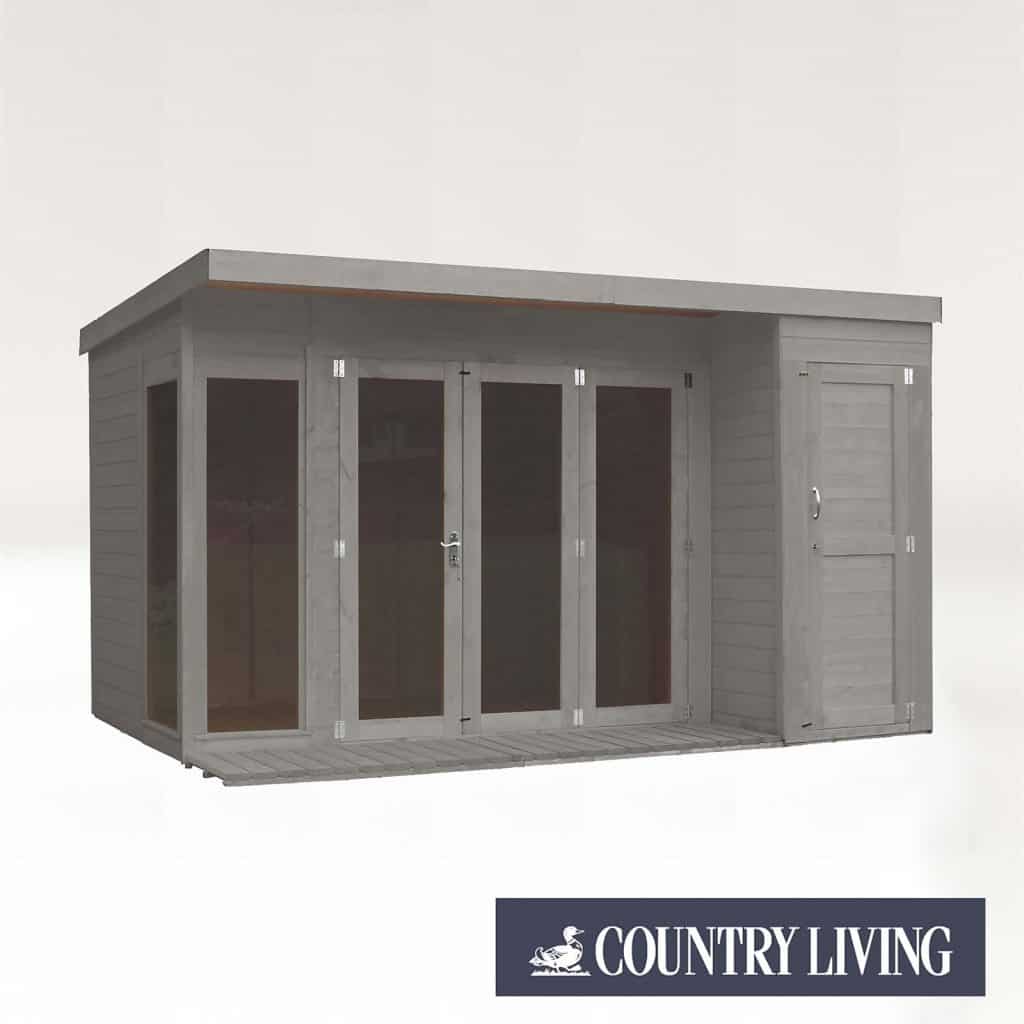 Product ID: SKU: 598230
Size: 12' x 8'
Merchants Checked: 12
Full review coming soon
Our experts have not yet done a full review of this product. Please check back soon for the full review, in the meantime here is what the manufacturer says.
Handmade in Nottinghamshire and exclusive to Country Living, Overton Premium Garden Room Summerhouse with Side Shed 12 x 8 in the sleek Thorpe Towers, will ooze style and create the perfect focal point in your garden. We use a premium paint that offers exceptional durability and protects your garden building from the get go! Once delivered your garden building will be installed and finished to the highest standard by our expert fitters. Your garden building also benefits from our Paint Promise Guarantee, meaning your paint will last for 3 years with minor care and attention.Featuring bi-folding doors and an elegant veranda, this building is great for those looking for somewhere stylish to relax, unwind and enjoy uninterrupted views of the garden ? with the benefit of an additional storage area. Premium tongue and groove boards make up the walls, floor and roof of this premium summerhouse. Complete with thick wooden framing to support the cladding internally, this building offers a rigid and long-lasting structure ? perfect for years of enjoyment.
Product Details
Building Type
Summer House Shed Combos, Summer Houses, Summer Houses With Veranda, Wooden Summer Houses
Metric Size (Meters)
12' x 8'
Cladding Type
Shiplap Tongue & Groove
External Dimensions
2146mm x 3806mm x 2510mm
Industry Standards Certification
FSC Certified Timber
Additional Information
To comply with the 3 year paint promise, regular checks and maintenance is required. You will receive a small tin of paint for top ups when required. Country Living products require a suitable base ready for installation. We recommend a flat, level solid base such as concrete or slabs. We recommend a 2-foot clearance gap around all sides of the building for maintaining the upkeep of the timbers. Please note that this is a bespoke item, therefore once the building has been painted, we cannot accept a cancellation or a return of the order.
Additional Assembly Information
Our Country Living range is painted and installed by expert teams. Our supplier will be in touch once your order has been processed to arrange a date for delivery and installation.
Product Dimensions
12ft x 8ft
Assembly Options
Installation Service Included
Locking System
Lock and Key
Effects And Finish
Opaque Topcoat
Floor Material
Tongue & Groove
Base Included
Not Included
Additional Delivery Information
Please note that prior to the delivery and installation of your building you must prepare a suitable base.
Roof Covering
Mineral Felt
Window Size (Metric)
nan x nan
Comparisons of Similar Sheds
Sources
Merchants Checked
12 different sources were used to research information on this product, and 1 contained information that we were able to use to compile the data used on this page.
The following merchants were checked on the 06 August, 2022 to see if they stocked this product.
Homebase – 35509 products checked, found 1 match.
Waltons – 231 products checked, found no matches.
Wickes – 19576 products checked, found no matches.
B&Q – 78905 products checked, found no matches.
ManoMano UK – 922302 products checked, found no matches.
Wilko.com – 21232 products checked, found no matches.
Buy Sheds Direct – 1635 products checked, found no matches.
sheds.co.uk – 1999 products checked, found no matches.
BillyOh – 1244 products checked, found no matches.
Garden Buildings Direct – 1284 products checked, found no matches.
Shedstore – 1373 products checked, found no matches.
Tiger Sheds – 635 products checked, found no matches.
Product ID: SKU: 598230
Size: 12' x 8'
Merchants Checked: 12
Available From: 1
Support WhatShed: by making a purchase after clicking a link above, a portion of the sale supports this site.