Palmako Emma 1 2.6m x 2.2m Log Cabin Summerhouse (28mm)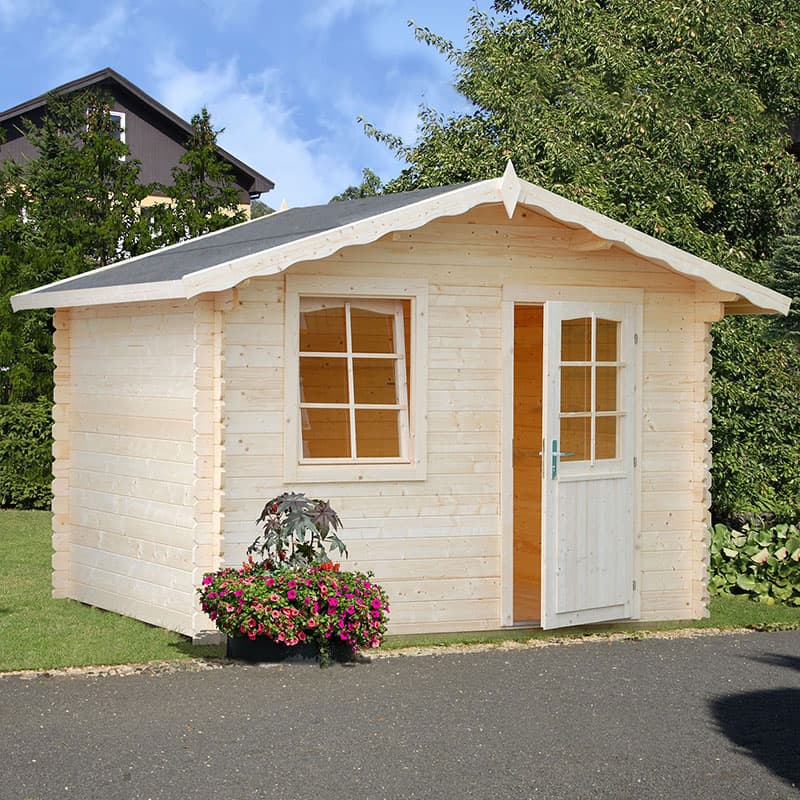 Full review coming soon
Our experts have not yet done a full review of this product. Please check back soon for the full review, in the meantime here is what the manufacturer says.
Available now is the Palmako Emma 1, a traditional cabin that will offer space outdoors to relax, escape the hustle and bustle of the house or even work/work out. The Emma cabin has been made from premium materials and has received excellent feedback. The timber used in the process of producing the Palmako Emma 1 is a fine Nordic spruce that has been given extra time to develop and therefore is much more durable. The cabin has a traditional design and stands proud in any garden. The timber used is cut into the thick 28mm planks that are chalet cut which interlock much tighter and therefore more protected from the outside weathers. The roof is made from 19mm thick tongue and groove cladding.
The roof features a front overhang and this keeps the front gable and door dry and shelter for a bench or BBQ. This log cabin is provided with a 5 year manufacturer's guarantee. The Palmako Emma 1 has a single front door which is used to access the spacious interior. The door is glazed with a premium thick glass that acts as a light source to the inside. The door also features a cylinder lock that will protect the inside of the cabin and deter thefts etc. The door frame is made from laminated timber and has a seal to stop draughts as well as a stainless steel door sill.
Adjacent to the door is a large opening window which is also glazed from the same 4mm thick glass and this allows in even more light giving he cabin a warm and spacious feel. Fresh air also flows through when the window is opened and keeps the cabin smelling clean and stops all foul smells. To stabilise the entire cabin, pressure treated floor joists are implemented and this will keep the cabins floor from becoming damaged. The assembly of the Palmako Emma 1 will take only a few hours with the help of a few hands and thanks to the simple design and a clever instruction manual, the cabin will be standing hassle free.
We advise that you treat the cabin annually as this will prevent the fast on set of rot and other damage. Please be advised that the roof does not include a cover as standard. Select from SBS, Charcoal Felt Shingles or Roof Felt Underlay as an optional upgrade. (SBS weatherproof roof covering is a thick, torch-on felt with an exceptionally long lifespan and outstanding weatherproof qualities. Unless you possess advanced DIY skills, we recommend hiring a professional installer. Heavy-duty Charcoal Felt Roof Shingles are a permanent weatherproof roof covering, which is attractive, easy to instal and extremely durable.
Roof Underlay Felt is simple to nail on to the garden building but is only designed as a temporary solution until you have added a permanent weatherproof roof cover upgrade.) *Please also note that this garden building is supplied untreated. You should apply a coat of quality wood preservative upon assembly, and annually thereafter, in order to protect the wood from rot and maintain its handsome appearance.
Product Details
Building Type
Double Glazed Summer Houses, Log Cabins, Small Log Cabins, Small Summer Houses, Summer Houses, Wooden Summer Houses
Metric Size (Meters)
8' x 7'
Cladding Type
Interlocking Log
Floor Material
Tongue and Groove
Roof Material
Tongue and Groove
Depth At Base (Imperial)
6"
Depth At Base (Metric)
2000.0mm
Height At Highest Point (Imperial)
7"
Height At Highest Point (Metric)
2200.0mm
Height At Lowest Point (Imperial)
6"
Height At Lowest Point (Metric)
1940.0mm
Width At Base (Imperial)
7"
Width At Base (Metric)
2400.0mm
Door Height (Metric)
1750.0mm
Door Width (Metric)
740.0mm
Depth Including Overhang (Imperial)
7"
Depth Including Overhang (Metric)
2200.0mm
Floor Thickness (Metric)
19.0mm
Ridge Height (Imperial)
7"
Ridge Height (Metric)
2200.0mm
Width Including Overhang (Imperial)
8"
Width Including Overhang (Metric)
2600.0mm
Eaves Height (Imperial)
6"
Eaves Height (Metric)
1940.0mm
Roof Thickness (Metric)
19.0mm
Construction Type
Interlocking Solid Logs
Comparisons of Similar Sheds
Size: 8' x 7'
Available From:
Support WhatShed: by making a purchase after clicking a link above, a portion of the sale supports this site.