Palmako Roger 4.5m x 5.5m Extra Wide Log Cabin Single Garage (44mm) – Up and Over Door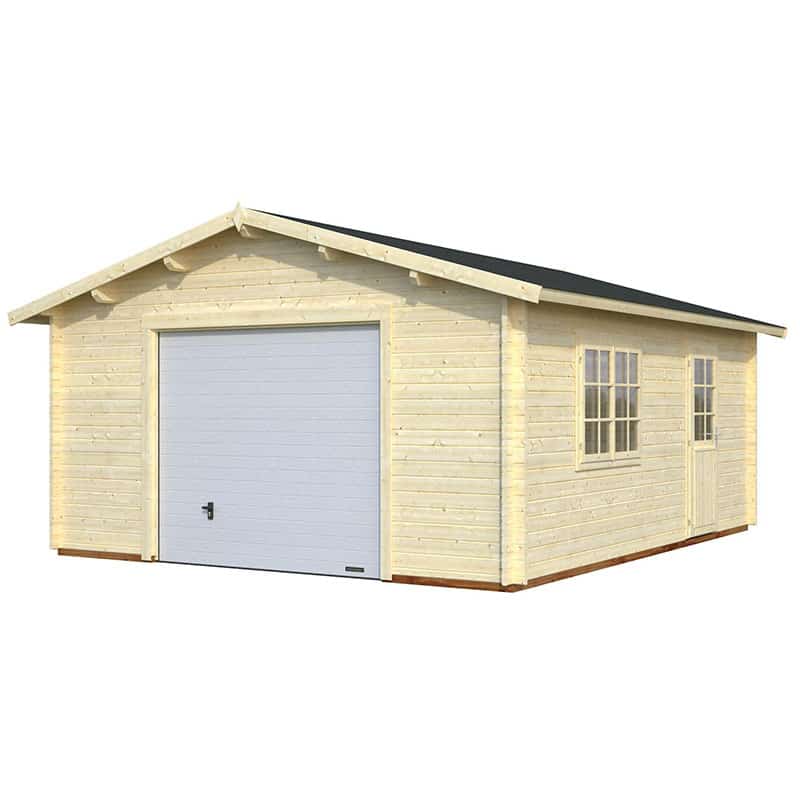 Full review coming soon
Our experts have not yet done a full review of this product. Please check back soon for the full review, in the meantime here is what the manufacturer says.
The 15′ x 18′ (4.5m x 5.5m) Palmako Extra Wide 44mm Single Garage with Up and Over Door makes parking hassle free. Built from top-quality materials and with some great extras, this is well and truly the Rolls-Royce of timber garages. This garage is constructed from 44mm interlocking Nordic spruce logs, renowned for their resistance to harsh weather and rot. With a 19mm tongue and groove apex-style roof, this robust garage will keep its contents dry. This versatile garage boasts a large up and over door, measuring 1900mm x 2220mm, and a double-glazed personal access door. The door has a laminated frame and includes a key operated lock, making this wooden garage a real fortress.
A framed double-glazed window at the side of the structure increases natural light while minimising noise. Rubber seals are fitted to both doors and the window to keep out the draughts. These great features, and the garages outstanding construction, make it suitable for a wide range of uses, including to store a car, as an outdoor office, home gym, or excellent general storage facility. The Palmako Extra Wide Single 44mm Garage is also available with double-doors. Please note that the roof does not include a covering. Buy SBS, Charcoal Felt Shingles or Roof Underlay Felt as an optional extra. (SBS is a thick, torch-on weatherproof felt with a very long lifespan.
Installation should only be carried out by those with advanced DIY skills or a professional installer. Weatherproof Charcoal Felt Roof Shingles are attractive, easy to fit and will last for years. Roof Underlay Felt is simple to nail on to the garden building but should only be used as a temporary roof covering or as an underlay to a permanent weatherproof roof cover upgrade.) *This garden building is delivered untreated. It should be coated in a quality wood preservative upon assembly, and annually thereafter, in order to protect the wood from rot and maintain its attractive appearance.
Product Details
Building Type
Apex Sheds, Garden Sheds, Large Log Cabins, Log Cabins, Shed with Windows, Tongue and Groove Sheds, Wooden Sheds
Metric Size (Meters)
15' x 18'
Cladding Type
Interlocking Log
Roof Material
Tongue and Groove
Depth At Base (Imperial)
1' 6"
Depth At Base (Metric)
5500.0mm
Width At Base (Imperial)
1' 2"
Width At Base (Metric)
4500.0mm
Door Height (Metric)
1900.0mm
Door Width (Metric)
2220.0mm
Depth Including Overhang (Imperial)
1' 7"
Depth Including Overhang (Metric)
5980.0mm
Ridge Height (Imperial)
8"
Ridge Height (Metric)
2680.0mm
Width Including Overhang (Imperial)
1' 4"
Width Including Overhang (Metric)
5140.0mm
Eaves Height (Imperial)
7"
Eaves Height (Metric)
2170.0mm
Roof Thickness (Metric)
19.0mm
Construction Type
Tongue and Groove
Comparisons of Similar Sheds
Size: 15' x 18'
Available From:
Support WhatShed: by making a purchase after clicking a link above, a portion of the sale supports this site.