Palmako Sally 3.9m x 3.9m Log Cabin Garden Room (44mm)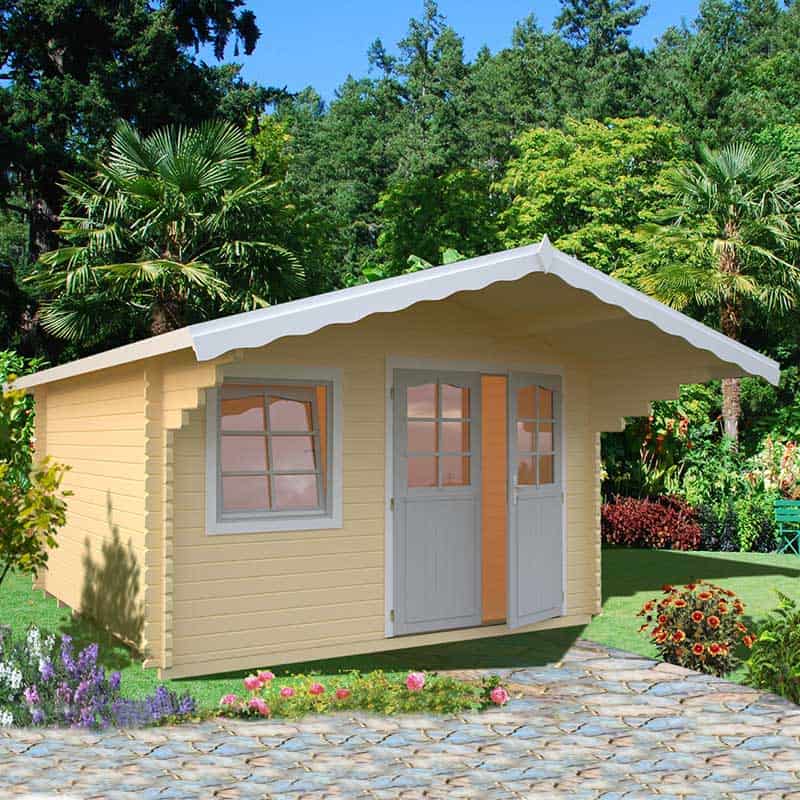 Full review coming soon
Our experts have not yet done a full review of this product. Please check back soon for the full review, in the meantime here is what the manufacturer says.
A relaxing and welcoming space that encourages light in, our 13×13 Palmako Sally 44mm Log Cabin is a brilliant home office or personal home gym solution. The generous proportions give you plenty of extra living space. Constructed from thick, high quality 44mm Nordic Spruce, the interlocking logs provide a hardwearing and resilient design, plus fabulous insulation qualities. Wind braces provide increased stability. The apex roof design with the large overhang with a pretty scalloped edge, provides shelter from sun and showers, whilst the 19mm tongue and groove cladding ensures a robust canopy.
The strong flooring is 19mm tongue and groove cladding, well-known for its durability and weather resistance, is supported by treated foundation joists which provides a hardwearing and long-lasting surface. The stylish double glazed entrance doors allow light and ventilation into the spacious interior, together with additional sources from the tilt and turn opening window. The window features a discrete metal gutter designed to prevent water seepage and damage. For increased strength and improved resistance to adverse reactions to extreme temperatures, such as warping or cracking, the door frames are laminated in construction. To ensure good insulation the window and doors are fitted with rubber seals and silicone.
The low door sill features a stainless steel cover to protect wood from damage in this high wear area. Door frames include 3D hinges, adjustable in x, y and z axis. The cabin is supplied untreated with a five year guarantee. We advise that you apply an initial anti-fungal treatment to the log cabin, once built, and do so annually thereafter to support the guarantee. Alternatively, paint could be applied for a more individual style. Please be advised that the roof does not include a cover as standard. Select from SBS, Charcoal Felt Shingles or Roof Felt Underlay as an optional upgrade. (SBS weatherproof roof covering is a thick, torch-on felt with an exceptionally long lifespan and outstanding weatherproof qualities.
Unless you possess advanced DIY skills, we recommend hiring a professional installer. Heavy-duty Charcoal Felt Roof Shingles are a permanent weatherproof roof covering, which is attractive, easy to instal and extremely durable. Roof Underlay Felt is simple to nail on to the garden building but is only designed as a temporary solution until you have added a permanent weatherproof roof cover upgrade.) If you are looking for a bigger log cabin, why not take a look at our 16×13 Palmako Sally 44mm Log Cabin?
Product Details
Building Type
Garden Offices, Garden Rooms, Large Log Cabins, Log Cabin Garden Offices, Log Cabins
Metric Size (Meters)
13' x 13'
Cladding Type
Interlocking Log
Floor Material
Tongue and Groove
Glazing Material
Real Glass
Roof Material
Tongue and Groove
Depth At Base (Imperial)
11"
Depth At Base (Metric)
3600.0mm
Width At Base (Imperial)
11"
Width At Base (Metric)
3600.0mm
Door Height (Metric)
1860.0mm
Door Width (Metric)
1510.0mm
Floor Thickness (Metric)
19.0mm
Ridge Height (Imperial)
8"
Ridge Height (Metric)
2560.0mm
Eaves Height (Imperial)
6"
Eaves Height (Metric)
2050.0mm
Persons To Assemble
2 people
Roof Thickness (Metric)
19.0mm
Construction Type
Interlocking Solid Logs
Wall Log Thickness (Metric)
44.0mm
Log Thickness (Metric)
44.0mm
Comparisons of Similar Sheds
Size: 13' x 13'
Available From:
Support WhatShed: by making a purchase after clicking a link above, a portion of the sale supports this site.