Palmako Veronica 2.9m x 2.9m Log Cabin (28mm) – 4 Windows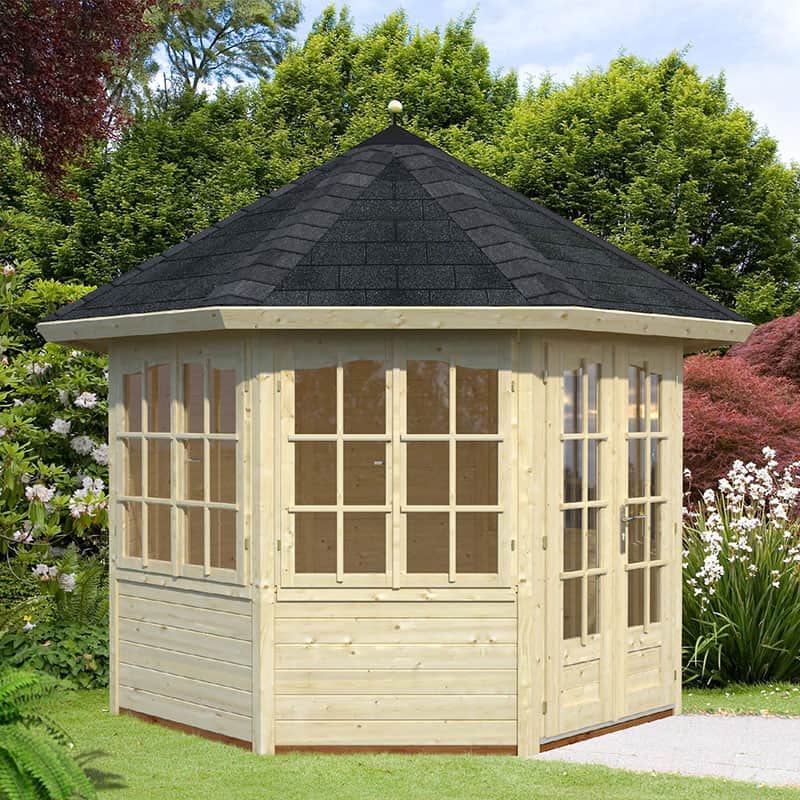 Full review coming soon
Our experts have not yet done a full review of this product. Please check back soon for the full review, in the meantime here is what the manufacturer says.
With its stunning design and premium build, the Palmako Veronica 2.9m x 2.9m Octagonal Summer House Log Cabin (28mm) with 4 Windows makes a wonderful garden retreat or hobby room in which to relax and appreciate your garden. Expertly built from superior, interlocking 28mm Nordic spruce logs, this premium log cabin offers you and your possessions exceptional all-round weatherproof protection. Both the 19mm floor and 16mm roof are constructed from tongue and groove cladding, renowned for its robustness, durability and resistance to the elements. The former is supported by pressure treated foundation joists to protect the interior from ground moisture, while the latters pyramid-shaped design is certain to draw admiring glances from your friends.
Please be advised that the roof does not include a covering. You should choose one from the available optional upgrades. Select Charcoal Felt Shingles. (Heavy-duty Charcoal Felt Roof Shingles are a permanent weatherproof roof covering, which is attractive, easy to instal and extremely durable.) The partially-glazed double doors offer you easy access to the interior and are fitted with safety glass, which is always a good idea in a busy garden. These doors also feature a laminated frame, to keep out draughts and prevent the warping and cracking caused by changes in temperature, as well as a stainless-steel sill cover, which prevents the timber wearing down after heavy usage.
When youre not at home, a key-operated cylinder lock offers you the reassurance that your valuable items are completely safe from unwanted attention. With its 4 large, opening windows, youll find this summer house incredibly light and airy, as well as beautifully ventilated on a hot summers day. This log cabin is delivered untreated. You should apply a quality wood preservative upon assembly and annually, thereafter, in order to maintain the timbers attractive appearance, ensure its weathertightness and validate the guarantee. For a more individual style, why not apply paint instead? This stylish garden cabin is available for you to buy with 2, 4 or 7 windows, and in 2 different sizes.
Product Details
Building Type
Double Glazed Summer Houses, Garden Gym Rooms, Garden Rooms, Log Cabins, Octagonal Summer Houses, Small Log Cabins, Small Summer Houses, Summer Houses, Wooden Summer Houses
Metric Size (Meters)
9' x 9'
Cladding Type
Interlocking Log
Treatment Type
Pressure Treated
Floor Material
Tongue and Groove
Roof Material
Tongue and Groove
Number Of Windows
4 windows
Depth At Base (Imperial)
9"
Depth At Base (Metric)
2890.0mm
Width At Base (Imperial)
9"
Width At Base (Metric)
2890.0mm
Depth Including Overhang (Imperial)
11"
Depth Including Overhang (Metric)
3590.0mm
Floor Thickness (Metric)
19.0mm
Ridge Height (Imperial)
10"
Ridge Height (Metric)
3100.0mm
Width Including Overhang (Imperial)
11"
Width Including Overhang (Metric)
3590.0mm
Eaves Height (Imperial)
7"
Eaves Height (Metric)
2150.0mm
Roof Thickness (Metric)
16.0mm
Construction Type
Tongue and Groove
Comparisons of Similar Sheds
Size: 9' x 9'
Available From:
Support WhatShed: by making a purchase after clicking a link above, a portion of the sale supports this site.