Shire Azay 2 4.5m x 4.2m Log Cabin Summerhouse (34mm)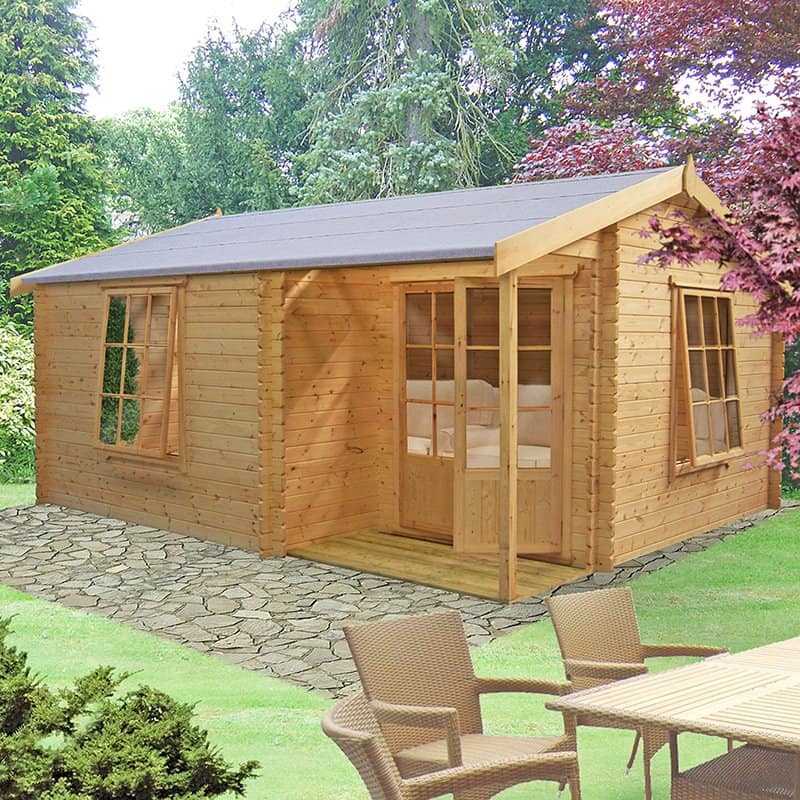 Full review coming soon
Our experts have not yet done a full review of this product. Please check back soon for the full review, in the meantime here is what the manufacturer says.
The Azay 2 Log Cabin from our superb Log Cabin range. At approximately 15′ (long) x 14′ (deep), this attractive log cabin with a stunning decked porch offers outstanding value and would be ideal as a garden room, home office, gym or studio. It really is an extra room in the garden; with its attractive entrance porch and 'L' shaped accommodation. Produced from untreated Pine, the 'logs' that make up the walls are 34mm (more than an inch and a quarter thick), being nearly three times the thickness of a conventional wooden garden shed.
The roof of the Azay 2 is made from 16mm tongue and groove boarding as is the floor; which is included in the price unlike that of many other brands. The floor supports (joists) are manufactured from pressure treated timber, to give the best possible lifespan for the most vulnerable part of any timber building. The glazed double door is 1.74m (5'8) high x 1.50m (5′) wide. Complete with two opening windows (1 front, 1 side), these, along with the door, are fitted with draft seals as usually found upon more expensive models. Good quality locks and hinges are also included. Glazing is 3mm Horticultural glass. Delivered palletised in a loose component true-log form. Front driveway delivery only.
Product Details
Building Type
Double Glazed Summer Houses, Garden Office Studios, Garden Offices, Garden Rooms, Large Log Cabins, Large Summer Houses, Log Cabin Garden Offices, Log Cabins, Summer Houses, Wooden Summer Houses
Metric Size (Meters)
15' x 14'
Cladding Type
Interlocking Log
Treatment Type
Pressure Treated
Locking System
Key Operated Lock
Glazing Material
Horticultural Glass
Roof Material
Tongue and Groove
Door Height (Metric)
1740.0mm
Door Width (Metric)
1500.0mm
Depth Including Overhang (Imperial)
1' 1"
Depth Including Overhang (Metric)
4190.0mm
Floor Thickness (Metric)
16.0mm
Ridge Height (Imperial)
8"
Ridge Height (Metric)
2700.0mm
Width Including Overhang (Imperial)
1' 2"
Width Including Overhang (Metric)
4490.0mm
External Depth (Imperial)
1'
External Depth (Metric)
3932.0mm
External Width (Imperial)
1' 1"
External Width (Metric)
4232.0mm
Assembly Time (estimated)
4-6 hours
Eaves Height (Imperial)
6"
Eaves Height (Metric)
2000.0mm
Persons To Assemble
2 people
Roof Thickness (Metric)
16.0mm
Wall Log Thickness (Metric)
34.0mm
Comparisons of Similar Sheds
Size: 15' x 14'
Available From:
Support WhatShed: by making a purchase after clicking a link above, a portion of the sale supports this site.