10′ x 23′ Lotus Double Door Garage – Anthracite Grey (2.9m x 7m)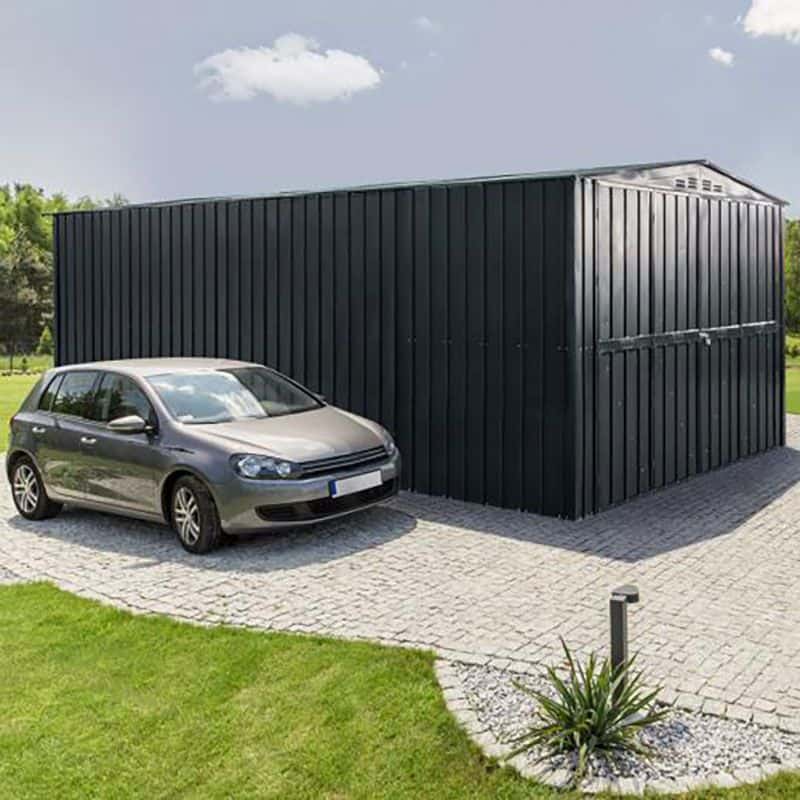 Full review coming soon
Our experts have not yet done a full review of this product. Please check back soon for the full review, in the meantime here is what the manufacturer says.
Constructed using premium materials and with a fantastic 15-year guarantee, the 10 x 23 Lotus Double Door Garage in Anthracite Grey is the ideal place to safely store a large family car, boat or heavy machinery. This top-of-the-range prefab garage is constructed from high-grade hot-dipped galvanised steel, with a heavy-gauge galvanised steel framework, making it robust, durable, rust-resistant and completely fire-retardant. The traditional apex roof and stunning 5-coat anthracite grey painted finish ensure that it looks incredibly stylish too. Whats more, this contemporary metal garage is virtually maintenance-free, saving both time and money.
Easy access is gained via large double-doors, which can be secured by a pad bolt (padlock not included), so expensive vehicles and machinery will always be safe from unwanted attention. Once inside, ventilated gables ensure both a pleasant working environment and ideal garden storage conditions. This premium garden building is not only painstakingly designed and constructed from high-end materials, it is relatively easy to install too, for a user-friendly instruction manual, video guide and technical support are all on-hand to ensure a straightforward assembly. Please note that this metal garage is available in a range of sizes. They are all designed without flooring and should be installed on a level concrete or paved base.
Product Details
Building Type
Apex Sheds, Cheap Large Sheds, Cheap Sheds, Double Door Sheds, Extra Large Sheds, Garden Sheds, Large Sheds, Metal Sheds, Narrow Sheds, Secure Metal Sheds
Metric Size (Meters)
10' x 23'
Locking System
Pad-lockable Door Handles (Padlock not Supplied)
Roof Material
Hot Dipped Galavanised Steel
Depth At Base (Imperial)
1' 11"
Depth At Base (Metric)
7040.0mm
Width At Base (Imperial)
9"
Width At Base (Metric)
2950.0mm
Door Height (Metric)
1940.0mm
Door Width (Metric)
2495.0mm
Depth Including Overhang (Imperial)
1' 11"
Depth Including Overhang (Metric)
7140.0mm
Ridge Height (Imperial)
7"
Ridge Height (Metric)
2250.0mm
Width Including Overhang (Imperial)
10"
Width Including Overhang (Metric)
3070.0mm
Construction Type
Hot Dipped Galvanised Steel
Comparisons of Similar Sheds
Size: 10' x 23'
Available From:
Support WhatShed: by making a purchase after clicking a link above, a portion of the sale supports this site.