7'5 x 3'4 Asgard Access Plus Metal Bike Shed – 4 Bikes (2.3m x 1m)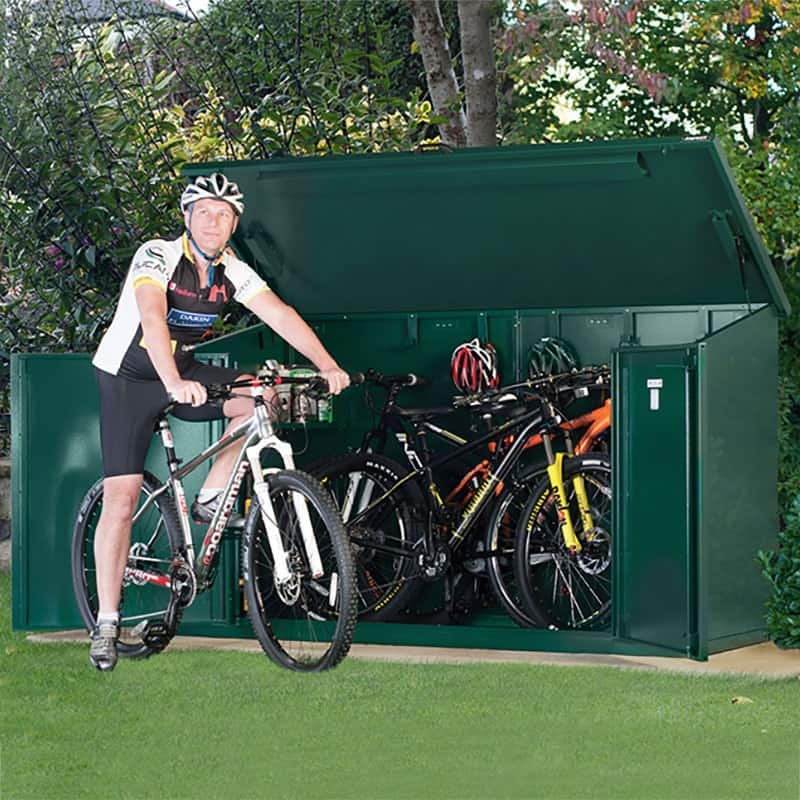 Full review coming soon
Our experts have not yet done a full review of this product. Please check back soon for the full review, in the meantime here is what the manufacturer says.
If you own expensive bicycles, you need secure bike storage, and the Asgard Access Plus Metal Bike Shed offers you exactly that. Constructed in the UK to the highest specifications and backed by an impressive 10 year anti-rust guarantee, this bike storage shed is approved by the nations cycling press and perfectly sized to store four 29er mountain bikes. These are mountain bikes with extra large 29 wheels which dont always fit in standard bike sheds. With the Access Plus, you dont need to worry! This superior metal bike shed is expertly built from heavy-gauge galvanised steel and is 19 stones in weight, so simply oozes strength and durability.
It is completely weatherproof and impervious to rust, so offers your bikes total protection from the elements, while maintaining its stylish good looks. Furthermore, this large metal bike shed is near maintenance free, so theres no need for you to spend time or money on its upkeep. You gain complete access to your bikes via 2 extra-wide double doors and a gas-strut-assisted lid, which are fitted with a robust 2-point locking system. This includes an internal steel locking bar and 2 external shrouded locking points (disc-padlocks must be purchased separately for the latter), so your familys valuable bikes will always remain safe from unwanted attention.
Furthermore, the exterior screw ends are hidden, preventing thieves from tampering with them, but if you desire even greater security then you can easily fix the whole bike shed to a concrete or paved base, using the fixing bolts provided. This bike storage shed is not only weatherproof and secure, it keeps your bicycles in optimum storage conditions too, thanks to a carefully-designed ventilation system, which minimises condensation. As optional upgrades, we offer a pack of 10 universal hooks and a shelf to customise your garden storage; 2 disc-padlocks to fully utilise security; and a wooden floor to lay on top of the integral metal base.
Pre-drilled holes in the shed walls help you attach the hooks and shelf with minimal fuss. We know youll be keen to utilise this premium bike shed as soon as possible, so we supply full instructions to help you achieve a straightforward assembly. Please be advised that you should assemble this metal bike shed on a firm, level base. Free delivery is available to most UK addresses.
Product Details
Building Type
Bike Sheds, Cheap Sheds, Double Door Sheds, Garden Sheds, Large Bike Sheds, Lean-To Sheds, Metal Sheds, Narrow Bike Sheds, Narrow Lean-To Sheds, Narrow Sheds, Pent Sheds, Secure Bike Sheds, Secure Metal Sheds, Small Bike Sheds, Small Lean-To Sheds, Small Pent Sheds, Small Sheds, Small Storage Sheds, Storage Sheds
Metric Size (Meters)
7' x 3'
Locking System
Twin Locking System (Disc Padlocks Required) And Fitted With An Internal Steel Deadbolt Locking Bar On Doors As Well As Two External Shrouded Locking Points
Floor Material
Integral, Heavy Duty Metal Base
Roof Material
Galvanised Steel
Depth At Base (Imperial)
3"
Depth At Base (Metric)
950.0mm
Width At Base (Imperial)
7"
Width At Base (Metric)
2234.0mm
Door Height (Metric)
1600.0mm
Door Width (Metric)
1600.0mm
Depth Including Overhang (Imperial)
3"
Depth Including Overhang (Metric)
1053.0mm
Width Including Overhang (Imperial)
7"
Width Including Overhang (Metric)
2306.0mm
Internal Depth (Imperial)
2"
Internal Depth (Metric)
910.0mm
Internal Width (Imperial)
7"
Internal Width (Metric)
2230.0mm
Construction Type
Galvanized Steel
Height At Back (Imperial)
4"
Height At Back (Metric)
1340.0mm
Height At Front (Imperial)
3"
Height At Front (Metric)
1140.0mm
Comparisons of Similar Sheds
Size: 7' x 3'
Available From:
Support WhatShed: by making a purchase after clicking a link above, a portion of the sale supports this site.