8′ x 3′ Lotus Heritage Green Apex Metal Shed (2.45m x 0.92m)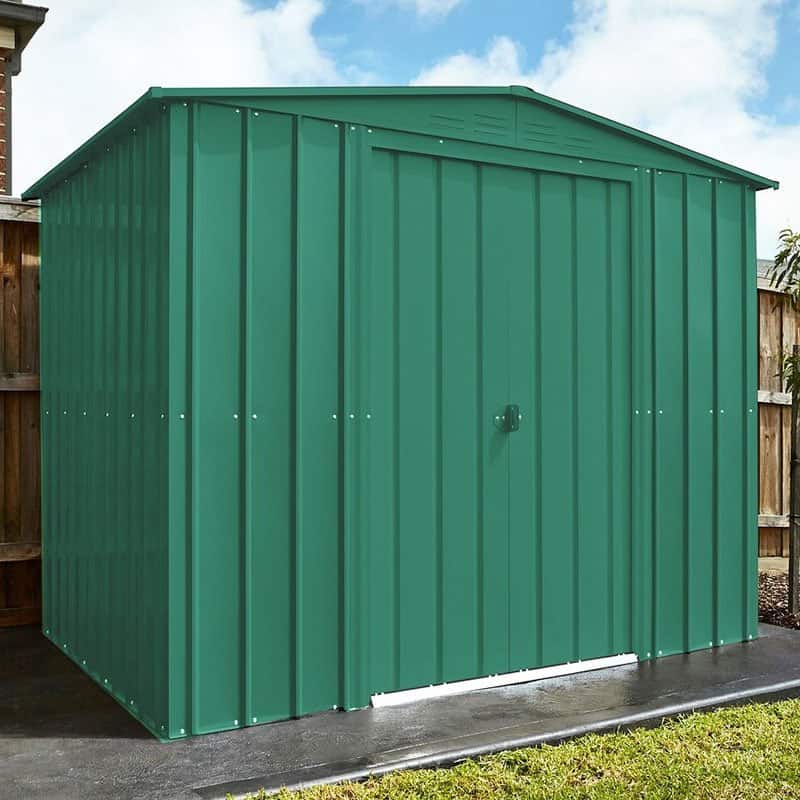 Full review coming soon
Our experts have not yet done a full review of this product. Please check back soon for the full review, in the meantime here is what the manufacturer says.
Supremely robust, incredibly durable and easier to assemble than any metal shed that has come before, the Lotus 8 x 3 Heritage Green Metal Shed is the product of 2 years' painstaking research by industry experts, whose sole aim was to provide you with the perfect home for your garden tools and furniture. This leading-edge garden shed is built from lightweight, hot-dipped galvanised steel, with a heavy-gauge galvanised steel frame and base rails, which gives it superior bracing throughout. Backed by a superb 15 year guarantee, this rust-proof metal shed not only offers you the ultimate protection for your prized possessions, it is completely maintenance-free too, saving you money and leaving you more time to do the things you enjoy.
Furthermore, a traditional apex roof and gorgeous green-paint finish ensure a stunning appearance. Entry is gained through sliding double-doors, which have been set on an impeccably designed, ultra-smooth track, which provides complete stability and the easiest possible access to your stored items. Once you're inside your new shed, you'll find that the ventilated gables not only make for perfect storage conditions, but a pleasant working environment too, which is particularly welcome if you're storing heavy boxes, sizable tools or garden furniture. If you own a static caravan or park home, you'll find this superior metal shed equally as useful as it is in the garden.
Being completely resistant to fire, it complies with all caravan park legislation, which states that non-combustible storage units are mandatory. With dimensions of 198cm x 245cm x 92cm, this 8×3 shed is supplied with a straightforward instruction manual, video guide and on-hand technical support to help you achieve a simple, stress-free assembly. A variety of optional extras are available should you wish to customise your new shed. These include shelving, a window kit, timber floor kit, metal foundation kit and Hilti screws, to enable you to easily anchor your shed to a concrete or pavedbase. See the accessories menu for more details.
If you do not have an existing level base, you will require a Timber Floor Base Kit OR a Metal Foundation Kit. Please read the section below on choosing between the two kits. You will NOT need to purchase both. Please also note that this shed is supplied WITHOUT flooring. If you desire a floor you will need to purchase the timber floor base kit or add your own with the help of the metal foundation kit. Free delivery is available to most UK addresses. Now you can enjoy the benefits of your new shed with zero hassle by choosing our installation service as an optional upgrade.
Our friendly team of professional installers will assemble your new product perfectly, in no time at all, so you do not have to lift a finger. Please be advised that if you select this option, you may have to wait up to an additional 15 days before delivery. Also note that if you select Hilti screws as a further upgrade, they are not covered within the installation service.
15 year guarantee
Built from hot-dipped galvanised steel
Heavy-gauge galvanised steel frame and base rails
Sliding double-doors on an ultra-smooth track
Maintenance-free, rust-proof and fire-retardant
Ventilated gables
Gorgeous green-paint finish
**Supplied without flooring**
Optional extras available
Free delivery to most UK addresses
Understanding Shed Bases for Lotus Sheds
Your shed base should be constructed on level ground on top of damp proof membrane. What is the Timber Floor Base Kit? This a pressure treated timber base frame – placed on top of your damp proof membrane – which acts as a base for your shed. The kit includes pre-cut boards, completing the base and acting as a timber floor for your shed.
You will need to ensure that the base frame is placed on a reliably level surface. You should then anchor your shed to the base. Hilti screws for this task are available to purchase via the Options tab. What is the Metal Foundation Kit? This is a steel grid – placed on top of your damp proof membrane – which you can either fill with concrete to act as a base or cover with suitable plywood to create a floor. The concrete or plywood is not supplied. You must then anchor your shed to the base. Hilti screws for this task are available to purchase via the Options tab. I have an existing concrete or slab base.
Product Details
Building Type
Apex Sheds, Cheap Sheds, Double Door Sheds, Garden Sheds, Metal Sheds, Narrow Sheds
Metric Size (Meters)
8' x 3'
Depth At Base (Imperial)
2"
Depth At Base (Metric)
820.0mm
Width At Base (Imperial)
7"
Width At Base (Metric)
2340.0mm
Door Height (Metric)
1700.0mm
Door Width (Metric)
1050.0mm
Depth Including Overhang (Imperial)
3"
Depth Including Overhang (Metric)
920.0mm
Floor Thickness (Metric)
0.3mm
Ridge Height (Imperial)
6"
Ridge Height (Metric)
1980.0mm
Width Including Overhang (Imperial)
8"
Width Including Overhang (Metric)
2450.0mm
Eaves Height (Imperial)
5"
Eaves Height (Metric)
1780.0mm
Roof Thickness (Metric)
0.3mm
Construction Type
Pre Profiled Wall Sheet
Comparisons of Similar Sheds
Size: 8' x 3'
Available From:
Support WhatShed: by making a purchase after clicking a link above, a portion of the sale supports this site.