Garden Storage Box – Pressure Treated (1.1m x 0.6m)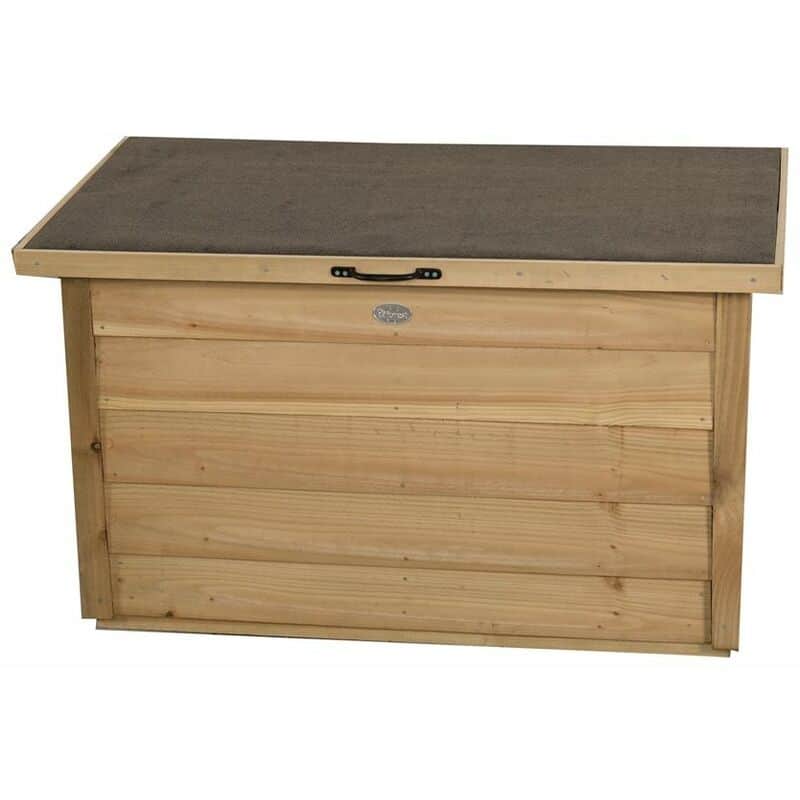 Full review coming soon
Our experts have not yet done a full review of this product. Please check back soon for the full review, in the meantime here is what the manufacturer says.
Garden Storage Box – Pressure Treated (1.1m x 0.6) Description The Garden Storage Box is an attractive and practical tidying solution, ideal for keeping outdoor items out of sight and protecting them from the weather. The chests small footprint makes it perfect for siting by front or back doors, on a patio or in a garage or workshop. Its 300 litre capacity offers plenty of space for muddy boots, tools and kids toys. It also makes a convenient parcel drop box. It is manufactured using traditional overlapping timber boards that have been Pressure Treated to protect them against rot and fungal decay. The floor is also mounted on Pressure Treated bearers to keep it off the ground and dry. The lightweight lift-up lid is hinged and a practical handle enables quick and easy access to everything inside. Key Features 0.64m x 1.08m x 0.55m (Height x Width x Depth) 7mm Wall Thickness – Overlap Boarded 8mm Roof Thickness – OSB (Oriented Strand Board) 8mm Floor Thickness – OSB (Oriented Strand
Product Details
Building Type
Cheap Garden Storage, Extra Large Outdoor Storage Boxes, Garden Storage, Garden Storage Boxes, Grey Garden Storage Box, Heavy-duty Garden Storage Boxes, Large Garden Storage Boxes, Outdoor Storage Cabinets, Outdoor Toy Storage, Small Garden Storage Boxes, Wooden Garden Storage, Wooden Garden Storage Chests, Wooden Outdoor Storage Boxes
Metric Size (Meters)
2' x 3'
Number of Windows
Has Windows
Cladding Type
Overlap Board
Treatment Type
Pressure Treated
Roof Thickness
8mm Thickness - OSB (Oriented Strand Board)
Floor Thickness
8mm Thickness - OSB (Oriented Strand Board)
Base Size
0.64m x 1.08m x 0.55m
Fsc Certified
From Sustainable Sources
Comparisons of Similar Sheds
Size: 2' x 3'
Available From:
Support WhatShed: by making a purchase after clicking a link above, a portion of the sale supports this site.