5′ x 2′ Biohort Europa 1 Dark Grey Metal Shed (1.5m x 0.78m)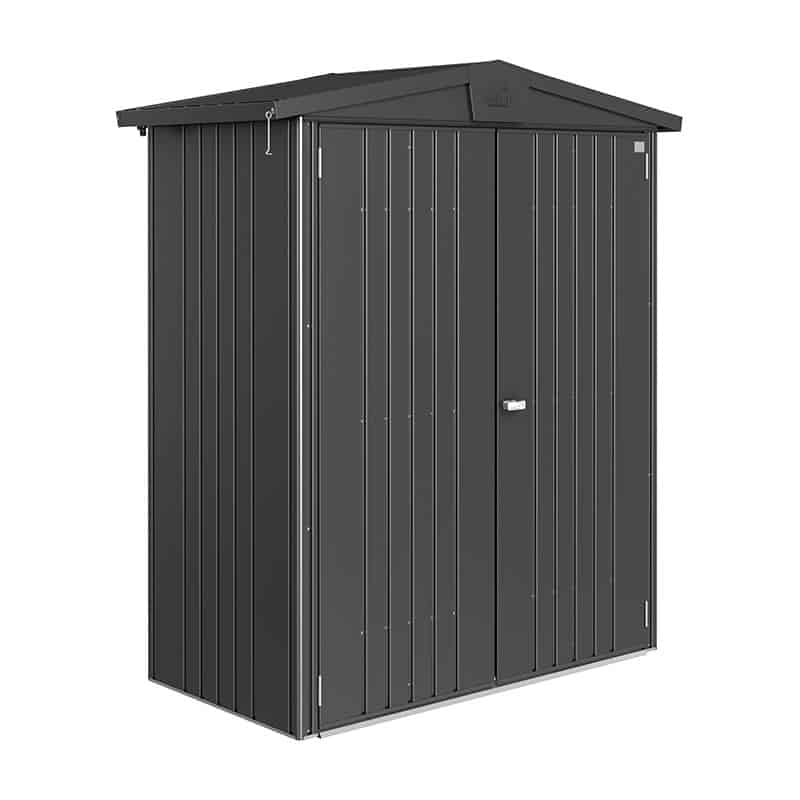 Full review coming soon
Our experts have not yet done a full review of this product. Please check back soon for the full review, in the meantime here is what the manufacturer says.
Robust, secure and supplied with a marvellous 20-year guarantee, the 5×2 Biohort Europa 1 Dark Grey Metal Shed is a wonderful place to store your valuable garden tools. This heavy-duty, compact metal shed is expertly hand-pressed from 0.5mm high tensile, hot-dipped, zinc and polyamide-coated galvanised steel plate, so is double the thickness of cheaper alternatives and completely resistant to rust. This not only makes for a superior garden shed, but one that is perfect for use on a caravan park too, where non-combustible storage sheds are compulsory.
The classic apex roof is made from the same high-specification material and has an exceptionally impressive snow-load capacity, so your tools, bicycles or other stored items will receive complete weatherproof protection, the whole year round. Furthermore, the integrated guttering system offers a free and sustainable source of water for your garden plants. You gain storage-friendly access to this 5×2 shed via wide double doors, which are fitted with a secure 2-way twist-grip cylinder lock, so rest assured that your valuable tools will be safe from unwanted attention.
If you're prone to misplacing keys, you'll be pleased to know that we supply a spare set as standard – a good job, really, because this security shed's doors won't be easily prised open. Once you're inside, the invaluable integrated organisation system, comprising of a shelf set and tool hanger, allows you to keep all of your equipment tidy and to-hand, so you'll be able to get those essential jobs done with minimal fuss.With dimensions of 196cm x 172cm x 84cm, including overhang, this small shed for sale is completely maintenance-free, saving you money and leaving you more time to do the things you enjoy.
To top it all, every single painted-part has been coated on both sides, which makes for an extremely attractive appearance.Don't be concerned about the difficulties sometimes associated with assembling metal sheds, for this model is assembled via a modular plug-in system and comes with an illustrated assembly manual, so the whole process will be simple. **Please be advised that this garden shed is supplied without a floor and that you MUST anchor it to a level concrete, paved or timber base. An anchor kit is included to facilitate this. **To add stability to your shed and to help you add your own flooring if you so wish, you can purchase an aluminium floor frame as an optional extra.
Together with the ground anchors, this ensures that the shed remains completely secure during adverse weather conditions. The floor frame comes with 4 plastic corners, so fits the shed perfectly and allows you to build your own shed floor. Alternatively, an aluminium chequer-plate floor with connecting rails is available for you to buy as an optional upgrade to add to the frame. For a full shed floor, purchase both the frame and floor panel, then support the latter with a suitable filling, for example 2-3cm of XPS rigid foam board (filling not included). Please be advised that you MUST not purchase the floor without the frame.Why not buy some other optional extras to customise your new garden storage shed too?
Product Details
Building Type
Apex Sheds, Cheap Sheds, Double Door Sheds, Garden Sheds, Metal Sheds, Narrow Sheds, Secure Metal Sheds, Sentry Sheds, Small Sheds, Small Storage Sheds, Solid Sheds, Storage Sheds
Metric Size (Meters)
5' x 2'
Locking System
2 Way Twist Cylinder Lock with 2 Keys
Roof Material
Hot-dipped Galvanized Polyamide Coated Steel Plate
Depth At Base (Imperial)
2"
Depth At Base (Metric)
780.0mm
Width At Base (Imperial)
4"
Width At Base (Metric)
1500.0mm
Door Height (Metric)
1700.0mm
Door Width (Metric)
1350.0mm
Depth Including Overhang (Imperial)
2"
Depth Including Overhang (Metric)
840.0mm
Ridge Height (Imperial)
6"
Ridge Height (Metric)
1960.0mm
Width Including Overhang (Imperial)
5"
Width Including Overhang (Metric)
1720.0mm
Comparisons of Similar Sheds
Size: 5' x 2'
Available From:
Support WhatShed: by making a purchase after clicking a link above, a portion of the sale supports this site.