8′ x 5'3″ Saffron Plastic Vinyl Apex Shed (Includes Foundation Kit and Skylight) (2.39m x 1.6m)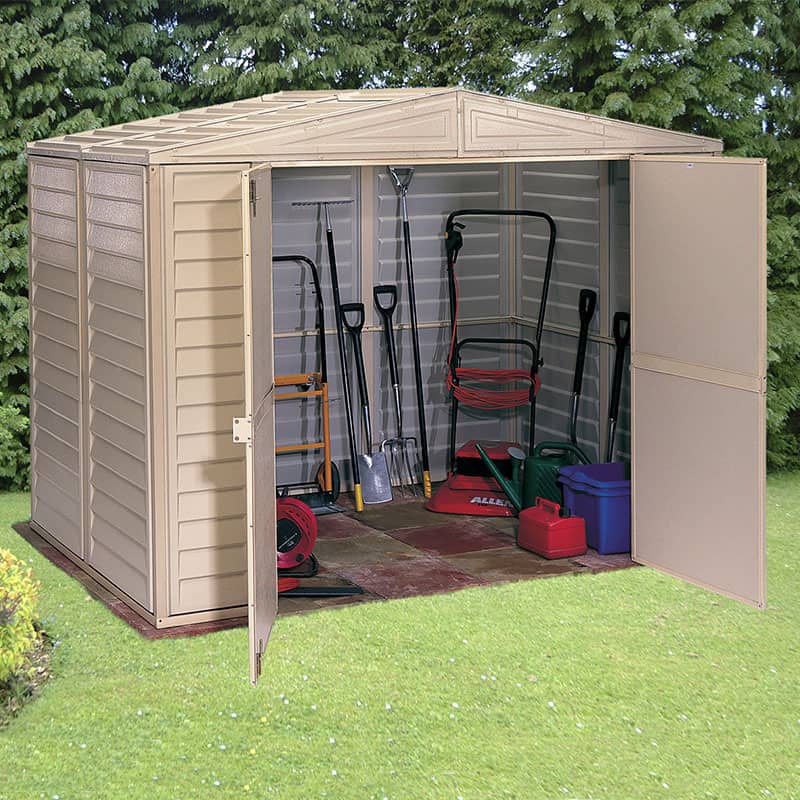 Full review coming soon
Our experts have not yet done a full review of this product. Please check back soon for the full review, in the meantime here is what the manufacturer says.
Low-cost and low-hassle, but high on quality, the 8′ x 5'3 Saffron Plastic Vinyl Apex Shed (includes foundation kit & fanlight) is made from leading-edge materials and backed by an impressive 10 year guarantee, making it the perfect garden storage your garden tools and furniture.This garden shed is expertly built from premium-grade PVC, supported by a rust-resistant, hot-dipped galvanised steel frame, ensuring a robust, durable and fire-retardant structure. The traditional apex roof is also made from premium-grade PVC and snow-load tested up to 20lbs/ ft², so your stored items will receive outstanding protection from the elements, with minimal fuss. Incredibly easy to assemble and completely maintenance-free, this plastic shed really does tick every box.
To top it all, the beautifully crafted facade, smart proportions and luxurious ivory finish ensure a stunning appearance.You gain storage-friendly access to this 8×5 shed via wide double doors, which are secured by padlock (padlock not included), so rest assured that your valuable items will be safe from unwanted attention. Internal locking bolts allow you to open one of the doors independently of the other, which is particularly useful if you need to quickly access a tool or want to protect the rest of the interior from unpleasant weather.
Once inside, a fanlight window provides ample natural light for you complete your tasks, while the air vents ensure your prized possessions are kept in optimum storage conditions.This garden storage shed has dimensions of 186cm x 239cm x 160cm and is designed without a floor. We stock models, boasting exactly the same premium specifications, in a range of other sizes too.**Please be advised that this shed for sale has been rigorously tested to withstand extreme weather conditions, including winds of up to 115mph, but you MUST anchor it to a firm foundation to avoid damage. A foundation kit is supplied to facilitate this.
Product Details
Building Type
Apex Sheds, Double Door Sheds, Garden Sheds, Plastic Sheds, Plastic Sheds With Windows, Shed with Windows, Storage Sheds
Metric Size (Meters)
8' x 5'
Locking System
Padlockable (not included)
Depth At Base (Imperial)
5"
Depth At Base (Metric)
1600.0mm
Width At Base (Imperial)
7"
Width At Base (Metric)
2390.0mm
Door Height (Metric)
1550.0mm
Door Width (Metric)
1580.0mm
Depth Including Overhang (Imperial)
5"
Depth Including Overhang (Metric)
1600.0mm
Ridge Height (Imperial)
6"
Ridge Height (Metric)
1860.0mm
Width Including Overhang (Imperial)
7"
Width Including Overhang (Metric)
2390.0mm
Comparisons of Similar Sheds
Size: 8' x 5'
Available From:
Support WhatShed: by making a purchase after clicking a link above, a portion of the sale supports this site.