Keter Artisan 9 x 7ft Double Door Pent Outdoor Plastic Garden Shed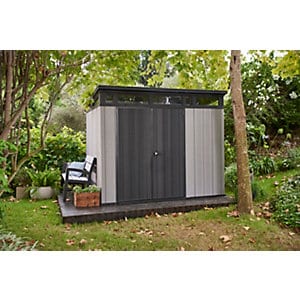 Full review coming soon
Our experts have not yet done a full review of this product. Please check back soon for the full review, in the meantime here is what the manufacturer says.
A perfect blend of modern design and ruggedness the cleverly architected Artisan 9 x 7ft shed provides the ideal outdoor storage solution for your garden. The innovative DUOTECH walls are not only highly durable and weather resistant but they also feature an attractive wood-like texture and paintable surface. Made with a steel-reinforced build the shed comes with an extra strong roof that can withstand snow loads of up to 200 kg/sqm and a heavy-duty floor that allows you to store even large equipment. The Artisan 9 x 7ft also features double doors windows and a locking system.
Product Details
Building Type
BBQ Sheds, Double Door Sheds, Garden Sheds, Grey Plastic Sheds, Grey Sheds, Heavy Duty Plastic Garden Sheds, Pent Sheds, Plastic Sheds, Plastic Sheds With Windows, Shed with Windows, Solid Sheds
Metric Size (Meters)
9' x 7'
Glazing Material
Styrene glazed
Roof Material
UV Protected
External Area Coverage
6m2
Internal Area Coverage
11m3
Assembly Service Required
Self assembly
Building Type
Plastic shed
Includes
Padlock hasp (lock not included)
Range Description
Artisan Sheds
Required Base Size
279 x 216cm
Comparisons of Similar Sheds
Size: 9' x 7'
Available From:
Support WhatShed: by making a purchase after clicking a link above, a portion of the sale supports this site.