Head Judge: Andrew Wilcox
Channel 4's Head Judge & Founder of Shed of the Year Andrew Wilcox has worked to help design an impartial judging system for WhatShed. The judging system uses many different parameters to help give a large degree of impartiality to the way we select products for each of the league tables we do. You can read more about the system here.

---
We've spent hours reviewing the different plastic sheds available from the UK's top 10 retailers in order to determine the top 10 plastic sheds for sale in the UK. These retailers account for 95% of the UK's online garden buildings market. As such, you can be sure that the WhatShed best plastic shed award winners really are the best off the shelf. OK so lets see who sells the best plastic sheds in the UK right now.
---
#10
The 8 x 7 Suncast New Tremont Four Plastic Shed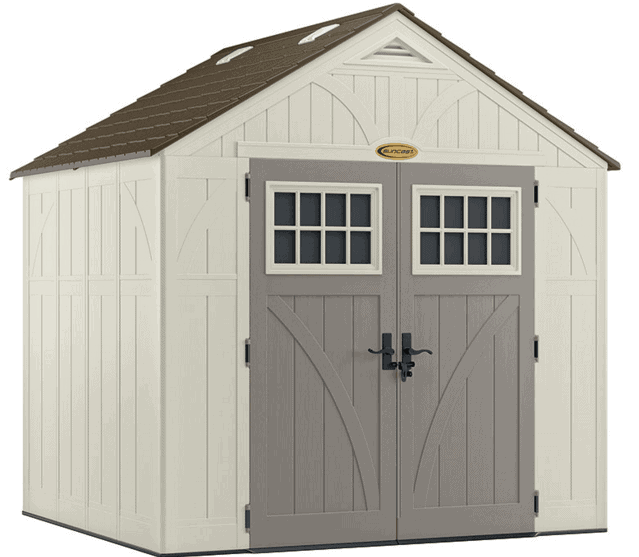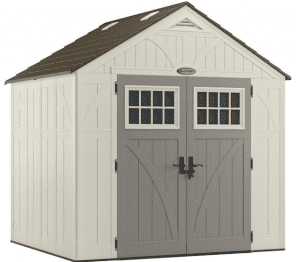 Prices around – £929
Available from – Shed Store
See full WhatShed review xyz
Suncast have are known for its plastic sheds range. This is a stylish and exciting plastic shed to have in your garden. The looks are obviously a key factor here, and we have included it on our list mainly because it gives you the option of choosing a shed that doesn't necessarily look like a shed, if that makes sense. In any case, it's great-looking,distinctive and different, and will certainly be a focal point of the garden. We just like having variety in choices, and this one is certainly different.
 The value proposition is also very strong, with incredibly tough steel reinforced walls giving the building a durable frame. This is another key point here, and alongside the looks, this gives it a position here on our list. It's rare to find such a strong plastic shed, one that will last longer due to what's inside the walls.
 That strength is boosted by reinforced floor panels as well, and we liked the fat that you could store heavy machinery in here and not  have to worry about the floor. It's that tough and not something we can say for all the plastic sheds we have seen!
We chose it for the looks, but the internal toughness also makes it an easy top ten choice.
---
 #9  
The
BillyOh Skylight 6 x 4 Plastic Shed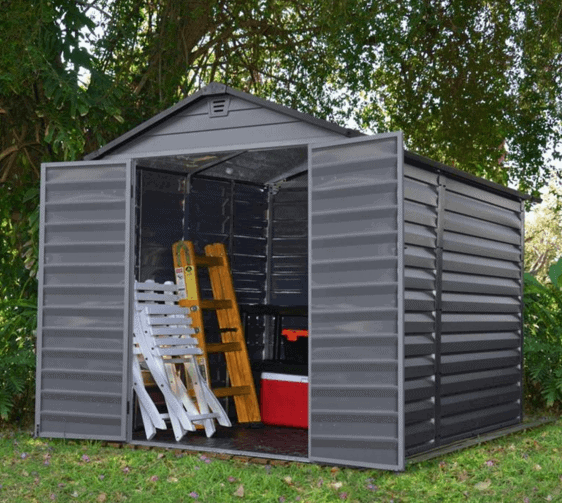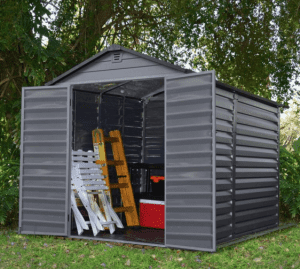 Prices around – £419
Available from – Garden Buildings Direct
See full WhatShed review xyz
This is one of the most compact plastic sheds we have seen, it is on our top ten list for one main reason: the price. While price should not necessarily be a factor, it is here because of the value you receive for the low price point.
The skylight is a rather exciting part of the building. It looks like a normal roof from the outside, but venture in and you can see that the building is well-lit through the innovative elements in that skylight roof. It brings in plenty of natural light, and is actually quite a neat little trick.
There's an apex roof for extra head height, and the entire building has been covered in poly resin (a form of plastic), which makes it completely UV resistant. There's no cracking or peeling, or fading for that matter.
You can buy this one with a double door, but the single door option makes the top ten because it's neat, attractive and spacious plastic shed for the price. And the skylight is a great little feature that will impress you the second you walk inside.
---
#8  
The
Palram Skylight Plastic Shed 6 x 8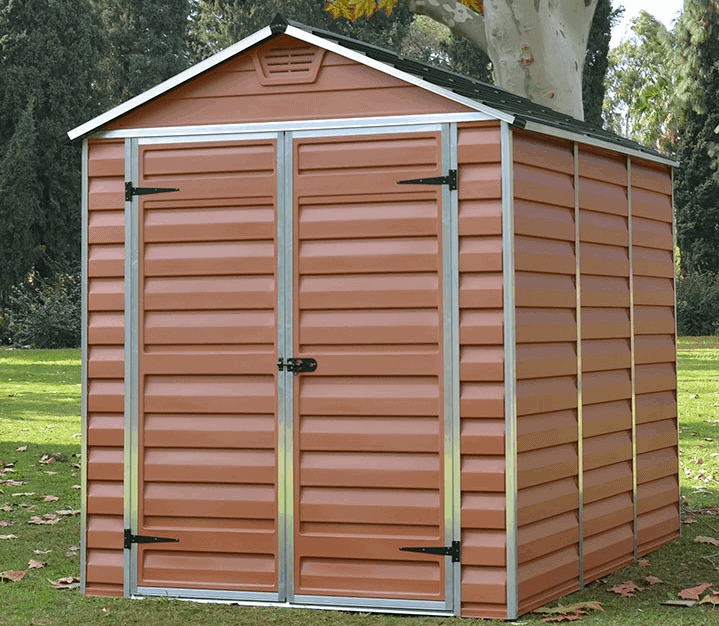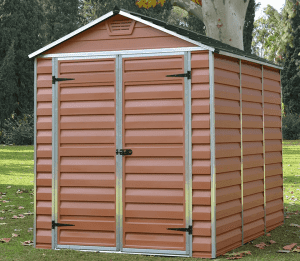 Prices around – £429
Available from – Shed Store
See full WhatShed review xyz
Palram are a major maker of plastic sheds. This is one of the best selling plastic sheds around right now, and when you see what this compact plastic shed has to offer, it is easy to understand why. The things that stick out for us are what seems to be quite thoughtful and carefully planned elements, such as the non-slip floor, which makes it a much safer building than you might expect.
This 6 x 8 model also has a galvanised steel frame, and this makes it a very long-lasting plastic shed. Able to withstand rust for many years, you're getting a lot of value for money here, with what is essentially maintenance free plastic shed.
There are excellent roof panels that bring in natural daylight for safety inside the building, and the entire shed has been clad using polycarbonate. It's tough and durable,and will maintain its looks even if you wash it every day. That can't be said for every shed at this price point,and that's the main reason why it's in at number eight.
---
#7  
The 6 x 8 New Adlington 'Three' Plastic Shed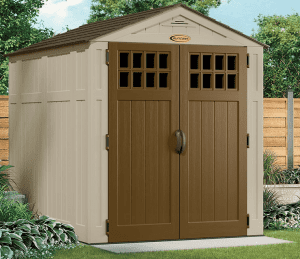 Prices around – £974
Available from – Shed Store
See full WhatShed review xyz
There are many different aspects of this shed that make it a top ten entry, but we have to say that one of the key reasons why it is on the list is the sheer strength the building has, especially in the floor. It's reinforced, so you can easily store light garden machinery in here with no worries about the durability of the floor that the machinery sits on. Step inside and it feels incredibly heavy and tough. So as a mid-size place to store a ride-on mower, it works well.
The roof panels also benefit from metal reinforcements, so this only adds to the general feeling of toughness and reliability. With excellent vents and transom windows too, you also have a building that won't feel stuffy and 'plastic' smelling, no matter what the weather is like.
For a plastic shed, it's just very, very tough. And we think that at the price it cannot be ignored. It's not everyday you find  plastic sheds that can handle a ride-on for storage, especially with these dimensions. A worthy entry on the list, simply because it is tough.
---
#6  
The 15 x 8 Lifetime Heavy Duty Plastic Shed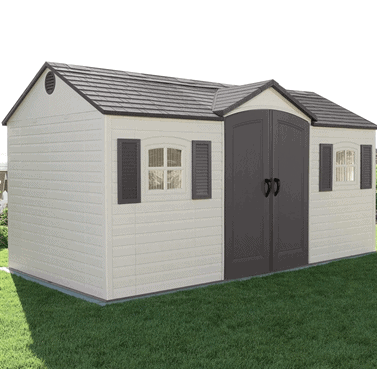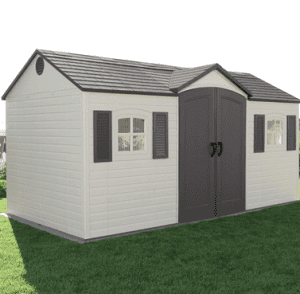 Prices around – £1,819
Available from – Buy Sheds Direct
See full WhatShed review xyz
This shed deserves a place on our top ten list because it lives up to it's name. It is truly heavy duty, and we liked the steel struts underneath the already hardy PVC. We put it through some rigorous testing, and the solid nature of this tough building shined through consistently. No creaking in the breeze with this one.
We also liked the steep pitch on the roof. It does actually make a difference for water drainage, and it adds that little extra in the long life stakes.
Inside, we appreciated the many fixtures and fittings that allowed us to instantly set up a plethora of shelving and storage options. It's built to be useful, and these fixtures are another reason why it made the list. There are so many of them, you can kit out the building for maximum storage easily.
The big double doors impressed us also, they're wide opening, which makes it easy to store bulkier items. But perhaps the icing on this durable cake is the floor. It's PVC, and tough enough to manage a heavy weight item (or three). It's just a well-made, durable plastic shed. And it's size and strength (and fixtures) gives it a place in our top ten. Lifetime (yes that is actually what they called the brand) always seem to knock the ball out of the park when it comes to plastic sheds. 
---
#5
The Lifetime 11 x 13.5 Plastic Shed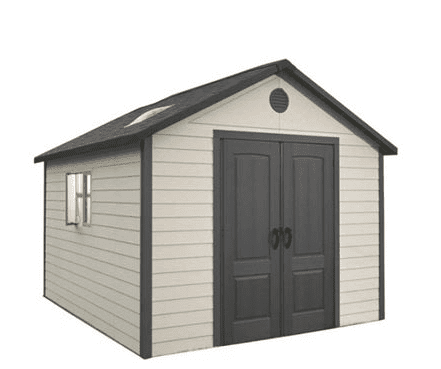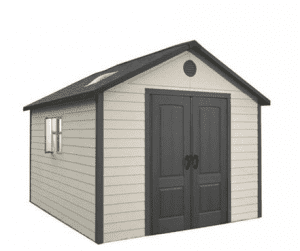 Prices around – £2,679
Available from – Waltons
See full WhatShed review xyz
Underneath the plastic outer shell of this Lifetime shed is a strong and extensive network of steel supports. This is just one of the reasons why this incredibly well-made shed has achieved a spot on our list. The steel framing is also powder coated, and we liked this because it gives enhanced protection against rust. To us that means strength above and beyond what many other sheds can offer.
Then there's the space inside the shed. Plenty of room here to store your garden items, and with some great options for storage too. A total of seven shelves and two peg strips makes it easy to get things organised. It's little things like this, supplied with the shed, that make it an easy buy.
And just to make it even more attractive as a purchase, the manufacturer has even included a slip resistant floor. So that's safety, usefulness and plenty of space all wrapped up in one big package. A tough and sturdy plastic shed, it fully deserves it's place on the list. As one of the most expensive plastic sheds we have ever seen we unfortunately have to rank this one a little further down the list. 
---
#4  
Lifetime 10 x 8 dual entrance reverse apex plastic shed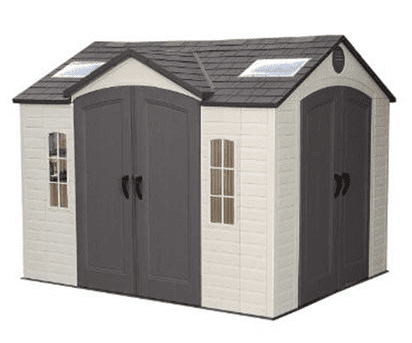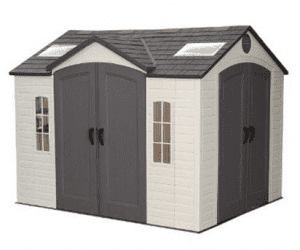 Prices around – £1,549
Available from – Waltons
See full WhatShed review xyz
Our number four is all about practicality. With lots of features beside the obvious benefit in the doors, this is a perfect buy for anyone who needs a shed that has been made for ease of use.
However, it's the doors that make this a top ten plastic sheds shed. Having two of them means practicality, first and foremost, and the doors are double hinged for extra strength too. They can take all manner of knocks and still have that usefulness. It just means you can access most parts of the shed even if it's stacked full of stuff, and this makes the building a winner in our book.
It's also nice and bright inside too, with enough vents and skylights to make it a very safe area to store stuff. You won't have to root around much anyway due to the two door access, but the light that comes through all those points means you're perfectly safe if you do have to rummage.
With a variety of shelves and peg strips included in the purchase you're also looking at a building that can help massively with garden storage.
So it comes in at number 4 because it is easy to use, and has plenty of safe and useful storage.
---
#3  
The 6 x 12 Palram Grey Skylight Plastic Shed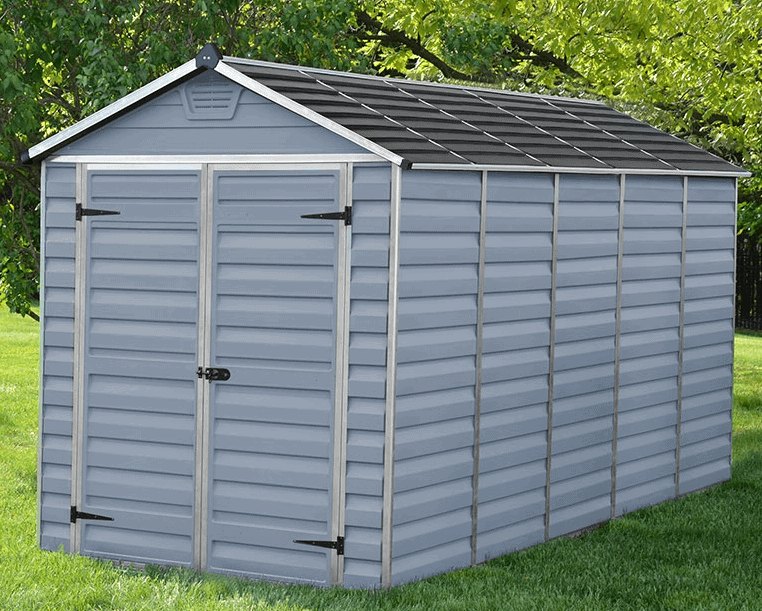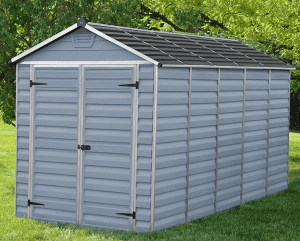 Prices around – £649
Available from – Shed Store
See full WhatShed review xyz
Again its another one of the Palram plastic sheds range. We could say that we have this shed on the list simply because it's grey. Okay, that's not the main reason why it's here, but you have to admit the colour of the building is a strong point. It makes it very attractive, and striking too.
Dig a little deeper with the building and you're looking at a superb and tough polycarbonate construction. This stuff is very durable, and will ensure the beautiful grey outer covering keeps it's looks for many years to come.
There are skylights too, and these really make the sizeable interior a comfortable and safe place to be getting on with your jobs, or for storing items sensibly and easily.
But a key feature here for this plastic shed is the ramp. It's very easy to use, and is just a clear example of a manufacturer thinking straight, and realising that one of the best things you can have on a shed that has room for a large ride on mower is a ramp to bring the thing in on. It's a nice touch, and makes this plastic shed a real winner in our eyes. The easy as pie assembly and 10 year warranty are just bonus features.
---
#2  
The
Grosfillex Deco 11 Plastic Shed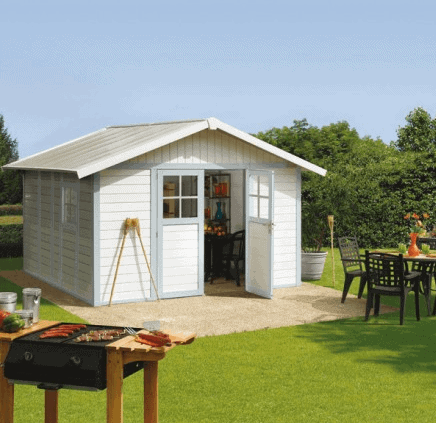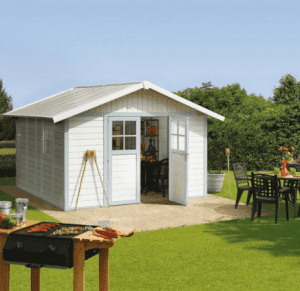 Prices around – £1,999
Available from – Sheds.co.uk
See full WhatShed review xyz
Grosfillex has always brought impressive, ambitious plastic sheds, and their work in plastic sheds in particular is extraordinarily innovative in many ways. But this plastic shed is one of the best we've ever seen them produce.
First of all, it has a good size at 10 ft x 12 ft. That means plenty of space, but that space is enclosed and protected by a key feature, 26 mm thick walls. So not only is it big, but it's also heavy and sturdy too, more so than most other plastic sheds you will see at this size and price.
It's attractive too, and this makes a big difference to us. We like plastic sheds that are not all about the whites and browns now and then, and this has a lovely, almost sea-side feel to it. Imagine a beach hut that is actually quite large and very useful,and you're there.
With strong features such as a supplied lock and excellent ventilation grilles to ensure a smell-free and airy interior, this large and stylish plastic shed is a rare one, and that 26 mm thickness has a lot to do with that rarity.
---
#1
 The Fusion 7.5 x 7.5 Composite Shed
Available from – B&Q
See full WhatShed review xyz
So the winner of the best plastic sheds in the UK is now something truly special. It's a fusion  of wood and plastic and this actually works very well, creating a building that is incredibly useful. A key feature that really jumped out at us when we first saw the building is the fact that the walls are drillable. You can therefore play around with storage options and make the inside of the shed very much your own.
The floor is a composite of wood fibre and plastic, and is completely environmentally friendly too. But the value doesn't stop with eco-friendly stats, because it is also incredibly tough. So you can store a lot more than you think in this compact building. We just liked the rather space age approach to the floor, and applaud the manufacturer for being a little more innovative than others might be.
The final key point here is the glazing. You have four windows glazed with glass, so there is a truly natural feel to the whole building. Solid and heavy, it is a great way to have the best of both world's, with the durability and low maintenance of plastic, and the strength of wood.