Mercia 3.3 x 3.7m Sherwood Log Cabin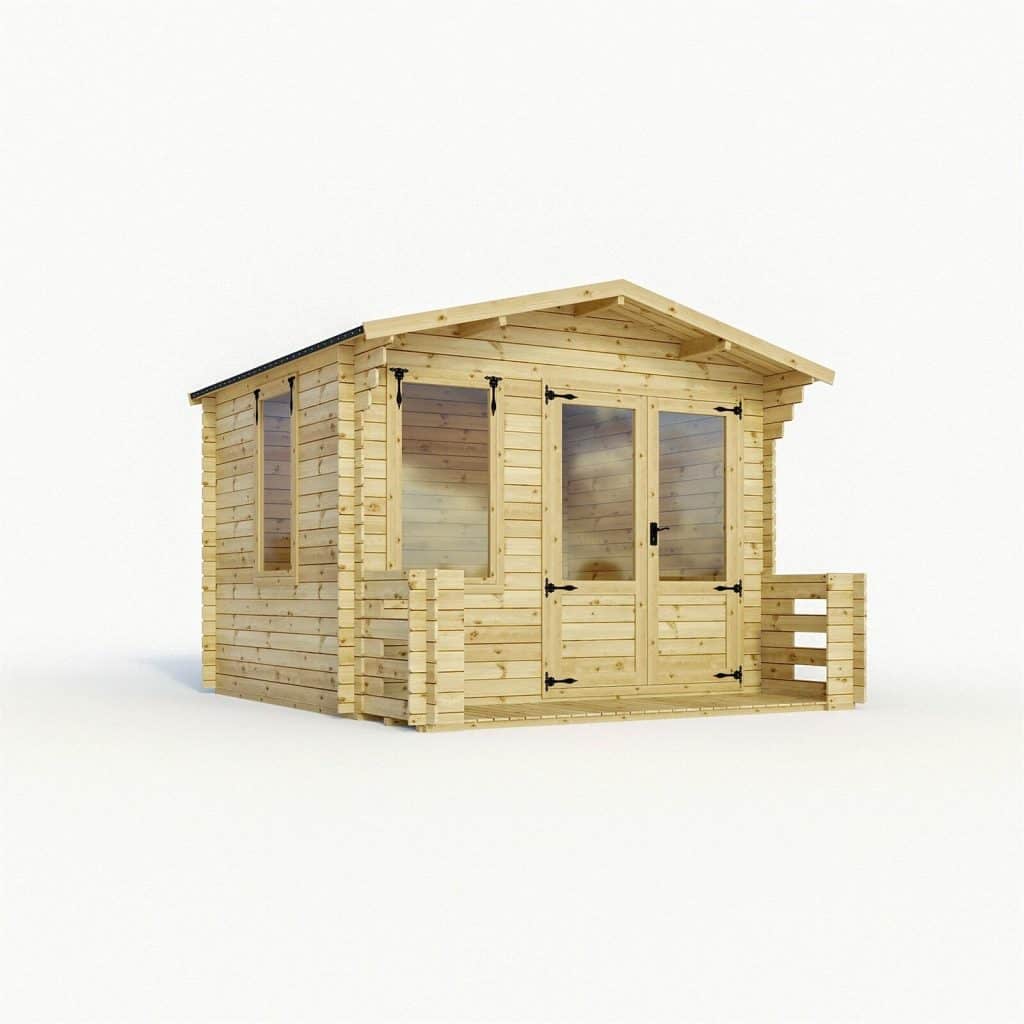 Full review coming soon
Our experts have not yet done a full review of this product. Please check back soon for the full review, in the meantime here is what the manufacturer says.
This Mercia, 3.3×3.7m Log Cabin with veranda combines traditional features with a contemporary open plan living space making it the perfect garden getaway, to entertain guests or to relax and unwind. The building features large, opening windows that allow natural light to flood the interior, creating a bright and airy space. Welcoming, glazed, double doors open onto a stylish veranda, which offers the ideal spot to enjoy the summer weather, while under the shade of the roof overhang. The log cabin is constructed using high quality, 19mm, Baltic pine log boards. The interlocking nature of this construction forms a tight seal that keeps rain and draughts firmly at bay, while offering a robust and heat retaining structure.
This allows you to make the most of your log cabin throughout the whole year! The apex roofline creates a generous amount of headroom, perfect if youre looking to install tall storage or lighting. High quality roofing felt is supplied as standard with this log cabin, which means your building will have protection against the elements and prevents the build-up of rain water. A lock and key are provided, so you can secure your building and belongings away when not in use. This log cabin is made using only ethically sourced, FSC certified timber and is made here in the UK by our highly skilled team.
Product Details
Building Type
Large Log Cabins, Log Cabins, Modern Log Cabins
Metric Size (Meters)
10' x 12'
Cladding Type
Interlocking Boards
External Dimensions
(H)264 x (W)341 x (D)368cm
Product Contains
Felt, fixings, instructions, storm braces
Internal Dimensions
(W)306 x (D)248cm
Industry Standards Certification
FSC
Additional Information
Building is supplied untreated which requires treatment once assembled and annually. The building is delivered in kit format (flat packed) in individual log cabin boards and requires home assembly
Additional Assembly Information
2 person assembly
Assembly Options
Self Assembly Required
Product Dimensions
3.3 x 3.7m
Effects And Finish
Untreated smooth timber
Floor Material
Tongue and groove
Comparisons of Similar Sheds
Size: 10' x 12'
Available From:
Support WhatShed: by making a purchase after clicking a link above, a portion of the sale supports this site.