Shire Ardcastle 10 x 10ft Double Door Log Cabin with Assembly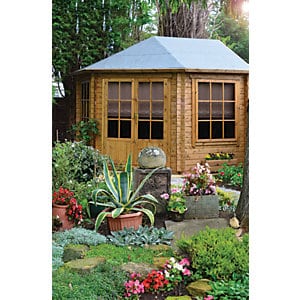 Full review coming soon
Our experts have not yet done a full review of this product. Please check back soon for the full review, in the meantime here is what the manufacturer says.
Designed to fit in a corner location the Shire Ardcastle Double Door Log Cabin is a spacious versatile and welcoming addition to your garden. Use as a comfortable spot to socialise and spend warm summer evenings. Constructed from quality 28mm timber logs the cabin also features thick windows and double doors fitted with a draft seal system which not only help keep the heat in but will provide you with a 90 degree view of your garden. This cabin is supplied unpainted ready for your choice of paint or stain. All fixings & instructions included.
Product Details
Metric Size (Meters)
10' x 10'
Cladding Type
Interlocking Log
Glazing Material
Toughened glass
Assembly Service Required
Yes
Certifications (Metric)
FSC® Certified
Comparisons of Similar Sheds
Size: 10' x 10'
Available From:
Support WhatShed: by making a purchase after clicking a link above, a portion of the sale supports this site.