Shire Danbury 12 x 10ft Double Door Garden Home Office Cabin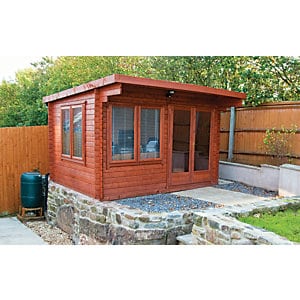 Full review coming soon
Our experts have not yet done a full review of this product. Please check back soon for the full review, in the meantime here is what the manufacturer says.
The Shire Danbury Garden Office is perfect for creating the ideal working-from-home environment. Constructed from quality kiln-dried timber with heavy framing and with toughened glass doors and windows this garden office is light spacious warm and dry. The windows open for comfort in hotter weather and the doors are supplied with a mortice lock and key. The door and window positions are reversible to suit your own preference or circumstance.
Product Details
Building Type
Garden Offices, Garden Rooms, Log Cabin Garden Offices, Log Cabins
Metric Size (Meters)
12' x 10'
Cladding Type
Interlocking Log
Glazing Material
Toughened glass
Assembly Service Required
No
Certifications (Metric)
FSC® Certified
Building Type
Garden office
Comparisons of Similar Sheds
Size: 12' x 10'
Available From:
Support WhatShed: by making a purchase after clicking a link above, a portion of the sale supports this site.