Shire Kilburn 10 x 14ft Curved Roof Double Door Log Cabin with Assembly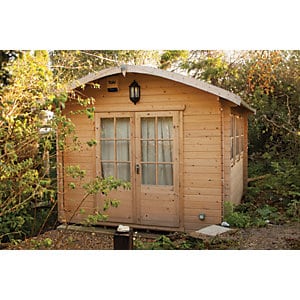 Full review coming soon
Our experts have not yet done a full review of this product. Please check back soon for the full review, in the meantime here is what the manufacturer says.
The Kilburn Log Cabin offers versatility and durability if you're looking add something extra to your garden. The double glass doors & windows allow for plenty of natural light and the distinctive curved roof provides a very attractive rustic appearance. This cabin is constructed using quality Northern Hemisphere timber and the doors have a mortice lock and key. This cabin is supplied unpainted ready for your choice of paint or stain.
Product Details
Building Type
Large Log Cabins, Log Cabins
Metric Size (Meters)
10' x 14'
Cladding Type
Tongue & Groove
Glazing Material
Toughened glass
Assembly Service Required
Yes
Certifications (Metric)
FSC® Certified
Comparisons of Similar Sheds
Size: 10' x 14'
Available From:
Support WhatShed: by making a purchase after clicking a link above, a portion of the sale supports this site.