The Greek climate of dry and hot summers along with winters that can be very wet requires gardeners to really work hard. A typical Greek garden is going to be one that is kind of extreme in its design as their climate requires this. Many Greek gardens are designed with their climate in mind, be it the hot sun or salt water getting blown in from the sea by the wind! Many places in Greece simply do not bother with a proper garden as it can be so hard to maintain! But the Greek style is one that is very, very smart and today we are sharing with you some of the things that you can do in your own garden that you would see in a typical Greek Garden.
Some Are Truly Spectacular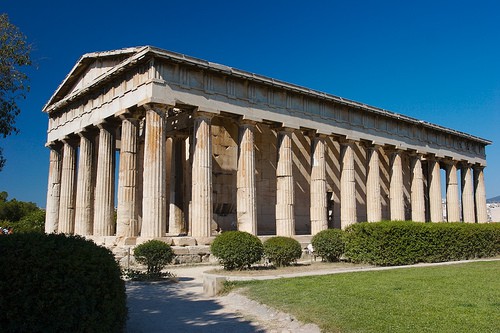 We are not talking about the average Greek Joe here who likes to potter around their garden. But, Greece is known for its Gods and some of the public and larger gardens in Greece really embrace this and go all out with temples, statues, amazing water features and all kinds of nods to Greek mythology. While these are truly incredible and something that many people like to look at, many of the regular people in Greece would never be able to have something like this. But some do try their best with statues and artwork of the famous Greek gods.
Clever Backdrops
As the sun can give any kind of stonework, statues or other features a real beating. One typical feature of a Greek background is neutral colours. Solid stone walls, archways and generally pale colours that are not going to easily fade when pounded by the sun, but also create a calming and neutral backdrop for the garden as a whole are what you will find in many Greek gardens.
Get Athena To Plant You An Olive Tree
There is an ancient Greek legend that says, Athena drove a spear into the ground and turned it into an olive tree! Olive trees are something that more than a few Greek gardens will make use of. The reason for this is not just because of the links to the myth, although it does make for a great conversation piece. But because of how robust they are. They can handle a long drought, the wood looks great no matter the time of year and they are just so very good at handling whatever mother nature can throw at them.
Clever Use Of Colour
While you will find many pieces of stone and a lot of green (long lasting plants) in a Greek garden. These are usually complemented with splashes of colour here and there. lovely poppies, roses or anything bright, but used sparingly really does bring a lot of personality. How these are placed in the garden is key as they are usually positioned not just so they look good, but also so that they do not take too much of a beating from the elements.
Greek Gods
One of the things that many of us find so interesting about Greece is their gods and mythology. Some of the larger public Greek gardens really showcase this with some spectacular looking sculptures, statues and water features of their gods. Some Greek people love to have smaller statues and features in their own gardens, but these are not actually as common as you would think.
Drought Resistant Plants
As Greece can have some very long and hot summers. It is important for any Greek gardener to make sure that they are using plants which are going to last. These kind of plants are classed as drought tolerant and if you live in the Mediterranean, you simply must have plants like this such as thyme, rosemary, sage, and chives will give a garden a bit of style and also not require much in the way of maintenance.
Lots Of Potted Plants To Stub Your Toe On!
Potted plants are a huge feature in Greece as many of the gardens there are all stone as it is very hard for the soil to grow there. As it is hard for the soil to grow, it is even harder to grow plants! This is why so many Greek gardens will predominantly be stone and then be filled with a selection of potted plants. You could even argue that having a basic stone courtyard filled with potted plants is enough to qualify a garden as Greek in its style. If you really want to go old school have a think about having some terra cotta inspired clay pots. This will really give your garden a bit of classic Greek mythology style in your garden.
Some Tasty Fruit
Thanks to that Mediterranean garden it is not unusual for a Greek garden to have a special area where fruit can grow. The most common ones that you are going to be seeing are oranges, limes, tangerines, and lemons. These all thrive in the Greek climate and one way that some people combat the winter is they will keep them in a pot so they can be moved into a warm greenhouse so they can survive. These kind of fruit trees not only offer tasty fruit, the colours of the fruit also give any garden they are in some very nice colouring.
Kicking Back Out Of The Sun
As we have said numerous times in this article, Greece can be hot, like so hot that Icarus would not have even got off the ground with his wings! Well for this reasons many Green gardens will have at least one area that is all about offering shade. Shade so people can sit outside and enjoy the sun, but do it without getting the world's worst sunburn! Using something like jasmine or ivy above a terrace or a pergola is a great and colourful way to offer some nice shade.
How Can I Have A Greek Garden?
The reason a Greek garden has the style it does is because of their climate. For those who do not live in the Mediterranean, it can be tough to have a full on Greek style garden, but having some nice stone work on the ground and a lot of potted plants is a great way to give your garden some Greek style.
There are plenty of statues that you can get as well, we are talking about classic Greek gods which you could place in your garden if you really wanted to have something Greek related. This would look cool and also help if you live in a climate that is not really suited to the Greek style.
Many styles of gardens from all around the world have a real sense of symmetry and actually, Greek gardens are the same. You could always make sure you have matching flower beds or potted plants and when people ask, you can say that you were inspired by the styles of Greek gardens.