Whether for a shed, gazebo, fence, deck or patio, the preservation of wood in the outdoors is of vital importance to any homeowner or Do-It-Yourselfer. Without proper protection, pests, moisture, salt, sun, rain, frost and everything in-between can have dramatic effects –none of them good—on the stability and appearance of lumber-based structures.
Although no wooden creation can last forever, by diligently adhering to a few basic precautions even the most amateur craftsman can safely shield his investment from the normal toils of element exposure.
This guide will highlight and explore the basic fundamentals of exterior wood preservation, fundamentals that –if assiduously followed—will ensure lasting looks and full functionality.
The Wood Itself
The old cliché "you get what you pay for" may not apply to everything, but it certainly applies to wood, as nothing dooms an outdoor project faster than the use of inadequate, low-quality lumber.
Your shed will face the weathering effects of the sun, wind, rain and temperature on a daily basis, not to mention the constant threat of insects, molds and general detritus, so plan accordingly.
If unsure what the greatest hazards in your specific region might be, talk to the professionals at your local lumberyard. Any decent purveyor should have a wide selection wood and a surplus of applicable knowledge for any project big or small.
Untreated: Though it comes at an additional cost, a number of builders don't mind paying for quality, untreated wood.
Aim for varieties resistant to the adverse effects of warping, fading, moisture and pests. Generally speaking, try to purchase heartwood –the older, darker, innermost wood of a tree—rather than sapwood. Ask someone at your local lumberyard for an example between the two types; being able to physically compare the two helps clarify the difference.
Aim for the following species: Redwood, Cyprus and Cedar.
Avoid: Pine, Ash, Gum, Hemlock, Poplar, Pine and Firs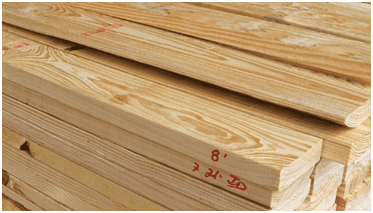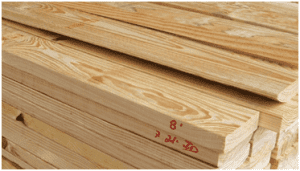 Make sure that the wood has been thoroughly dried to prevent post-purchase shrinkage. If there is any indication that the wood may be green, save yourself the headache and do not purchase it.
Treated: By far, the most commonly used type of outdoor wood is treated, specifically pressure treated, pine or fir.
For those unfamiliar with the pressure treatment process, watch this brief YouTube video for clarification:
Though cheaper and more readily available than untreated Redwood or Cedar, treated wood (specifically pressure treated) does have some drawbacks.
It's still expensive
The wood tends to acquire an unnatural hue (usually a green sheen) as a result of the chemicals in the treatment process, though this hue can be dyed out.
Health concerns surrounding the safety of said chemicals have increased in recent years.
Still, pressure treated lumber will likely find its way into your project in one way or another, so take these three drawbacks with a grain of salt.
Aim for the following species: Pine* and Douglas Fir*
Avoid: Gum, Hemlock, Ash and Poplar
* Though not suggested as an untreated lumber, Pine and Fir are widely used and generally recommended if they have been pressure-treated. The pressure treatment will greatly increase their resistance to moisture and rot, commonly considered their two biggest shortcomings.
One more thing – note that pressure treated wood come in two varieties: above ground and ground contact. For any part of your shed, deck, etc. that will be in direct contact with the ground below, be sure to use ground contact lumber. Everything else can be above ground if you prefer.
Avoiding Decay
In case we haven't made it clear enough, outdoor wood –whether on a deck, shed or fence—will get serious exposure to the elements.
The elements lead to decay and decay leads to destruction.
Assuming the best wood available (see above) has been chosen for the job, take care to install a proper drainage system for your structure and treat the wood with additional preservatives.
Drainage: Standing water is the enemy!
Even if your lumber has been treated with a water-repellent, it's only a semi-permanent/effective deterrent. Take reasonable care to avoid pools, puddles and otherwise constant exposure to dampness.
For roofs, properly installed gutter systems, tarring/shingling and gradient implementation will help water run away from any shed, greenhouse or gazebo.
For decks, fences and other wooden structures, find ways of encouraging drainage (like the gaps between deck floor planking) without compromising the aesthetic integrity of the structure.
Preservation: Once again, it's important to reiterative that nothing beats pressure treatment for effectiveness. Due to its higher cost, it may not be reasonable to expect that the entire structure consists of pressure treated lumber, but try to ensure that all load bearing pieces (joints, posts, beams) and all ground-contact pieces receive full pressure treatment.
Requiring a great deal of industrial equipment and know-how, Do-It-Yourself-ers cannot perform pressure-treatment. Only non-pressure wood treatments can be done at home, and of the various non-pressure options, spray or brushed solutions are far and away the most common.
For the fiscally frugal, keep in mind non-pressure treatment still offers surprisingly adequate protection, especially when coupled with higher quality woods. In many cases, it's fair to think of the difference between non-pressure treated and pressure treated as the same difference between "good" and "great", so don't get discouraged.
To apply a brush or spray treatment, adhere to the following steps:
1: Wear latex or rubber gloves, eye-protection and (if spraying) a mask, as well as ruin-able clothing to fully protect both arms and legs.
2: Prepare the wood. Try to sand down any ridges or inconsistencies in the lumber, smoothing out knots and end-cuts.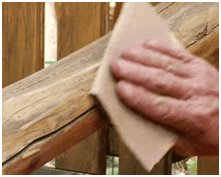 Using a clean rag, make sure the wood is clean, dust-free and fully dry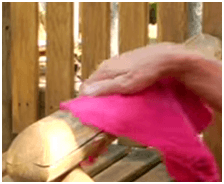 3: Liberally apply the liquid treatment in at least two coats, taking care to allow the first coat to completely dry before applying the second. By liberally, it is meant the solution should permeate every square inch of surface area, especially around natural cracks, end cuts and nail/screw holes.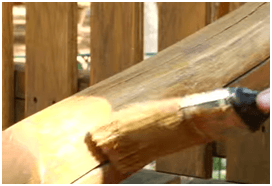 For reference, take a look at these two YouTube videos of spray-based treatment application:
and
At this stage, an important distinction requires attention: the difference between "Preservative Treatment" and "Water Treatment".
Preservative Treatment refers to the application of chemicals (typically pesticides) that deter insects as well as the growth of fungi and bacteria. A diluted solution of borate would be a perfect example of an at-home preservative treatment.
Water Treatment (repellant) is the most common form of at-home treatment. They can consist of an oil or water-based liquid (Thompson's Water Seal for example). By repelling water, this method of treatment also naturally discourages the growth of molds and fungi that could jeopardise the structural integrity of the wood—though it doesn't do much for pests like termites.
Staining
With wood selection and treatment out of the way, it's finally time to talk finishes, of which there are two main varieties: Natural and Unnatural. Though distinct in their own ways, both options require minimal effort to initially apply and equally little in the way of maintenance.
Natural: If your shed uses an expensive wood –like redwood—this will be the finish used. These stains are designed to enhance rather than overpower the natural beauty of the wood, with the pigments ranging from transparent to semi-colored. Pending annual weather patterns, expect to reapply a natural finish every 1-2 years for optimum results.
Unnatural: When building anything from rough or cheap lumber (like pine or plywood), preserving "beauty" generally isn't a high priority. As such, don't shy away from using unnatural finish. It not only lasts longer than the natural variety, but it will improve the aesthetics of whatever you've built because of its heavy pigment.
For those who haven't already guessed it, exterior-paint is the most common unnatural finish applied on basic-use outdoor wood. To obtain the best results, apply at least two coats of primer taking care to make certain the first coat has completely dried before applying the second. Once finished with the primer add a third, final coat of paint, this time of exterior-finish in whatever color preferred. Done properly, unnatural finish has rock-solid longevity lasting anywhere from 5 to 8 years.
Coastal Considerations
Live in a city that sits right on the sea? Have a great ocean-front summer home? Take extra precautions to protect the livelihood of your wood.
Not only do coastal regions tend to have higher concentrations of moisture in the air than their inland counterparts, but they also have to deal with salt (NaCl) in the air.
Those who've picked up a piece of driftwood before have likely noticed how soft and almost fuzzy the wood feels. That consistency is a direct result of the salt water and salt spray which eats away at the cellular structure of the wood leaving it seriously weakened.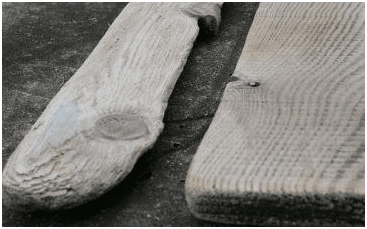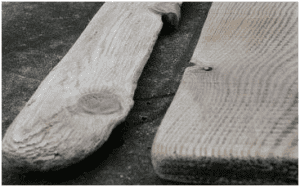 Though not a major concern unless living within a few hundred yards of the water, anyone working on a seaside shed or deck should practice pronounced vigilance in making sure their wood has been adequately treated against chemical contaminants like NaCl.
Summary
Wrapping it all up, remember that proper wood preservation consists of three keys:
Lumber selection: Choosing the right material for your project is the all important first step.
Treatment selection: Always apply a water treatment. Also consider a preservative treatment, unless your wood was pressure treated in advance.
Finish selection: Find a finish that suits the needs and aesthetics of the wood. Don't overpower the natural look of the lumber unless it's necessary.