6'4 x 2'9 Trimetals Ramped Metal Bike Shed – Anthracite 1.96m x 0.89m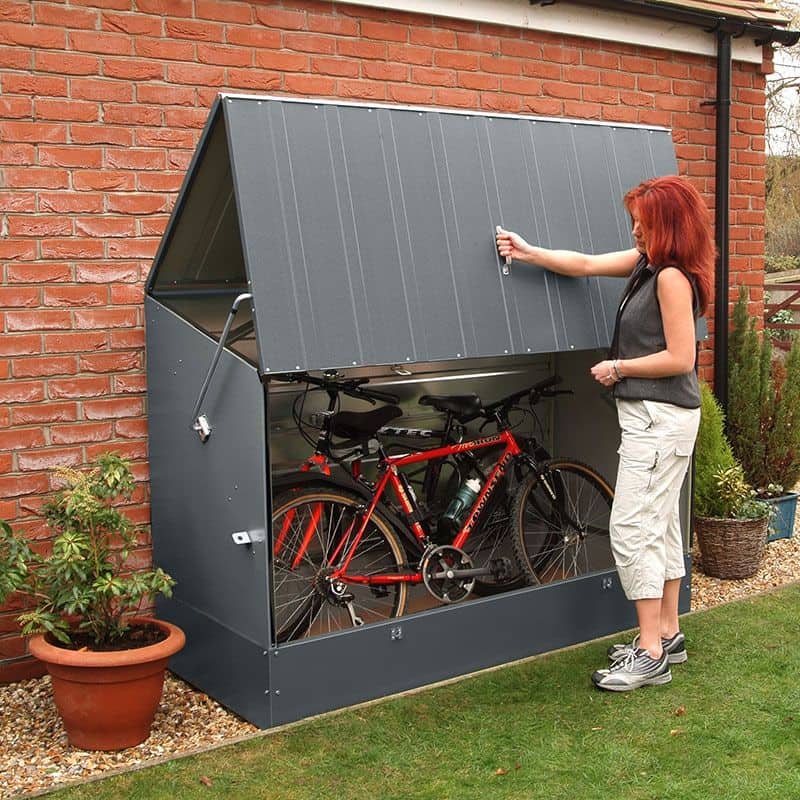 Full review coming soon
Our experts have not yet done a full review of this product. Please check back soon for the full review, in the meantime here is what the manufacturer says.
Recommended by the nations cycling press, the 6'4 x 2'9 Trimetals Ramped Metal Bike Shed – Anthracite (1.95m x 0.88m) offers you outstanding security for up to 3 adult bicycles and is supplied with an extraordinary 25-year panel guarantee. This metal bike shed is built in the UK from PVC-coated galvanised steel, so is robust, impervious to rust and suitable for all manner of other garden storage. Completely fire-retardant, this bicycle store can be used, not just in your garden, but at caravan parks too, as it meets their strict regulations for non-combustible storage.
This bike storage shed also features an integral ramp, built from a 1-piece aluminium plate, with reinforced metal hinges, which will comfortably support both you and your bicycle, even if its a heavier electric bike. When you need to use the ramp, you can simply drop it into place. Afterwards, it folds back up to form part of the integral metal base. It really is that easy to use. When in the stored position, the ramp is hidden from view, so cannot be tampered with from the outside but, for even greater security, you can padlock it to the door.
Furthermore, fixings are included so that you can bolt your new metal bike sheds base to a wider concrete or paved base, for maximum stability and security. You can gain incredibly easy access to your bikes thanks to a spring-assisted, concertina-style opening, which is a unique and patented design. Thats not to say anyone can take them, of course, because 2 padlock points come as standard (padlocks not included), so rest assured that your valuable bikes will be completely safe from unwanted attention. Dont just take our word that this is a secure bike shed because it comes highly recommended by the UKs cycling press too.
Furthermore, Trimetals metal storage sheds are the only metal sheds endorsed by the Royal Horticultural Society. Remarkably strong and secure, this outdoor bike storage shed is eye-catching too, for the unique design and contemporary anthracite finish make for an extremely attractive appearance. No maintenance is required, saving you money and leaving you more time to enjoy your bike rides. All of the major components are pre-assembled and clear, step-by-step instructions are included to help you achieve a straightforward assembly. You can purchase this premium bike storage shed in anthracite, cream or green, with or without the ramp.
Various optional upgrades are available too, including an exterior-grade plywood floor; a stainless steel and brass hasp and padlock set; and a solid brass padlock, with a hardened steel shackle, two keys and a 5-year guarantee. Free delivery is available to most UK addresses.
Product Details
Building Type
Bike Sheds, Cheap Sheds, Garden Sheds, Metal Sheds, Small Bike Sheds, Small Sheds
Metric Size (Meters)
6' x 3'
Roof Style
Fully Opening Lid
Locking System
Two padlock Points (Padlocks not included)
Floor Material
Integral Steel Floor
Door Height (Metric)
2070.0mm
Internal Depth (Imperial)
2"
Internal Depth (Metric)
840.0mm
Internal Width (Imperial)
5"
Internal Width (Metric)
1800.0mm
Construction Type
Galvanised PVC Coated Steel
Height At Back (Imperial)
4"
Height At Back (Metric)
1290.0mm
Height At Front (Imperial)
3"
Height At Front (Metric)
1090.0mm
Comparisons of Similar Sheds
Size: 6' x 3'
Available From:
Support WhatShed: by making a purchase after clicking a link above, a portion of the sale supports this site.